Transportation in Nassau, Bahamas
In Nassau (i.e. in New Providence Island) the available local modes of transportation include buses (which are minibuses and locally known as Jitney), taxis, rental cars and scooters. The Jitney bus service although is the cheapest transport, is not available in Paradise Island. You will mostly have to depend on car/scooter rental and taxi service in Paradise island. 
There are two bridges that connect Nassau and Paradise Island. These are one-way bridges... the Western Bridge (Sir Sidney Poitier Bridge) is used to go from Nassau to Paradise Island, the Eastern Bridge is used to return to Nassau. While taxis and cars are allowed on the bridges, Jitneys are not.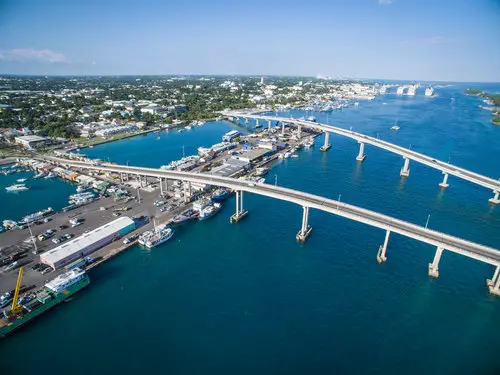 Photo: BID Ciudades Sostenibles, flickr, cc by 2.0 
There are sidewalks on both the bridges and you can also walk if you want... the eastern bridge is 1,560 feet long and the western bridge is  1,930 feet long. Both the bridges rise to a good height (70-feet at their highest point). So in day time heat, that steep walk could be quite exhausting... but the views of Nassau Harbor and surrounding areas are excellent. 
There is a bridge toll for vehicular traffic. Toll booths exist only on Sir Sidney Poitier Bridge. The toll for most vehicle types including taxi cabs, private vehicles and motor cycles is $2. Residents can buy an annual pass ($500) for unlimited use of the bridges. There is no toll for pedestrians and bicycles.  
Jitney Bus Nassau: Routes, Fares and Schedule
Jitney bus, a public minibus service, is the most popular mode of transport in Nassau. While there are designated bus stops, you can also flag down a bus anywhere along the way. The driver won't mind picking you up or dropping you wherever you want. But note that Jitney drivers usually don't like waiting, so hop in as quickly as you can and when you reach your destination, hop off quickly. 
Jitney at a bus stop in Nassau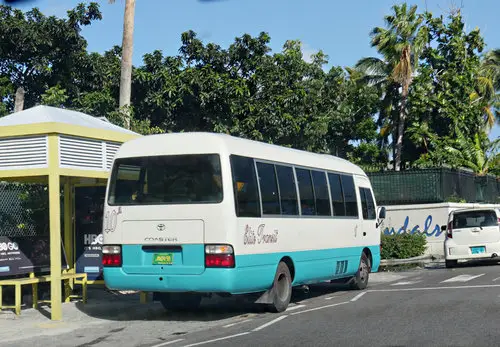 The bus stops are usually marked by a pole which has a metal board saying 'Bus Stop'. Usually, there is also a small kiosk with a bench at the bus stop where you can sit and wait for a bus. The kiosk is a yellow and white wooden structure (as you can see in the picture above). You can recognize a Jitney by it's green number plate the route number which is written on the body prominently. 
The buses sometime put on music (often quite loudly). And since they run quite frequently, there is often a competition between two buses trying to reach their customers first because the drivers' earnings depends on the total fares collected. 
You should pay the fare when you get off, but you are required to pay the exact fare in change. However I have seen exceptions to this when passengers offering bills of higher denominations saying they don't have change and the driver helping with the change. There fare is the same irrespective of the distance you travel. Jitney bus fare between any pair of bus stops is $1.25. 
The Jitney buses run from 6am in the morning until 6:30pm. If you are planning to get around in Nassau in the evenings after 6pm or so, then you will need to depend on taxis. Jitney service frequency depends on the location, day of the week and time of the day. The wait at the bus stop can be a few minutes to 30 minutes or even more at times. 
There are many Jitney bus routes that reach out to various places in Nassau. Most start from the downtown area like the George Street (off Bay street), East Hill Street etc. 
Out of all the routes, the most popular to tourists is the Route #10 which caters to
Cable Beach
. The route starts from East Hill Street Depot and gets to George Street and then goes through Duke Street, Cumberland Street, West Bay Street, Cable Beach, Delaporte, Orange Hill, Compass Point, and then returns via Bay Street to George Street. 
Taxis in Nassau, Bahamas
Taxis are available in plenty in both Nassau and Paradise Island. There are taxi stands all across the island including at the airport, cruise terminal, and other stands. Taxis are also available in many hotels and beaches. You can also call a taxi from Union Taxis over phone.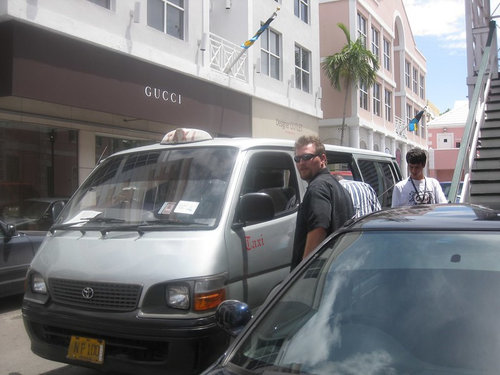 Photo: Philip Nelson, flickr, cc by-sa 2.0 
Note that Bahamas Government Traffic Control Department publishes a fare chart (i.e flat rates) between various places of Nassau and Paradise Island. These are the highest fares a taxi driver can charge for two persons. Additional surcharge would apply for more than two passengers and extra luggage. You should always confirm the fare before you get in. Taxis can also be metered, but not always. You can request for a metered fare (if a taxi has a meter) which is quite reasonable. 
Note that a taxi may pick up other passengers from the stand or along the way (as taxis mostly operate in shared mode). If you are looking for a private taxi ride, then check with the driver and he can agree. Most drivers are friendly and cooperative. 
For complete information about fares, taxi tours and taxi tour operators, visit
Nassau Taxi Service
Nassau Airport Shuttles and Transfers
If you are arriving by air, note that Lynden Pindling International Airport where you will land is located at the western end of New Providence Island, and Nassau downtown is about 15kms to the east. It takes about 16-20 minutes by taxi to reach Nassau from the airport depending on traffic conditions. You can find ample taxis outside the arrival to get to the city. 
There are also many privately run shuttle services available for transfers to the hotels in Nassau and Paradise Island (you can use them for return or round trip as well). These shuttles are usually vans or minibuses that take several persons and operate on a per person rate and turn out to be a lot cheaper than private taxis. However, there can be some wait time till all passengers get in and depending on your hotel location, the shuttle could be dropping others in their respective hotels before dropping you. 
Nassau Water Taxi (Ferry Boats)
This is a water transportation between downtown Nassau and Paradise Island. These are mostly traditional Bahamian style native boats (all motorized but not air conditioned). Many of these boats would have been originally handmade and passed down for generations. 
Water taxis at Nassau Dock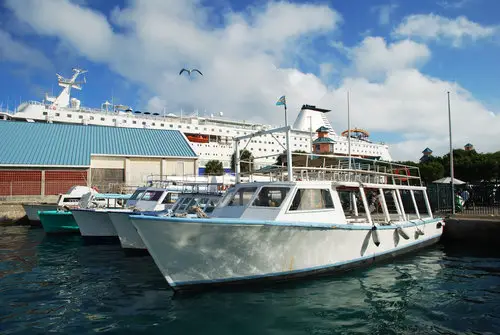 The ferry boats leave from Woodes Rodgers Wharf at Downtown Nassau near the cruise terminal and behind the famous Straw Market. At Paradise Island the ferry boats leave from the Paradise Island Dock below the new bridge. 
One way ride takes about 12 minutes and the fare is $4 each way. So a round trip fare would be $8. Although ferry boats are scheduled every 30 minutes, in reality the ferry will wait until it gets enough people on board. So there might be some waiting time involved (15 minute is quite usual). 
Your experience will depend on which boat you get... they are all different and run by different owners. However along the way the crew of each boat will give narration of the sights you see as you cross the Nassau harbor. Some of the sights along the way includes Prince Albert Dock, the British Colonial Hilton Hotel of colonial days seen on the shore at a distance, Haitian fishing boats, Paradise Island Estates, and of course as you approach the Paradise Island you can see the towering Atlantis Resort. 
At Paradise Island Dock you can see gift and souvenir items being sold. You can find Queen Conch shells, stone jewelry, wood carved statues etc on sale. Pick up a glass of local island drink 'Bahama Mama' which is a blend of rum, fruit juices like pineapple, orange etc and crushed ice... tastes great. 
Nassau Car Rentals
While there are many local car rental companies in Nassau, I would suggest that you rent a car from an international rental company like Avis, Budget, Dollar, Hertz etc. There are two reasons for that. First the cars from the local rental companies are often poorly maintained. Second, if any dispute arises, then it is much easier to settle such matter with an international company than a local company. 
Note that in Bahamas you need to drive on left side of the road. In order to rent a car, you need to have a valid driving license from your country (which can be used for up to 3 months in Bahamas after which you must apply for International Driving License). Your age should be minimum 21. Some rental companies have minimum age requirement of 25. 
Here are contact numbers of international car rental companies in Nassau: 
Avis 
Prince George Dock (Cruise Terminal): (242) 326-6380 
Paradise Island (4 Cumberland Street): (242) 326-6380 
Downtown Nassau (Opposite British Hilton): (242) 326-6380 
Nassau Airport:  (242) 377-7121 
Budget 
Paradise Island: (242) 363-3095 
Nassau Airport:  (242) 377-9000; (242) 377-7405 
Dollar 
Downtown Nassau: (242) 325-3716  
Nassau Airport: (242) 377-0326; (242) 377-7301 
Hertz 
Nassau Airport: (242) 377-8684 
Scooter Rentals in Nassau, Bahamas
Minimum age of scooter rider should be 21 and you need a valid license to rent a scooter. Most operators in Nassau offer hourly rate (some also give you day packages). Rates usually include full tank fuel, helmet, short instruction and an island map. 
Visit
Scooter Rentals
for full info about renting scooters, rates and rental companies in Nassau. 
Horse Carriage Rides in Nassau
Just outside the cruise terminal at Prince George Wharf in downtown Nassau, you can see the horse carriages lined up from the morning. You can take a carriage ride to take a tour of the downtown. The tour takes about 20 minutes and returns to the starting point. 
Horse Carriage Ride in Nassau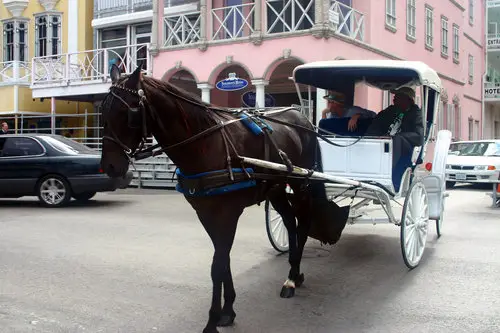 Photo: Jon Worth, flickr, cc by-sa 2.0 
Atlantis Shuttle
Guests of Atlantis hotels in Paradise Island can avail a free shuttle run by Atlantis every 30 minutes starting 7am until midnight. The bus service covers The Reef Atlantis, The Cove Atlantis, Royal Towers, Harborside Resort, Coral Towers, Beach Towers, Ocean Club and the Ocean Club Golf Course. 
Related Articles
Visitors' Reviews and Comments