Compass Point Beach Resort
New Providence, Bahamas
Category: Mid-Range 
Known to be the result of music icon Chris Blackwell's vision of creating a boutique Bahamian hotel…the Compass Point is an explosion of colors very near the Love beach and at the western end of New Providence (Nassau). The hotel has stylized fully air-conditioned Bahamian huts, a nice pier that extends to about 120 feet into the sea, spa and outdoor restaurants and bars. 
A sophisticated surround sound music system is integral to each accommodation option here and in fact the whole resort has a strong focus on premium musical experiences. The resort created in 1989 was originally an accessory to the Compass point recording studio that's nearby. 
Lots of artists stay here at the resort and that has become something of an added attraction. The Compass point is very near the airport at the less touristy west end of the Island. 
Rooms
There are different kinds of huts at the Compass point and they are all Junkanoo inspired in bright candy colors with a backdrop of luscious shrubbery and palm trees. The huts are all uniformly delicious to look at… you will feel as if you have entered cotton candy land!! Rooms generally have white interior themes with glossy wood accents and a balcony commanding differential views of the property or the ocean. 
Compass Point Resort 
There are some common amenities like each hut has coffee maker, refrigerator, micro wave, toaster and a hamper of Aveda skin and body care products. Surround sound systems, CD player, HDTV, in room safe, iron and board are the other amenities. You get a choice between 2 double beds or a single king size bed. All rooms have WI fi and iPod connectors. 
The 5 Studio huts are right near the swimming pool, in house bars and restaurants and they have a good pool view with a distant ocean view. 
Sea Front huts (only 3 are available) are very close to the ocean and if you leave the windows open…you might see the salt spray hit the floor. These huts have a king sized bed and a balcony with direct close ocean views. There are 3 elevated sea front huts which are 12 feet above the ground and have 2 levels. The lower level has a mini kitchen, patio and a cute picnic table while the living and sleeping spaces are on the upper floor. Basically, this is a good option for small groups who want to spend some time relaxing in the hut. 
Room in Sea Front Hut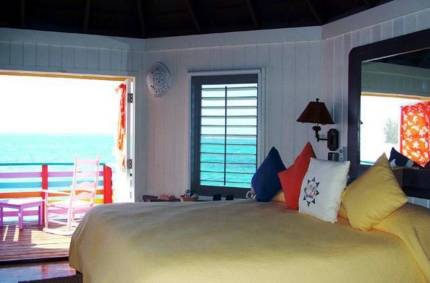 Only 1 sea view hut is available and its specialty is the wide balcony offering 90 degree ocean views with the pier, hot tub and pool all visible from there. Sometimes weddings and events happen in the property and you can easily watch the show while sitting in the balcony. The bed is huge, comfy and king sized. 
The 4 elevated sea view huts are also 12 feet above ground level and they are designed like a more spacious version of the sea front huts. The balcony has 180 degree views of the Atlantic Ocean. 
2 elevated sea view 2 bedroom huts are available and almost the entire resort plus the ocean can be viewed from its balconies. There is a bedroom on the upper as well as as lower floors have attached bathrooms while the lower floor has a mini kitchen, patio and picnic table. These huts are great for 2 couples or 1 couple with older kids who need privacy or a family of 4/ 3 adults. If you have very young kids with you then this hut isn't a good option. 
Imp room tip: the resort is structured in a way that most huts offer excellent views. However the elevated huts offer even more superior views along with a nice picnic table and patio…book these if you get the chance. Check that all electronic appliances are working before you sign in to the room. 
Dining
One unusual thing about staying at the Compass Point is that the dining facilities do not have fancy names like most other hotels in Nassau. You can choose to dine at the Inside Dining room (indoor restaurant), Outside Dining room (outdoor restaurant). 
The red, white and black themed Inside Dining Room serves breakfast from 8 a.m. The menu is extensive and serves everything from eggs benedict to buttermilk pancakes to smoked salmon and affordable priced. Lunch is served 11 a.m. onwards and there is a small range of starters, soups, salads along with sandwiches, pizzas, panninis and Bahamian favorites like crack conch, crispy calamari etc. Dinner is also along the same lines and is served from 7 p.m. onwards. There is a special late night menu section that's available till midnight (serves majorly snacks). There are full length glass doors and windows proving excellent views of the Atlantic Ocean and flat screen TV set inside. The romantic lights make this is a good place to relax and there is also the well-stocked inside bar. 
Outside Dining Room has a completely casual theme with candy pink, lemon and aqua colored chairs set against the ocean. You can easily walk up to the pool and the outdoor bar from here. The menu is more or less similar to the Indoor restaurant. 
The outdoor lounge space marries the need for intimacy as well as ocean views in a rather nice way. This space has free WI fi and a small yet well-chosen menu. The outdoor ocean bar is known for its selection of mojitos and its tropics inspired menu and décor. 
The outdoor Lounge and the Outdoor ocean bar along with the poolside bar are other options of relaxation. The poolside allows you to cool off after a beach game session, walk, or simply too much sun. The hot tub is nearby and the friendly staff will serve you a nice range of mocktails, cocktails and beverages at all these locations. 
Room service is available between 8 a.m. to 11 p.m. and everything from breakfast in bed to romantic dinners on the patio can be arranged. 
Unlike other bigger resorts, the menu is well spread here but not diverse. You won't get sushi, true blue Italian, authentic Asian etc. what you get is comfort food, all American food and Island food with a twist…if you are okay with limited choices then the menu will work fine. All the dining locations serve the same menu….so don't expect a new set of entrees in every location. 
The good thing about this resort is that you are not bound to have your meals here…so feel free to explore the nearby dining options. Some good restaurants nearby are Lukka Kairi restaurant (Caribbean food), Blue Lagoon Seafood restaurant, Nesbit's Delaporte Lounge, Double Dragon Chinese Restaurant and Golden House Restaurant along with Fat Tuesdays and Sparta Restaurant. 
In case you want to save some money… feel free to shop at the nearby grocery stores and then use the kitchen facilities to rustle up some basic meals. 
Other facilities
The Compass point remains loyal to its musical history and places a stack of 18 CD of the top 18 artists who have recorded at the Compass studio, in each room. There is also a memorial in each room that explains the contribution and association of those artists with the studio. More information about artists, records and music trivia is available at the reception. For music lovers…this is a big advantage. 
There is a pier that extends quite deep into the ocean…its perfect for evening walks and photography. 
There is a baggage storage area and foreign currency exchange service at Compass Point. There is a separate tours desk which organizes guest's activities in the following categories: 
The resort arranges distillery tours in the downtown Nassau located 1789 Buena Vista Estate which is famous for John Watlings Rum. A demonstration of rum making using local produce and rum tasting sessions along with distillery tours are on offer. 
Day trips are arranged to the blue lagoon island…you have to book in advance though. 
You can opt for local food and culture tours where a seasoned guide will accompany you to explain the specialties of each area. 
The hotel partners with Pappa Surf that offers paddle boarding sessions to guests at a fixed cost. Fishing expeditions and training sessions are also arranged. The compass point also partners with Happy Stables who offer horse riding sessions to guests. Adventure Tours is their official partner for arranging adventure sports experiences like hot air balloon rides. 
There are 2 in-house pools with a separate kid's area and an adult's only pool. There is an in-house spa offering a select range of massages, wellness treatments and beauty treatments to guests. 
Wi Fi is free all throughout the resort grounds, rooms and even on some areas of the beach. 
Stuart Cove snorkel and dive operator is located near the hotel and if you are interested in snorkeling then they offer some pretty decent opportunities plus pick and drop to Compass point.  The area near the Love Beach has comparably good snorkeling opportunities. 
Leisure escape packages as well as honeymoon packages are available though their terms and conditions need to be verified from the official website. The hotel serves as a wedding and reception venue frequently due to its picturesque settings and you can know all about special deals about this from the official website. 
Overall Opinion
Compass Point isn't a resort that caters to the masses. Apart from parties and weddings and musical nights happening at the ground there is very little glamour. If you have come to the Bahamas to party then frankly this isn't the place for you. This resort is a niche place that's deeply into music and has a certain design sensibility that may or may not please you. The facilities offered in the rooms are great, the menu is mostly affordable and the atmosphere offers intimacy and relaxation. 
The resort is pretty far away from the touristy belt and if being far away is what you want then Compass point will work for you. There are added benefits like having your massages in the gorgeous hotel pier and having a great selection of music in your room along with a first class sound system. 
The proximity to the Love Beach is one of the main advantages... this beach is practically empty with stretches of white clean sand. The resort is as different from a normal tourist hotel as it can be…brightly colored rooms on stilt with an almost quirky décor…hearing the waves roar as you have your meals is definitely a plus point. Both sunrise and sunset views are excellent from the resort grounds and from the rooms too especially if you take the elevated huts. However the hotel doesn't provide umbrellas and sun shade though there are few chairs by the pool. 
The best thing about Compass Point In general is that the atmosphere is relaxing and the food quality consistently good. Breakfast and other meal menu selections at Compass Point are all rather limited and you might find the bar drinks to be a little more expensive. 
Downtown Nassau is nearly 19 km away and the Atlantis Resort is 23 km away so if staying near these places is your priority then this hotel will not work for you. The Stuart cove and Jaws Beach along with the Airport are all near. 
Try checking all the fine print and the bill before paying up… sometimes mysterious surcharges are added at the time of checkout. In case staying near the cabbage or cable beach or near the Atlantis resort or downtown is not your priority than staying at the Compass Point is a nice option…you can truly experience the relaxed Bahamian experience that's hard to find otherwise…the affordable cost is the icing on the cake…a room at Sandals would cost more than thrice as much!! 
Rates provided by booking.com 
How to reach
The Nassau International Airport is just 8 minutes of cab ride and you can book a cab from the airport to reach the Compass Point that's just 4 km away via the Tropical Gardens Road.  
Road Map
Contact Info
Compass Point Resort 
West Bay Street, PO Box CB 13842, Gambier, Nassau. 
Phone: +1-242-327-4500; Fax: +1-242-327-9904 
Related Articles
Visitors' Reviews and Comments