Towne Hotel
Nassau, Bahamas
Category: Budget 
The Towne hotel is centrally located in downtown Naassau and is known to be one of the most popular budget hotels in this area. There are 46 rooms in this hotel apart from a courtyard pool, sun deck, an in house restaurant and bar. The closest beach to the hotel is the fun filled Junkanoo beach and the International airport is also not far away. 
The location of Towne hotel in downtown ensures that lots of popular restaurants, shopping destinations, bars and discs are in close vicinity. The hotel is located within walking distance of the cruise port in Nassau. The hotel is suitable for couples and families and especially those with pets… unlike many other hotels this one is pet friendly. However there is no parking inside the hotel though there is a parking lot nearby. 
The property is small and rustic looking and the management has done their best to decorate it in a quaint Bahamian style. This is a small property popular amongst business travelers, downtown revelers and tourists on a budget. 
Towne Hotel, Nassau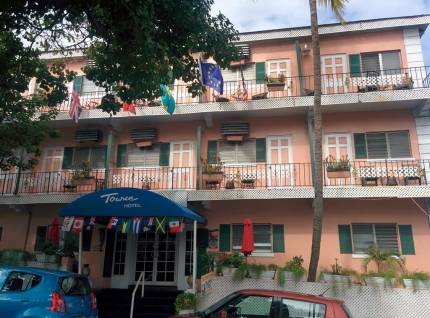 Rooms
There are 46 accommodation options in the resort and they can be divided into 3 types; king / twin rooms, junior suites, superior rooms. The room décor is non-descript and will reflect the style and design sensibilities used by any average American hotel. The hotel doesn't have a sea view room. 
Some common amenities are refrigerator, wardrobe, Cable TV, alarms, electronic locks, smoke detectors, private bath tubs and direct phone lines. Room service and daily maid service is available and is free of charge. You will also get wake up service and separate seating area. 
The king/ twin rooms are the most affordable option and these rooms are completely non-refundable. These rooms have a choice between a king bed or 2 twin beds. These rooms have city views and are moderately sized. 
The junior suites and the superior rooms have a microwave and a refrigerator in them apart from being more airy and larger. If you can afford, definitely consider opting for such room as then you will also have the facility of rustling up some basic meals thereby cutting down on your meal costs. 
Room in Towne Hotel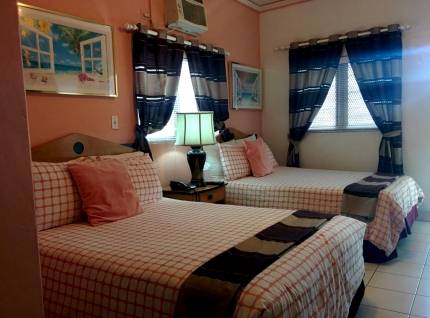 The junior suite is more spacious and has a choice between 1 King sized bed or 2 double beds. These suites have a balcony and a seating area apart from a sofa bed as special features. The balconies provide nice views of the city. 
The superior rooms are large with spacious bathrooms that have a private bathtub and shower. There are private balconies and separate seating area which has sofa and settees. These rooms can take in 4 guests comfortably. 
Wi fi in the lobby and some resort public areas is free. In room Wi fi is also free though the speed is not good. If guests want to avail a faster internet speed, they basically have to buy their own internet data card. 
Room tip: avoid rooms facing the street side, they will be noisy as the walls are thin and soundproofing is not adequate. 
Dining
One disadvantage of staying at the Towne Hotel is that there is only one in house restaurant called Talking Stick and that too does not offer a fine dining experience. The restaurant décor is nondescript with a casual air and is meant as an affordable eating joint rather than an experiential restaurant. 
The restaurant serves all three meals i.e. breakfast, lunch and dinner ad specializes in Bahamian local cuisine though a decent variety of international food is also served. The beverages range is moderate with mostly locally sourced cocktails, wines and a collection of international brands in liquor and beer. Watch out for the happy hour between 4.30 PM to 6 PM daily and then the first drink is served at regular price while the second one is served at heavily discounted rates. Townsticks remains open from 7.30 AM to 11.00 PM every day. 
Towne Hotel serves complimentary breakfast every day and that will help you save a lot of dining costs. Breakfast is rather on the basic side though and you will get a choice of eggs and juice along with toast and coffee. On some days you will also get muffins, summer sausages and tropical fruits.  
The bayside food store, city mart, quality supermarkets and super value food store are some of the best grocery stores in Nassau. You will find fresh products, vegetables, cereals, fresh fruit and milk at reasonable prices and they will also deliver groceries to your hotel should you wish that. Sandyport gas station on the cable beach stocks a good range of alcohol and beverages. However prices of more or less everything are probably higher than that of your local grocery store so you will have to adjust to that. Use the microwave and the refrigerator in your room freely to rustle up some late night snacks, brunch etc. 
With limited options of in-house dining guests who want to eat out will be spoilt for choice when it comes to locating good restaurants around. There is an advantage of staying in downtown, there are plenty of restaurants and prices are reasonable especially if you compare them to the price of food on Paradise Island. Some good ones are there on East Bay street like Luciano's of Chicago, Fat Tuesday's, wild Thyme restaurant, Syrah Wine and Tapas, Rachel's (for local food), Bahama Grill, Volume Music Bar and Grill etc. 
If you go towards Potter's Cay (a short jitney ride will take you there), you will find other good dining places like Bone's Seafood, P & L Seafood Delight, Juss Grill, Danny's Unda Da Bridge etc. If you go near the village road shopping spots then you can dine at Negril Café before indulging in dessert at TCBY Bahamas. There is Mac Donald and
Fish Fry (Arawak Cay)
nearby in case you want comfort food and local fares. 
Other facilities
There is a baggage storage area and foreign currency exchange service at the Towne Hotel. There is also a 24 hours active front desk and tour planning desk. 
There is a temperature controlled outdoor pool but no lounge chairs, you can carry your own drinks and snacks near the pool. 
Pool at Towne Hotel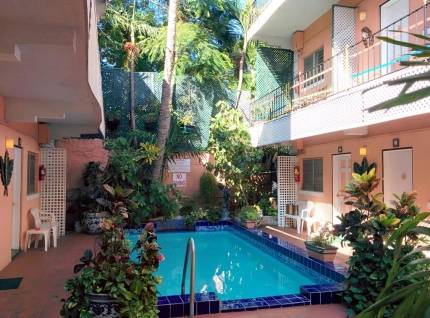 The hotel is fully enabled with Wi Fi and you can access internet from your room as well as all shared spaces and restaurant. 
There are separate special arrangements for accommodating pets but you need to inform in advance, services and accommodation for pets is chargeable. 
There is a shared lounge with giant screen where you can sit, sip on drinks and relax while watching television. 
There is a fitness center with an average range of cardio and weight equipment.  
There is also a small business center with printer, fax, projector, whiteboard and conference facilities. Small meetings and events can be arranged here. 
Daily maid service is available free of cost. The staff will arrange paid access to sightseeing tours, snorkeling, water sports and sailing. Boat tours, scuba trips and snorkeling adventures and half day fishing trips can also be arranged via popular service providers like Island Time Charters and Bahama Boat Tours. 
There are some quaint features that kids and adults might love like the lobby has a parrot called Max who will converse with guests and there is a facility at the restaurant where the guests can blow on a conch shell to get a free drink. You will also like the courtyard as it's a cool place to hang out and sip drinks. 
There are no elevators on the property so choose a room on the lower floors if you have an issue with climbing up the stairs. The staff is uniformly cheerful and helpful and will assist you in every possible way. 
The hotel doesn't provide free pick up and drop but they are quite prompt in hailing cabs for you. Transportation is easily available and you can easily tour the entire island in an inexpensive way. 
Some of the major attractions of Nassau are quite near the Towne Hotel. In fact you can cover most of these in a day by hiring a cab for local sightseeing. The Christ Church Cathedral, Pirates of Nassau and National Art Museum are the nearest attractions. You can also visit the Fort Fincastle and Prince George Wharf along with the water tower. Another top attraction within 1 km of Towne Hotel is Jetline Simulation where there is a holistic entertainment and recreation complex which allows the public to take experiential flights with real pilots as instructors. 
If you are fond of shopping then you can visit the paradise shopping plaza, harbor bay shopping center, brass and leather shops and the
straw market
which are quite near. 
Downtown Nassau is really a noisy place and one disagreeable thing that comes with staying here is having to hear the constant buzz of noise of people and vehicles that percolate easily across the thin walls. The hotel isn't soundproofed properly and that's a big disadvantage if you are looking for a quiet time. However if you are in downtown for a day of shopping and
Junkanoo beach
activities then this simply becomes a great stay option as all major shopping hubs and the Junkanoo beach are so near not to mention many other great restaurants and bars. 
Overall Opinion
The best thing about Towne hotel is its customer service team. Though the hotel doesn't have an elevator but the staff will carry your luggage up and down from your room with a smiling face. The room is always scrupulously clean and guest requests are promptly met with a smiling face. 
The Towne hotel is not a young property and she has been remodeled quite a few times and she looks as if she needs some more repairs. There is overall lack of sophistication and guests who like super comfortable beds and expensive toiletries in the bathroom may be disappointed. Rooms are rather Spartan in nature and neither the Wi Fi nor the air conditioner delivers optimum performance. However if you consider the price at which a night's stay and breakfast is delivered then the deal might seem worthwhile. 
Downtown Nassau is sometimes subject to rowdiness but the Towne hotel is in a relatively safe location with lots of government buildings around. This in itself is a big advantage especially if you are travelling with family. If you are in town for shopping and exploring Junkanoo beach then you will love the location… you can also do lots of local sightseeing at minimal cost. Jitneys and buses along with cabs are easily available, you can catch a bus to the airport and walk to the harbor. If you want you can easily take ferry rides and eat at the
Fish Fry
every day. 
An important travel tip for guests of Towne hotel would be to bring their own supply of toiletries like shampoo, soap, face wash etc, do a lot of grocery shopping too… the food from the restaurant is not always reliable. Do not choose a street side room as that would be noisy. 
Overall, if you do not mind the noise and bustle and are willing to overlook some glitches then this is a bargain accommodation option in expensive Nassau. 
Rates provided by booking.com 
How to reach
The Nassau International Airport is about 15.4 km away from the Towne hotel. You can arrive here in about 25 minutes if you ask the cab driver to take John F Kennedy Dr and then the West Bay Street and then to George St before reaching Towne Hotel. 
Road Map
Contact Info
Towne Hotel 
40 George Street, Downtown, P.O. Box N-4808, Nassau Bahamas 
Related Articles
Visitors' Reviews and Comments