Inverurie Executive Suites, Bermuda
Category: $$  Location: Paget Parish 
Overlooking the Hamilton Harbor, former Wharf Executive Suites and now remodeled and renamed to Inverurie Executive Suites is a boutique hotel designed essentially for business travelers and extended stay. However given its wonderful location overlooking the harbor, many couples and families also choose to stay here. In fact if you are planning for a quiet ambience with a great private balcony to relax while looking over the harbor, this will be an excellent choice. The new renovated hotel started its operation in 2015 and is one of the modern hotels in Bermuda. 
The hotel with pastel-orange painted two storied building offers 5 one-bedroom suites and 10 king rooms. All units have lovely view of the Hamilton harbor and the city beyond from their private balconies. The suites have a King Bed, roll-out Queen Bed in Lounge, stocked refrigerator/bar, cold water and ice maker, two 55" and one 18" flat TVs, safe for laptop, work desk with G-link, iron and iron board, closet, a fully stocked kitchen with coffee maker, toaster, microwave, sink, juicer etc. 
Inverurie Executive Suites Bermuda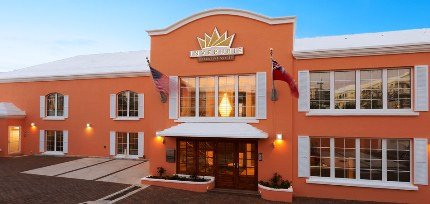 Photo: Inverurie 
The king rooms have King Bed, stocked refrigerator/bar, cold water and ice maker, one 55" flat TV, safe for laptop, work desk with G-link, Galley kitchen with coffee maker, Microwave, kettle, toaster, sink etc. Free wi-fi is offered. All units have private balconies.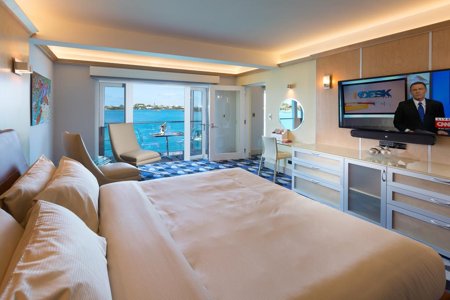 Photo: Inverurie 
The rooms are quite spacious and the hotel itself is clean and very well maintained. We were most impressed by its quietness and the large balconies where you can relax for hours reading books or sipping your favorite drinks. 
There is a ferry stop (Darrell's Wharf) right next to the hotel just few steps away. This is a big plus as you can reach Hamilton City within 7 minutes by ferry. You can collect the ferry token or the pass from the hotel and the cost can be conveniently adjusted with your bills. Onsite parking is complimentary. They also provide Concierge Service.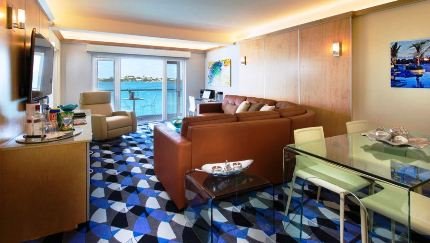 Photo: Inverurie 
In-room breakfast and supper are offered. The hotel is within 10 minutes walk to 3 of the great restaurants in Bermuda: 
Beau Rivage of Newstead Belmont Hills Hotel is one of the few French restaurants in Bermuda. 
Note that there is no grocery store nearby. If you want to cook food yourself, then you need to do the grocery shopping in Hamilton and get back by ferry, or hand carry food and heat it up in the microwave oven. 
Update September 2015: Following a change of ownership in 2013, the property was closed for remodeling and total upgrades. It has now re-opened and renamed from Wharf Executive Suites to Inverurie Executive Suites  (named after the original hotel that once existed here). The objective however has remained the same - to get business visitors and others for long term stays for a week or longer, but not a necessity. They offer special room rates for long term stays. 
Rates provided by booking.com 
Location and Contacts 
1 Harbor Road, Paget Parish, Bermuda 
Check out
Bermuda Hotel Map
to view the location of the hotel and several others nearby. 
Road Map 
Related Articles
2) Check out
Paget Parish
to know all about the parish including its attractions, activities, hotels, restaurants etc. 
Visitors' Reviews and Comments
Paula Genereux (June 2013) 
My husband and I want to return to Bermuda for our 35th wedding anniversary this September. We stayed at the Inverurie Hotel in Paget in 1978. Is it still there? I cannot find any information on it. Thank you for any help you can provide. 
Raj (bermuda-attractions.com) June, 2013 
Hi Paula, the original Inverurie Hotel which used to be a hot favorite in 50s through 70s, no longer exists. It has changed hands couple of times. One part of the property was sold off where a residential condo complex has come up. The original main building of the hotel that overlooked the Hamilton Harbor, became Palm Trees Hotel. In 2002 it was redeveloped again and became The Wharf Executive Suites, a hotel which is manly used these days by people on business. It has only 15 commercial suites, and rest are privately owned.