Mazarine by the sea, Bermuda
Cottage & Apartments
Category: $$  Location: Pembroke Parish, Hamilton 
About 20 minutes walk from the city of Hamilton, Mazarine is an excellent budget choice for cottage and apartments. Being right on the north shore waterfront, you get spectacular view of the ocean and sunset from the property and several of its rooms. It's located about 1.5 miles from Hamilton towards north (on the North Road) and offers a superb option for a quiet and romantic accommodation.  
These cottage apartments in Bermuda are owned by the Dismonts, a family who will go all the way to help you with how to best spend your vacation in the island. A taxi drive from the airport takes about 30 minutes to reach. If you let the owners know, they will arrange for the airport pickup and send the keys of your room through the driver. 
There are seven apartments and a nice cottage. The cottage is a little secluded, has a small garden of its own and all the privacy that you want. It has a queen bed and unabated view of the ocean. While the property is spotlessly maintained, you will hardly ever see any staff. Cleaning service is provided by Dahlia, the housekeeper, Monday through Saturday. 
Mazarine Apartments  /  Cottage 
The picture below is of the bedroom inside the private cottage. All the apartments have small kitchenettes with the basic amenities like stove, microwave, fridge. The units also have TVs. If you want to cook, you won't need further arrangements other than the provisions.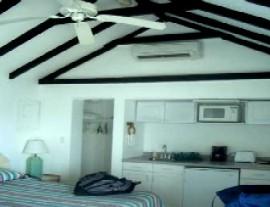 We also love the ocean view rooms (for example room #3). They overlook the small beautiful swimming pool on the cliff side and beyond to the blue waters of the ocean. These rooms also have small private balconies with chairs and tables where you can have your breakfast and coffee. 
The swimming pool although not too big, but is in a fantastic setting right on the edge of the ocean. However it's not a heated pool. There is a private reef, and you can use the steps to get down to the ocean waters and swim off the rocks. If you like, the owners will arrange for a private snorkeling or even a scuba diving (Update: Snorkeling and Diving are no longer available). Next to the pool is a grassy lawn with lounge chairs. View of the sunset from here is simply amazing. 
Mazarine Pool    /    Sunset from Mazarine 
I guess the only thing missing was the internet access (Update April 2015: They now have it!). Although you may hardly ever need it if you are in a vacation, for business travelers this definitely becomes a necessity. Also, while the property is right on waterfront, there are no beaches close by. Nearest one is
Clarence Cove
on North Shore Road. 
There is a grocery store just half a block away (two minutes walk). You can stock up your provisions from here. Mazarine does not serve breakfast or any kind of meals. Keep in mind that the store closes early (mostly by 5pm). 
Hamilton's Front street is about 20 minutes walk from Mazarine. This is where you will get all the restaurants and shopping options. One thing that you need to be a little careful about: there's no sidewalk for most of the way along North Shore Road, and the road is also quite narrow. I would advice not to walk after dark and rather take a taxi. 
There is also a bus stop right in front on the North Shore Road (bus route #11 which operates between Hamilton and St George). So you can also hop into a bus and reach Hamilton city center quite easily, or take the bus to St George. 
Location and Contacts
Mazarine by the sea is located at the northern side of Hamilton on North Shore Road.  
Address: 91 North Shore Road, Hamilton Bermuda, Pembroke Parish. 
Front street is about 20 minutes walk although you will reach the central part of Hamilton City in about 10 minutes. If you rent a scooter, you will have all the freedom of moving around. You just need to call up the scooter or moped rental agencies and they will deliver it to you at Mazarine. 
Here is a map showing the location of all the top hotels in Bermuda:
Bermuda Hotel Map
My overall opinion
Mazarine is a romantic budget accommodation with wonderful view of the north shore water. The lovely small pool overlooking the ocean is an added bonus. Although you won't get professional hotel services here or internet connectivity, but if you care to be in a quiet location with great view of the water while conveniently located from Hamilton city at the same time, then there can not be a better accommodation than this. But there is no beach nearby. 
Raj Bhattacharya
Raj is an avid traveler, a travel journalist and a blogger. As an author of this website, he shares deep insights on Bermuda and related areas of interest. Since years, he has been helping countless viewers by posting quality articles, answering questions and sharing experiences on this website. Launched in 2008, this website is Bermuda's one of the leading sources of information since many years. 
Related Articles
Visitors' Reviews and Comments
Paul and Karen Metzner (August 2010) 
Our family of eight (5 adults and 3 children) stayed at the Mazarine from July 1 thru 6. We have been to Bermuda 15 times but this was our first visit to the Mazarine by the Sea and it won't be our last !! We loved everything about it. The kids (ages 9,7,and 3) had an absolute blast and cried on the last day because they didn't want to leave...neither did the adults !! The Mazarine was so peaceful. The location is great in the middle of the island and the bus route is not far from the guest house. The grocery store nearby was also very convenient. All in all we had a fantastic time and are making plans to return with (hopefully) even more family members.