Horizons and Cottages, Bermuda
Category: $$  Location: Paget Parish 
Update:
Horizons has closed down. Check
Status
for more information on its closure.
---
One of Bermuda's oldest and charming plantation estates, Horizons and Cottages was built some three centuries ago. It provides one of the finest views of ocean and countryside on the island. It was at one time the home of the Middleton family, and over the years the land surrounding it was given to such varied activities as farming, quarrying, the growing of tobacco, potatoes, the famous Bermuda onion, and latterly, the Bermuda Easter lilies. 
Horizons Main House is traditional Bermudian in architecture, with its whitewashed keystone corners, knee-high cedar fireplaces and tray ceilings designed for coolness and airiness. The late Alfred Blackburn Smith acquired the property, restored the Main House and opened it as a cottage colony in 1922. Horizons is now operating as a traditional Bed and Breakfast. 
Horizons Bermuda - Main House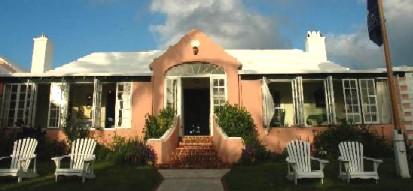 The Main House consists of 9 superior rooms all with a sitting area and private bath. From the rooms one can view the lush gardens. The rooms are of Bermudian architecture and are equipped with air-conditioning, safes, direct-dial telephone. 
Horizons Cottage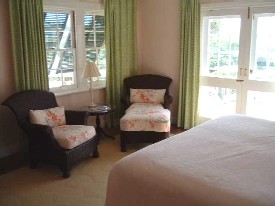 There are thirteen cottages spread out in the beautiful landscape of twenty-five acre hilltop property. Most of them allow spectacular ocean views. All the cottages and suites have private gardens and ocean terraces. The cottages contain from one to five bedrooms, each with private baths and a breakfast terrace. The Banana Tree cottage is a favorite for honeymooners. 
Horizons Bermuda provides access to the private Coral Beach for guests. It has its own smart-casual restaurant
The Splendido
which serves Bermudian cuisine in a romantic setting and has both inside and terraced seating. There is also more formal
Middleton Room
. There are three all weather hard Tennis courts at Horizons. It has its own 9-hole mashie golf course it shares with its sister
Coral Beach Club
. You can rent golf clubs from the Front Desk. There is a $20.00 charge for green fees. 
Coral Beach Bermuda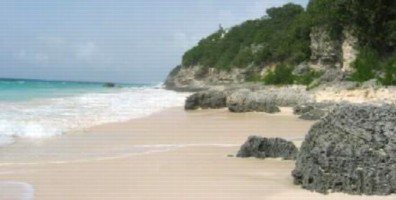 Horizons is just a short distance from some of Bermudas great
south shore beaches
, including
Elbow Beach
which is a three minute walk. There is wireless internet access in our Library and a PC which is available on a complimentary basis 24 hours a day. Local calls are free from the rooms. A 7.25 % Tax on Room and Board only, is added to your account. A service charge of 10% is added to the room rate. 
Location and Contacts
33 South Shore Road, Paget PG04, Bermuda 
Related Articles
3) Check out
Paget Parish
to know all about the parish including its attractions, activities, hotels, restaurants etc. 
Visitors' Reviews and Comments
Dean Mello 
Former Davis Cup, USPTA Certified Tennis, 441/535 3333 (cell) 
Hello, I was wondering why the place has been not kept up for so long?? I'm a Bermudian USPTA certified(insured) tennis professional and was wondering if I could do a tennis program there for you. I've had to take a few lessons there with approval from Coral Beach. Seems to me that some tennis programming is exactly what the place could use. Thanks! Dean 
Dean 
Raj, Horizons...3 courts wasting away, I rarely see anyone on them! In this economy, Horizon's could try a free clinic night for the quests there in exchange for rent consideration. If not a fee could be paid if guests wanted to come to a clinic night. It could be deemed as an amenity. It may spark some activity. It's a decent location for me and programming like this is done all the time in Atlanta. It's just a thought. Thanks Raj.