Bermuda Deep Sea Fishing
If you are targeting to catch the big ones, you must try deep sea fishing in Bermuda. You will need to take a chartered fishing boat and go offshore. And what can you catch there? Typical catch in Bermuda Deep Sea Fishing includes rainbow runner, white and blue marlin, wahoo, black-fin and yellow-fin tuna. You are likely to get more wahoos than dolphin fish. The captain of the charter boat will be able to guide you to the best offshore water areas for fishing.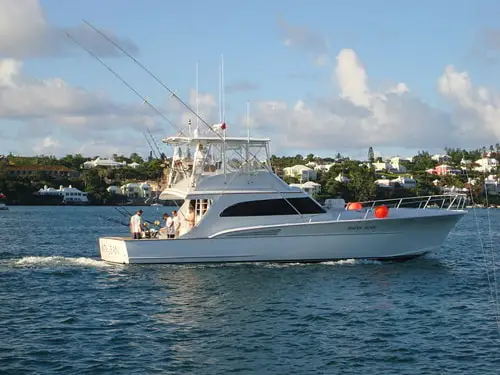 Photo: Grander13, cc by-sa 
What Catch and When?
What fish you can expect to catch in Bermuda's deep sea depends on the month you choose. During the spring run (May to June) you will get plenty of Wahoo and Yellowfin Tuna. Wahoos are the fastest amongst all. The heaviest ones can weigh even more than 100 pounds. They are also one of the tastiest fishes. 
So if you happen to catch one, ask the boat crew to make some fillets for you. But remember, they have razor sharp teeth and you got be careful handling it. Otherwise it can inflict serious injury. During the spring time, on an average 7 to 10 Wahoos are caught everyday. 
Yellowfin Tunas can weigh up to 200 pounds. They are big fighters and you will need to be patient and use some strength to catch these guys. If you for some reason miss the spring run, don't worry. Wahoos and Tunas again reappear in plenty in fall time (September to November). So you always have a second chance. 
But the most coveted catch for deep sea fishing anglers in Bermuda are the Blue Marlins. These majestic fishes can grow to gigantic sizes and well over 1,000 pounds. In fact the heaviest ever was caught in 1995 that weighed 1,352 pounds. However average catch of Blue Marlins here weigh between 400 to 600 pounds... and that's no mean stuff. 
The Marlins start appearing in Bermuda waters from April/May onwards. But that time you will see more white Marlins than the Blue. White Marlins are much smaller but put up acrobatic fights that look spectacular. In June you will find both White and Blue almost in equal numbers. And from July onwards when the water starts heating up to 80°F, you will see more Blue than the white right until September. On an average, five Blue Marlins are seen on a day during the peak time. 
Fish availability by month
| | | | | | | | | |
| --- | --- | --- | --- | --- | --- | --- | --- | --- |
|   | Apr | May | June | July | Aug | Sep | Oct | Nov to Mar |
| Tuna | Good | Best | Best | Good | Best | Good | Good |   |
| Wahoo | Good | Best | Good | Fair | Good | Best | Best | Good |
| Blue Marlin |   | Good | Best | Best | Best | Good | Fair |   |
| White Marlin |   | Good | Best | Best | Good | Fair |   |   |
Deep Sea Fishing Areas
Two of the most popular deep sea fishing areas are the Argus and Challenger Banks that are located several miles off the south western end of Bermuda. Challenger is about 12 miles away and Argus about 30 miles. 
These are non-active volcanic mounts on the ocean having natural coral formations on top. The rise of the mounts from the bottom of the sea is dramatic creating two large banks of water areas having a depth of about 30 fathom with flat plateau of water. 
The small fish can be found in plenty in the middle of the water areas here, whereas the large game fish normally follow the edge of the water banks. But how you will finally end up fishing in the banks will depend on the prevailing weather conditions. 
Sometimes strong tides can really spoil the bottom fishing. During such time Trolling is normally preferred. Trolling is the way to follow the edges of the water banks by making use of depth sounder and fish finders. 
Sometimes the tides can drift the fish right at the edge where you can even anchor up. Bermudian game fishers use a local technique in such cases called the 'chumming'. Bait and anchovies (salt water fish that act as food) are cut up in small pieces and continuously thrown into the water and allowing them to drift towards the edge with the tide. 
If Wahoo and Tuna are around, you can see them from a real close distance and feel as if you can pick them out of water by hand. It also gives you a great opportunity to see how wahoos change colors with excitement. 
Another creative way of fishing which is becoming quite popular in Bermuda is by flying a kite from the back of the boat and using a fish bait rigged to the kite. The flying bait is allowed to pop in and out of water, an action which a large tuna can hardly resists and eventually strikes the bait. 
A massive Bluefin Tuna weighing 1003.5 pounds was caught on December 22, 2013 by professional fisherman David Soares on board his fishing boat Kerry D. It was caught off the Challengers Bank at 10am after 2 hours of battle. 
Fishing Charters for Deep Sea fishing
There are half or full day fishing charters available in Bermuda that are run by experienced captains. Note that it takes a while to reach and then come back from the deep sea area. So a full day trip will always give you better chances of catching the fish of your fancy than half day. 
While most boats offer private charter rates which are often quite expensive, there are couple of companies that also offer group fishing on a per person rate. 
FishinBooker is one of the top online fishing charter booking companies. You can use the following button to visit their site, compare the different fishing charters in Bermuda and book one online. 
Rates by fishingbooker 
Related Articles
Visitors' Reviews and Comments
Neil Gilbertson (September 2021) 
Good morning. My daughter and her boyfriend are interested in deep sea fishing, but we don't have a group large enough to charter the entire boat. Are there group charters that go out with different groups of people? If so, could you suggest some to call? Thank you. 
Raj (bermuda-attractions.com) September 2021 
Hello, there are two companies that offer group fishing tours that operate on a per person rate -
Bermuda Reef Fishing
and
Jolly Roger
. You can find details on
this page about reef fishing
. 
Donna Czerkas (August 2014) 
Coming in on a cruise ship and wanted to do some deep see fishing would be a single, so would not be able to charter a boat. Any help would be appreciated. 
Raj (bermuda-attractions.com) August 2014 
Hi, some fishing charters like Mako Charters also offer group fishing trips (with up to 6 persons). You can find their contact info
here
.