Bermuda Reef Fishing
There are numerous coral reefs in the Atlantic around Bermuda which are home to a wide range of colorful reef fish. All these reefs have actually formed
three large reef-bands
in Bermuda waters. There are several
reef locations in Bermuda
that are ideal for reef fishing... some are nearby while the others are further away.  Depending on the reef you choose on your day, the experience may be different. 
In general, the typical catch during reef fishing in Bermuda includes trigger fish, porgy, yellow tail snapper, Grey snapper, jacks, lane snapper, Bermuda chub etc. You can also find different kinds of groupers like grasby, coney, speckled hind etc. 
The nearest reef-band (the Lagoon Reefs) is only about 5 miles away from the shore. You will likely be doing most of your reef fishing here, otherwise you will end up spending a lot of time trying to reach the reef location by boat and then getting back. During the winter time, some reef areas can be reached only 1 mile away from the shore. 
The second type of reef, known as the
Challenger Bank
, is about 12 miles away (south west). The furthest, called the
Argus Bank
, is about 30 miles away from the shore (south west). In general, further you go, bigger will be the fish that you can catch. However, these far away reef sites are usually visited when you take a
Deep Sea Fishing Tour
. 
Reef fishing operators in Bermuda?
Well there are several operators who offer reef fishing in Bermuda on their boats. There are two ways to go about it. Either you can join a group fishing tour on a per person rate which is quite economical or charter a boat. 
Bermuda Reef Fishing 
Also known as Baxter's Reef Fishing, the company offers one of the best group reef fishing tours in Bermuda ... it's done on a small boat Ellen B (32-ft fishing boat). It has an awning so that ample shade is available and is also equipped with a toilet. Captain Michael (Mike) Baxter is your host and he has over 30 years of experience in fishing in Bermuda's water. 
Baxter's Ellen B Boat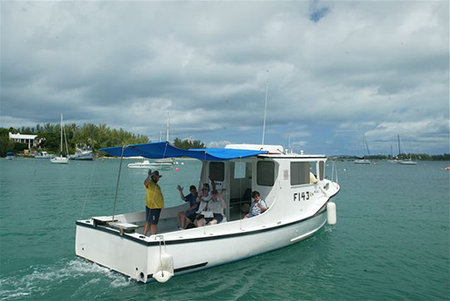 The tour usually starts from Pier 41 in Royal Navy Dockyard (located in Sandys parish at the western end of the island and quite convenient for the cruise ship passengers docked at Kings Wharf). Captain Baxter is often accompanied by his son Andrew. Both are extremely friendly, active and cooperative. 
One great advantage with their boat is it's small and takes up to 6 people on board. So it somewhat operates like a charter giving attention to everybody and making sure that everybody (novice or experienced) gets ample opportunity to fish. The tackle, bait and even drinking water is provided on board. At the end of the fishing trip, you will certainly end up catching lots of fish. 
If you are so interested, Andrew or whoever is with Mike that day will make fillets out of the fishes caught and put them into a bag and give it to you. If you have provisions for cooking, you can go back, cook them and eat or have them cooked at an ocean-front restaurant which Mike will show you... a great finishing to a great fishing experience. 
They have a regularly scheduled trip in the morning (from 8:30 am to 12:30pm) Monday - Saturday. The boat usually leaves from the Pier 41 in Royal Navy Dockyard. 
Indicative Rates 
The per person rate is $110 for adult (for a child below 12 years the rate is $85). You can also charter the boat for half day for $650. They accept all major credit cards. Mike is extremely knowledgeable and will share a lot of information about the island and every catch that you make. If you do not plan to eat the fish, you will be encouraged to release the fish. 
Contacts: 
The availability of tours vary between November and April. 
Jolly Roger 
Another great option for reef fishing is with Jolly Rogers. The boat leaves from Kings Wharf, Dockyard area and therefore very convenient for the cruise ship passengers. The boat is much larger and can accommodate 40 persons inside the cabin. There are couple of restrooms inside and you can even listen to XM Radio while inside the cabin. 
Jolly Roger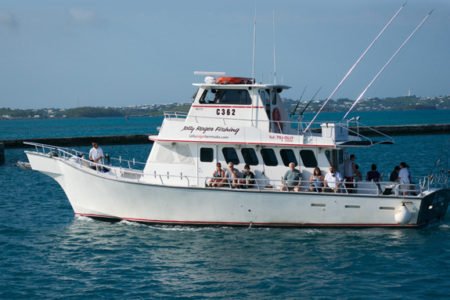 They have regularly scheduled reef fishing trips from 9am to 1pm, and also in the afternoon on some days of the week. The total fishing time is 3 hours in each trip. 
Indicative Rates 
The cost is $110 per adult and $75 for child below 12 years. The trip includes light tackle and bait. There is a cash bar inside which sells snacks, cool drinks and beer. They also offer fishing charters for 4, 6 and 8 hours. 4-hour fishing charter costs $1400 for up to 12 persons. 
Contacts: 
Paradise One 
They offer reef fishing on their private charter boat... a 54-ft sport fishing catamaran with two staterooms, two baths, kitchen, dining and seating area. It can accommodate up to 25 persons. The boat will be anchored on an offshore reef and you can catch potentially Snapper, Turbot, Bonito, Amber Jacks, Rainbow Runners, Rock Fish, Barbers, Conies etc. 
Paradise One Fishing Boat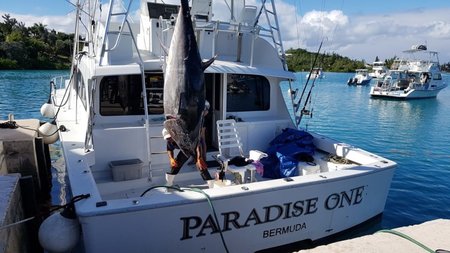 Indicative Rates 
1/2 Day: $1,150; 3/4 Day: $1,350; Full Day: $1,550  
Rates are for up to 6 persons. There is an additional charge of $100 for each extra person. 
Contacts: 
Phone: 441/734-9409 or 705-6134 
There are plenty of other options in Bermuda for Reef Fishing. But most would operate on a charter basis (for half or full day). 
FishinBooker is one of the top online fishing charter booking companies. You can use the following button to visit their site, compare the different fishing charters in Bermuda and book one online. 
Rates by fishingbooker 
Check out
Bermuda Coral Reefs
to know all about the coral reefs of Bermuda and what kind of fish that you can expect to catch there. The best reefs for fishing are on the south-western and north-western waters of Bermuda. 

By Raj Bhattacharya 
Raj, a seasoned travel writer and Bermuda destination expert, has extensive global travel experience. This website reflects his profound insights, garnered over nearly two decades of dedicated findings and research on the island. Raj has assisted countless Bermuda-bound visitors by providing direct, personalized responses to their queries and imparting his wealth of knowledge through this platform. This site serves as an indispensable guide for those seeking informed and reliable insights into Bermuda's treasures. 
Related Articles