Clear View Suites & Villas - Bermuda
Category: $$  Location: Hamilton Parish 
Update October 2018: This property has closed down.
---
This is a nice cottage colony located conveniently between Hamilton City and St George. The hotel started as a small one-room family business and had now grown to a 30 room cottage colony overlooking the ocean. There are one or two storied pink buildings having 2 to 6 units. There are suites or villas to choose from. Villas have separate living rooms. All rooms have large windows. The rooms with ocean view have higher rates. While there is no beach, you can still swim in the ocean. 
Most guests walk down or take a moped to the beautiful
Shelly Bay Beach
which is about 1 mile to the west. There is an art gallery here with a resident local artist named Otto Trott. He is a famous painter and has some of his artwork displayed even in Bermuda Masterworks Museum. His work of art and influence is clearly visible all around the property. 
Clear View Suites and Villas, Bermuda 
Photo: Malcolm Manners, flickr, cc by 2.0 
Facilities
There are altogether 30 suites and villas. They are all designed with pastel upholstery and tiled walls. 
Award winning Landfall Restaurant serves breakfast, lunch and dinner. It also serves a Sunday brunch. It mainly offers Bermudian cuisine and has a bar as well. The interior of this restaurant has been designed by the well known artist Otto Trott. 
Bathrooms are tiled and have tub/shower combinations 
There are two fresh water swimming pools  
Tennis courts reserved for guests 
All the rooms have kitchenette (microwave provided on request), fridge, coffeemaker, hair dryer, iron, a/c, cable TV, telephones, balcony or a patio. 
Free Internet Access is available in some rooms. 
There is a coin operated laundry machine 
Update October 2013: They have recently upgraded some of their accommodations and are in the process of upgrading the rest. They have also built a new building Orchid which has studios and one and two-bedroom suites. Go for a new suite. All units in this building are complete with kitchen. A one-bedroom new suite has two balconies both offering wonderful view of the pool and the ocean. The living room has a couch that converts into a bed.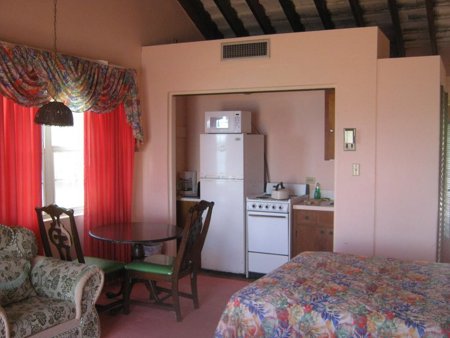 A French door opens into a private patio which has a table and chairs. The bedroom too has French doors and two queen beds. Both the bedroom and living room have separate flat TV with satellite channels. The bathroom is also very well done with granite finish and has separate tub and shower. The pool is awesome and overlooking the ocean. There are actually two pools in the property. They change the towels daily. While the service is slow at times, the staffs are generally quite friendly. 
My overall opinion
If you are looking for a quiet and exclusive stay in a budget property (by Bermuda standard though), and like to enjoy the ocean and its surrounding serenity, cook for yourself and at the same time like to have an option of eating in a great in-house restaurant, Clear View can be a great choice. Update: The quality of service had deteriorated and the rooms are not properly cleaned and the service seems to be lot less professional than what it used to be. 
Location and Contacts
Sandy Lane, Hamilton Parish, Bermuda. 
Airport is only 3 miles from Clear View suites and Villas, and takes less than 10 minutes by Taxi. The property is on Bus routes #10 and #11 that operate between Hamilton and St George. Bus stop is right in front of the hotel. Both Hamilton (to the west) and St George (to its east) are about 25 minutes by bus. 
Check out
Bermuda Hotel Map
for the location of Clear View Suites and Villas and others nearby. 
Road Map 
Related Articles
3) Check out
Hamilton Parish
to know about other great hotels, restaurants, attractions and activities in the parish. 
Visitors' Reviews and Comments
Constance  Rucker (June 2012) 
Hi my name is Constance. I had the great opportunity to visit Bermuda. It was so beautiful. I stayed at Clearview Suites and Villas. It was so nice there. I remember standing on the bacony writting in my diary about that moment. It was so peaceful and quiet,  I have never felt that way before no matter where I have traveled. The service was excellent. The owner Mrs. Paynter, was very sweet and warm. It was like I had known her for a while. I recommend this place highly. You won't regret it at all. Thanks again for such sweet hospitality.