Sandpiper Guest Apartments Bermuda
$$, Warwick Parish 
Located on South Shore Road in Warwick Parish and close to the South Shore beaches, Sandpiper Apartments offers good value for money. The Apartments were first built in 1979 and have been frequently renovated. The last renovation has been done in 2007. There are 9 units that are of studio type and other 5 units are bedroom apartments. 
All units have private entrance and balcony, full kitchen with microwave, living and dining area, air conditioning, Mexican floor tile, private bath with shower, Telephone, cable TV, radio etc. 
If you are travelling with your family with children, you can use the sofa beds in the living room which convert into double beds. Both bedroom and living room have individual cable TVs. However there is no separate cupboard or storage space in the living room. The main bed room has large king size beds or two double beds. Each unit can therefore accommodate up to four persons. However there is only one bath/toilet in each unit.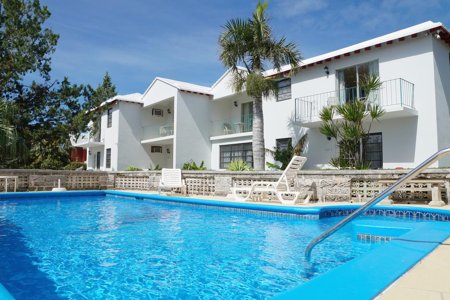 Other amenities in the property includes outdoor pool and Jacuzzi, coin operated laundry, dry cleaning, nice grassy lawn, gas operated barbecue grills in the lawn, BBQ pit and lounge chairs. Daily maid service is available. There is no breakfast or any meals served in the apartments. That means you will need to either buy items from the grocery store and cook, or eat outside.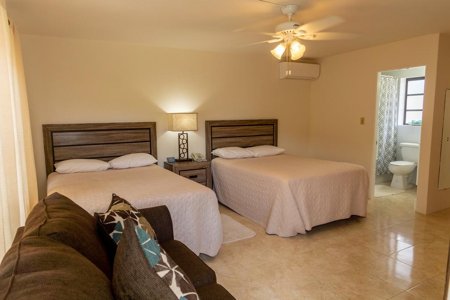 While there is a garage on the opposite side that sells bread, milk, butter etc, but for proper provisions for your meals, you will need to go to a grocery store. The nearest grocery store is about a mile away and you will need to take a bus. But better you go to Hamilton City ad buy all your food from Market Place located near the main bus terminal across the church. 
Swizzle inn South Shore
, a branch of the original pub Swizzle Inn is within comfortable walking distance. This is a branch of one of the oldest pubs of Bermuda which invented the famous Rum Swizzle. There is also a gas station here near the pub which has a mini market (convenience store). 
Update July 2017: Recently a Barbecue Restaurant
The Pit Stop
has come up next to Sandpipers and west of the Gas Station. This is a budget no-frill restaurant with exposed wooden beams, a bar made out of recycled pallets, few tables laid out in front of the bar with ceiling fans and music system. The restaurant focuses on authentic American style barbecue items. In breakfast try out the smoked bacon, organic eggs and pancakes. The chicken wings are also delicious and so is the popular brisket sandwich. Know about other great eateries nearby from
The best restaurants in Warwick Parish
. 
Sandpiper is on South Road and on bus route #7. So you can easily avail this bus and visit Hamilton City (towards east) or the Royal Naval Dockyard complex at the west end. During the day time you will get buses every 15/20 minutes. On week ends the frequency is much less. The nearest beach is only 5 minutes walk from the property. As you come out, take left from the main gate, walk past the garage and then right to Astwood Walk. There are steep steps that lead down to a lovely sandy beach. Bus #7 also goes by all the lovely
South Shore beaches
including Horseshoe Bay Beach. 
My overall opinion
Sandpiper offers excellent and clean budget apartments. It's main advantage is its proximity to the lovely south shore beaches. The bus stop is a short walk and access to Hamilton City (and thus all the stores and restaurants) is easy. The staffs are very helpful and friendly. 
The whole apartment runs on a typical Bermudian laid back style. So don't always expect the staff to be there at the desk. If you are visiting with your family and like to optimize on cost while staying in a nice apartment close to the beaches and cook yourself, then this can be the place for you. 
If there is one negative about this place, that is the noise of traffic you hear at times, as the apartments are on the main South Shore road. 
Rates provided by booking.com 
Location and Contacts
Although Sandpiper is located just off the main road (South Shore Road, Warwick Parish), the bus route operating between Hamilton and Dockyard and passing by the south shore beaches is within short walking distance. See the location of the hotel here:
Hotel Location
Sandpiper Guest Apartments, South Shore Road, Warwick, Bermuda. 
Road Map 
Related Articles
Visitors' Reviews and Comments
Review and share your experience...