Cafe Lido at Elbow Beach
$$$$, Mediterranean Cuisine 
Located within the Elbow Beach Resort in Paget Parish, Cafe Lido (also known as Lido) has an ideal setting for fine dining with marvelous ocean view. Try to reserve and reach early to get a window side table. 
And through these large windows you can see the pink sandy beach down below and then the wonderful Atlantic. Driveway from the main road leading to the Cafe Lido itself is quite impressive with tree lines on both sides. The restaurant provides both indoor as well a outdoor sitting. 
There is an open terrace and an inside dining room with plenty of sitting provision. However, during summer time and particularly on the weekends, the restaurant can get crowded. Therefore you must make reservations in advance. 
The restaurant has a decor with pale yellow and red color combinations and looks fairly bright. The chairs are also quite comfortable. There is a night club next to the restaurant and there is no separate entry fee if you are dining at the Lido. 
Now coming to the food, this is really a place for fine dining. Food is by no means cheap as expected in a restaurant of a class of
Elbow Beach Resort
. Food is prepared in a Mediterranean style.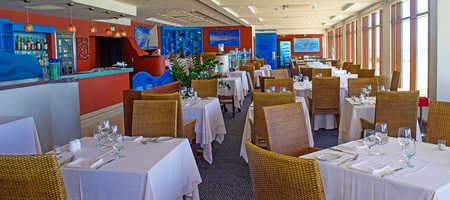 Source: Cafe Lido, Bermuda 
Although the menu has a wide selection of starters and main courses, I found that the seafood and fish items have much wider choices than the others. The bar has nice selections of wine as well. 
Here are some of our favorite dishes in Cafe Lido: 
Appetizers like Poached Jumbo Gulf Shrimps, Crab and Green Apple Salad, Tuna Tartar, Crispy Pan Sautéed Foie Gras are excellent. Some of the great main courses include Oven roasted casserole of Fish and Seafood Cartoccio with potatoes, mushrooms, white wine and chive sauce; or Angus rib-eye steak, fillet mignons, or the roasted lamb. 
Lobster or catch of the day are also excellent, and so is the Traditional Veal. Another great preparation is the Australian lamb chops  with cous cous and vegetable salad, feta cheese and yogurt. 
One of the specialty of Lido is a trio of pasta that are served for a minimum of two persons and the menu here changes every day. Otherwise in Pasta try out the house made pappardelle with braised short rib or the Lobster Rissotto. 
We would finally finish off with a dessert like raspberry creme brulee or chocolate soufflé. We have generally found the service to be quite good at the Lido. The waiters are quite attentive and friendly.  
Service is friendly and quite good. However the main reason you would dine here is the stunning views and the ambiance. Dress code is smart casual. Reservation is required. They accept credit cards. 
Indicative Prices
Soups and Salads: $15-18, Appetizers: $16-20, Main Courses: $35 - $40 (while main courses are mostly in this range, some items like the lobsters would be far costlier). 17% service charge is added. 
Open Hours
Open daily for breakfast, lunch and dinner. 
Dinner from 6:30pm - 9pm; Bar is open until 1am. 
Location and Contact
Cafe Lido, Elbow Beach Hotel, 60 South Shore Road, Paget. 
Bus routes: #2 (operating between Hamilton and Paget) or #7 (operating between Hamilton and Dockyard). Check out this
Dining Map of Bermuda
to see the location of Lido. 
Road Map 

By Raj Bhattacharya 
Raj, a seasoned travel writer and Bermuda destination expert, has extensive global travel experience. This website reflects his profound insights, garnered over nearly two decades of dedicated findings and research on the island. Raj has assisted countless Bermuda-bound visitors by providing direct, personalized responses to their queries and imparting his wealth of knowledge through this platform. This site serves as an indispensable guide for those seeking informed and reliable insights into Bermuda's treasures. 
Related Articles
1) Check out
Restaurants in Paget
know about all the great restaurants and bars in and around Paget parish. 
4) Check out
Paget Parish
to know about the parish including all its attractions, activities, hotels and other information. 
Visitors' Reviews and Comments
Share your experience.