Smokin' Barrel Bermuda
$, Barbecue/Caribbean/Bermudian 
UPDATE 2020: Smokin' Barrel now operates a catering service from St. George (Bridge Street) for small and large events. They continue to boast of being authentic BBQ Specialist. They no longer operate the food truck at Hamilton.
---
If you are planning for local Bermudian or Caribbean style food prepared and served by the locals, then Smokin' Barrel can be a nice choice. The food is served out of a mobile truck which is located on Front Street near the main Ferry Terminal. 
Some of the great items that are increasingly becoming popular with the locals are ribs, jerk chicken, sweet jerk, lemon pepper fish and chicken curry. The menu also includes fried fish and grilled meat. 
Kemar Maybury, a Bermudian owns and runs this mobile eatery. He started operating this mobile truck since August 2011. He says that he uses only authentic Halal or Kosher meat in his preparations. So, if you are in Hamilton City for shopping or have come all the way from the dockyard by ferry to take a tour around Hamilton, you can plan one of your meals at the Smokin' Barrel. 
In fact they serve breakfast, lunch, dinner and late night snacks. They also offer Caribbean specials everyday. On Sundays, you will get the popular Bermudian
Codfish Breakfast
here. 
Smokin' Barrel Truck, Bermuda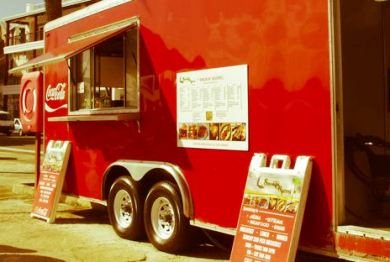 Going back to the history of how this whole thing began, Kemar started with a kitchen in Mills Creek in Pembroke Parish close to the Hamilton City center. He used to supply food using food warmers at the stalls that would be set up on Front Street during the
Harbor Nights
. Within months he started to feel the rising demands both from locals and tourists. 
He started to look for a permanent place to set up his operation and finally located the present place on Front Street near the Ferry Terminal. He bought his truck from the U.S from which he serves the hot food. 
Other than the regular items, they also make day's specials like curry chicken, oxtails, brown stew chicken, escovich fish, curry lamb, curry goat and even steaks. Smokin' Barrel also offers catering services. During the winter time when the flow of tourists to the island comes down, Kemar also plans to home deliver the food against orders. 
Update August 2014: 
Sadly Kemar lost his wife and partner Latifa in November last year. She passed away after giving birth to their first child. Kemar had to downsize his operation and the truck was not to be seen for sometime. However his entrepreneurial spirit and hard work has already created many fans in the island. He is getting his business back on track now and the mobile truck will be seen shortly on Front Street. In fact, he has added a new barbecue take out business (operating out of a mobile wagon) which is located on Serpentine Road in Pembroke, and next to the earlier Green Lantern restaurant (on its parking place). He has rented out the Green Lantern restaurant space from its owner and the uses it as the main kitchen for Smokin' Barrel. 
Indicative Prices
Main items on chicken, fish, beef, shrimp: $10 - $25. 
Sandwiches and Burgers range between $5 - $10. 
Open Hours
Smokin' Barrel serves lunch and dinner. They also serve late night snack. On Sundays, they serve codfish breakfast (something very Bermudian). They only accept cash though. 
Monday to Thursday: 8am - 10pm; Friday: 8am - 3am; Saturday: 12noon - 2am 
Sunday: Codfish Breakfast (all day) 
Location and Contacts
1 Waterfront Park, Front Street, Hamilton City (Next to Ferry Terminal) 
Phone: 441/331-0211. 

By Raj Bhattacharya 
Raj, a seasoned travel writer and Bermuda destination expert, has extensive global travel experience. This website reflects his profound insights, garnered over nearly two decades of dedicated findings and research on the island. Raj has assisted countless Bermuda-bound visitors by providing direct, personalized responses to their queries and imparting his wealth of knowledge through this platform. This site serves as an indispensable guide for those seeking informed and reliable insights into Bermuda's treasures. 
Related Articles
Visitors' Reviews and Comments
Raj (Bermuda-Attractions.com) July 2014 
It has been couple of years when the last review of Smokin Barrel came in which is captured below. Although it was a real bad experience, I believe that it was a one off case. From all what I have heard and known, a lot has changed since then. Smokin Barrel has developed lot many fan following in the island and also with visitors who love the hot food here and its very competitive pricing. In all fairness, it deserves a very good rating. 
Lauren Pearce (July 2012) 
My boyfriend and I arrived in Bermuda on Friday afternoon...around 10pm, as we walked along Front Street, we came across Smoke n Barrel. I had ribs and Mac n cheese, my boyfriend had chicken and French fries. That was the end of our fun. Saturday morning we woke up and my boyfriend couldn't get out of bed. We both ended up throwing up all day. Although we felt better to venture out on Sunday, our stomachs never recovered and we weren't able to eat a single good meal on our trip. Our stomachs didn't fully recover for over 3 days. Food poisoning from this food truck ruined our vacation. P.S: We are from the USA. We ate there on 7/20/2012. The truck was parked right by the Hamilton Ferry station.