Street food in Bermuda
Served from Trucks
What to Expect?
Mobile food served from trucks and vans are fast spreading in the island although most are still available within Hamilton city limits. This is because Hamilton has the highest flow of people with both local office goers and tourists coming for shopping. 
And the mobile food option like the lunch wagons, trucks and vans fit in perfectly for those looking for cheap, fast and hot food.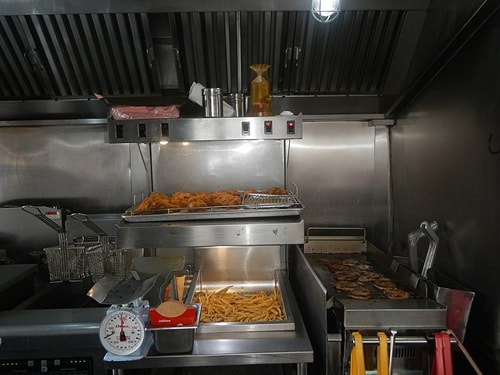 Some also offer breakfast and dinner. You get lots of varieties in cuisine these days that can satisfy most who love food. These are also the places to try out traditional Bermudian food at affordable prices. 
The concept of mobile food started in 1930s in Bermuda when the food used to be served out of horse drawn carts and mostly in Front Street area. Those days there were only one or two such vendors. Today the carts have been replaced by specially designed trucks and vans. 
Food is prepared fresh daily. There are some ten odd such mobile food sellers in the island who have made good names for themselves. Most would offer pop up tents or umbrellas and plastic chairs where you can sit and have your food (mostly by the roadside or car park). 
Here are some of the most popular mobile food eateries and lunch wagons in Bermuda: 
DeGraff's Lunch Counter
This is a family run business which operates out of the parking lot at City Hall in Hamilton City. You won't easily notice this white van which is parked at a backside corner of the parking lot. But they are probably the most well known and popular with the locals for offering great fast food from a food-truck.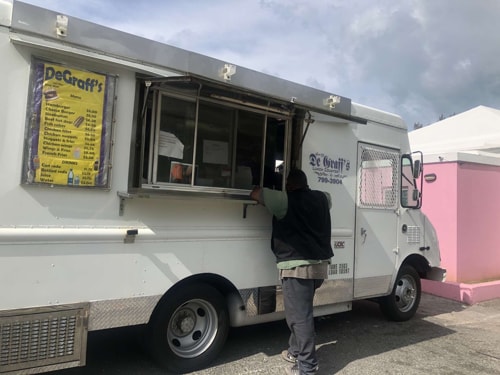 They are also the first in mobile food truck business in Bermuda. They started in 1939 with horse drawn cart on Front Street and later converted that into a van. While the menu is quite extensive, our favorites here includes the beef pie, fish cakes, chicken fillets and burgers. The steaks are also very nice. They serve traditional breakfast and lunch. 
Cuisine: Traditional Bermudian; Location: City Hall parking lot 
Phone: (441)799-3904; Hours: Monday to Friday, 10am to 3pm 
Keith's Kitchen
This is another very popular lunch wagon which operates out of the BAA parking lot in Hamilton. Keith has been operating this food truck for over 30 years. You can easily recognize this white truck with its blue stripes. It's a great option for quick lunch.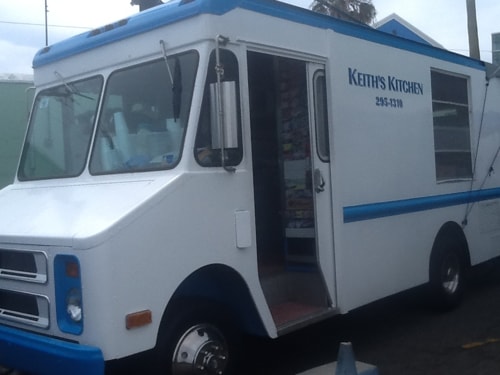 Our favorites here are the huge fish sandwiches and also the bacon cheese burgers. But a must appetizer is the split pea soup, although you will get a number of daily specials in soups and also the delicious fish chowder. The food truck also offers steaks and chicken burgers. Serves breakfast and lunch. 
Cuisine: Traditional Bermudian fast food 
Location: BAA Car Park, 48 Woodlands Road, Hamilton City 
Phone: (441) 295-1310 
Hours: Monday to Friday, 6am to 2:30pm 
Jor-Jay's Takeout
Operating for well over a decade, Jor Jay's is a family run food truck and a popular name on Front Street in Hamilton City. The white and red truck is easily noticeable at the Front Street parking lot (across Supermart Grocery). They specialize in fish sandwiches, burgers, chicken tenders, patties, fries etc. This is one place where you will get hot food from morning until late at night and at reasonable prices.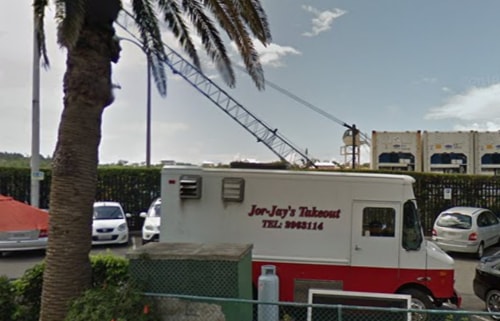 Cuisine: Bermudian fast food 
Location: Front Street parking lot (opposite to The Supermart grocery) 
Phone: (441) 296-3114 
Hours: Monday to Thursday (8am to 3am); Friday (8am to 4am); Saturday (11:30am to 4am) 
Winky Dinky Dog
As the name suggests, they specialize in serving hot dogs from mobile cart. Being in business since several years, they have made a name for themselves in items like smoked sausages, Portuguese chorizo and regular beef and turkey dogs etc. 
In fact they have a jumbo one (a 12-inch long one known as fut' long dog also as Winky Donky Dog) which is made of beef, Bermuda red onion, tomato and bacon.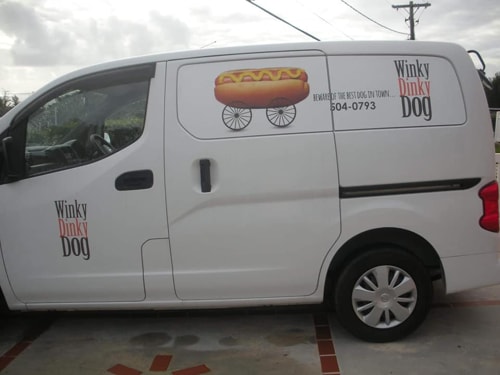 They offer great selection of toppings including BBQ beans, coleslaw, homemade chili, Pineapple Salsa, grilled vegetables etc. But one of our recent favorites here is the beef hot dog in a baguette and wrapped with cream cheese and olive tapenade. It's excellent!! You can also try your own hot dog recipe. They also offer soda, juices and water. 
Location and Hours: Butterfield and Vallis parking lot, Woodland's Road, Hamilton (only on Saturdays, year-round, 10am to 3pm). Phone: (441) 535-1648. 
Little Mexico
You will find this colorful little cart at the corner of City Hall car park as you walk down the Church street. This mobile eatery is run by the couple Teresa Humphrey and her husband Emanuel. Over the generations they have family experience in preparing Mexican cuisine.  
The mobile cart was launched in September 2011. Although relatively new, you will find many locals converging to this little eatery during the lunch time for the authentic mouthwatering Mexican food they prepare. They use Cabo San Lucas regional recipes and prepare the food every day from fresh local ingredients.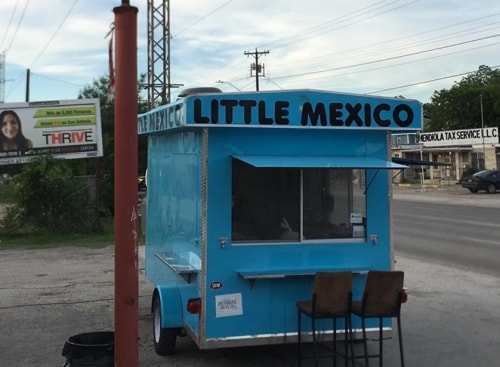 Some of the favorites here includes (served with lettuce, salsa and guacamole): Fish Taco Baja style, Shrimp Taco, Chicken or Beef Fajita, Beef Chimichanga, Flautas chicken or beef, Vegetarian Taco, Tostadas, Homemade Nachos served with beef or chicken etc. 
They also have takeout food like Salsa with homemade chips, Ceviche Cabo style, fresh fruit juices, homemade banana bread, carrot-pineapple bread etc. 
Cuisine: Mexican 
Location: Corner of Church Street and Wesley street at City Hall car park. 
Phone: (441) 533-2327 
Hours: Monday to Friday (10am to 4am); Saturday (10:30am to 5pm) 
Cann Da Licious
It's a green food truck with a food stand located at the waterside of Albouys Point, Front Street, Hamilton. Their specialty is hot dog although they serve various other fast food and breakfast. A local's favorite here is Chili Cheese Dog. 
Other popular items include cheese burgers (veggie option as well), steaks etc. Carry your food, find a seat at the adjacent waterside park (Point Pleasant Park) and enjoy as you watch the boat activities at the harbor.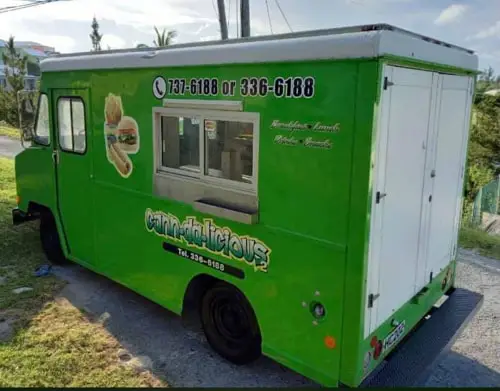 Cuisine: Fast food 
Leslie's Desserts
This food truck specializes in European desserts and started operation in July 2021. Their green colored small van can be seen parked inside the
Victoria Park
in Hamilton City.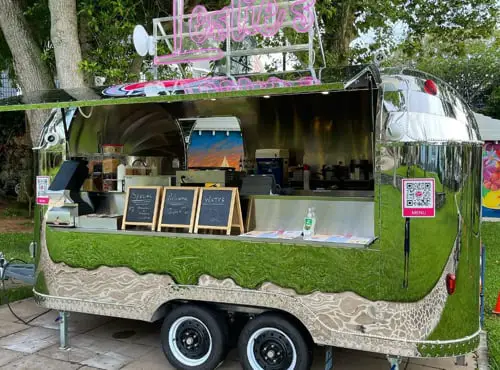 Their signature creations include: 1) Classic - Madagascan Vanilla Gelato and Milk Chocolate Sauce or Maple Syrup, 2) Oreo Crush - Cookies and Cream Gelato, Crushed Oreos, Cookies & Cream Sauce, Milk Chocolate Sauce, Hershey's Milk Chocolate and White Chocolate Chips, 
3) Kinder Surprise - Kinder Dream Gelato, Kinder Bueno, Nutella, White Chocolate Hazelnut Sauce, Hershey's Milk Chocolate Chips, 4) Strawberry Kiss - Madagascan Vanilla Gelato, Strawberries, Milk Chocolate and White Chocolate Sauce, Hershey's White Chocolate Chips, Fresh Whipped Cream, 
5) Chocolate Indulgence - Chocolate Indulgence Gelato, Milk Chocolate and White Chocolate Sauce, Hershey's Milk Chocolate and White Chocolate Chips, and several others. 
They also offer different flavors of Sundaes and Milkshakes, as well as smoothies and wafflebites. 
Cuisine: Desserts 
Price range: $10 - $14. 
Location: Victoria Park, Hamilton City 
Dandy Donuts
If you have sweet tooth, this one is for you. As the name suggests, they offer sweetest of sweet mini donuts and other sticky sweet items from their small white cart at St John's road in Pembroke. 
Some favorites here includes Honey Nut O which comes with several mini donuts covered with Bermuda honey and chopped almonds, and Big Apple Dream which comes with donuts having apple pie filling. They also offer ice creams, milk shakes, smoothies etc. 
Cuisine: Sweets 
Location: Northern side of St John's road (after Arnold's Food Market), Pembroke. 
Hours: Monday to Friday: 3pm to 6pm. 
Smokin' Barrel
X No longer operates food truck 
You will see this prominent red truck as soon as you come out of the ferry terminal in Hamilton City. Operating since August 2011, the food truck offers piping hot barbecued items including chicken, beef, fish and prawns. 
Some of the favorites here includes the sweet jerk chicken, lemon pepper fish, barbecued ribs etc. Go through
Smokin Barrel in Hamilton
for detailed information. 
Hal's Kebab and Grill
X No longer operates food truck 
You will find this orange color small cart on Middle Road in Warwick at the Rubber Tree. Run by Halil Yazoglu, he specializes in Turkish cuisine and offers a range of kebabs and grilled items. 
Some of the favorites includes the Doner kebabs (chicken, beef, lamb gyros) and served with pita/bread etc, Kofte kebabs, chicken wings, and even Turkish platter. 
Other best sellers are burgers, fish sandwiches and handmade salads. Side orders includes chips, onion rings, French fries, water, sodas etc. 
Cuisine: Turkish 
Location: 70, Middle Road, opposite Warwick Post office, Warwick parish (Bus route #8). 
Phone: (441) 704 0305 
Hours: Monday to Thursday: 11:30am to 9pm; Friday and Saturday: 11:30am to 10pm. 
Karen's Lunch Wagon
If you are visiting the
Ducking Stool Park
on North Shore road, then Karen's Lunch Wagon would be a great option to have a mid day meal at a reasonable price. You will find this large blue truck parked at the parking lot of Ducking Stool Park. There are ample trees and shades around to have your food comfortably and away from the Hamilton's crowd. 
Some of the favorites here includes the burgers with soft buns, fish cakes, hot dogs, steaks etc. You will also get fries, sodas, water etc. 
Cuisine: Fast food 
Location: Ducking Stool Car Park, North Shore Road, opp. C-Mart, Pembroke (bus route #11). 
Hours: Monday to Friday: 11am to 5pm. 
Food Truck Festival
Bermuda's Food Truck Festival
is organized to celebrate the island's local and street food sold from four wheels. This is an excellent opportunity to taste local food of various kind and know about the local food culture and traditions of the island. 

By Raj Bhattacharya 
Raj, a seasoned travel writer and Bermuda destination expert, has extensive global travel experience. This website reflects his profound insights, garnered over nearly two decades of dedicated findings and research on the island. Raj has assisted countless Bermuda-bound visitors by providing direct, personalized responses to their queries and imparting his wealth of knowledge through this platform. This site serves as an indispensable guide for those seeking informed and reliable insights into Bermuda's treasures. 
Related Articles
Visitors' Reviews and Comments
Share your experience.