Sea Breeze Lounge and Terrace
$$$, Sushi/Fusion 
Many a times guests stroll out of
Cafe Lido
at the Elbow Beach Hotel after a sumptuous meal and head to the very relaxed outdoor setting of the Sea Breeze for cocktails and drinks. It offers panoramic views of one of the most beautiful beaches on the island and the vast ocean beyond while serving an elaborate selection of sushi and tapas in an elegant yet relaxed ambiance. 
The restaurant serves breakfast and dinner daily with live music on Friday and Saturday evenings. Bands play from a deck area nearby and creates a lovely atmosphere complete with the sound of waves and a cool sea breeze blowing through your hair. It is best if you can get a reservation on these nights before you head out as they are really popular and tend to attract many. However it gives you a truly Bermudian experience with great food, drinks, ambiance and music. So do not miss it ! In fact they even do a happy hour on Friday nights during the summer. 
Sea Breeze Lounge and Terrace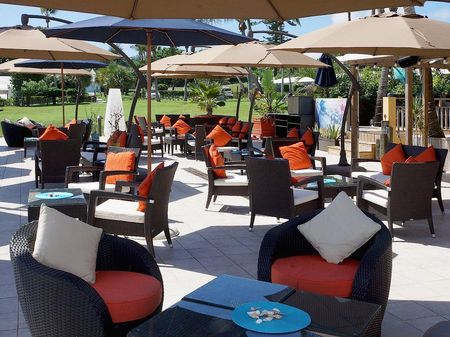 Source: Elbow Beach Hotel 
For breakfast you have the choice of freshly made omelets, waffles, pancakes, French toast or their home-made granola with a variety of pine nuts, pecans etc along with a low fat yogurt. You can try their country sausage with just a touch of sage for that perfect flavor. After the meal, you can simply go for a walk on the super smooth sand along the water's edge. 
For dinner, apart from a mix of tapas and sushi, the sliders and platters are quite good and flavorful with great portion sizes. The fish cake and lamb kofta sliders are especially favorites. You can in fact have a virtual global culinary tour while eating dinner here with the excellent tapas menu of varying international cuisines. Each mini plate is quite delicious and you have a wide array to choose from.   
There are several vegetarian options too. The black iced coffee here is also highly recommended. Go for a mouth watering fondue dessert to complete a well rounded meal. During the winter months, they serve classic dishes under outdoor heaters and warming fire pits to keep to the norm of serving "comfort foods". 
The food here is great, the service friendly and pleasant, the setting laid back and casual. It is a great outlet to spend time with family and friends and even wonderful for kids. A perfect spot to start or end your night. 
Open Hours
Breakfast: 7-11am 
Tapas and Sushi: 5-9.30pm 
Bar: 5pm-12am 
Attire: Smart Casual 
Location and Contact
Bus routes: #2 (operating between Hamilton and Paget) or #7 (operating between Hamilton and Dockyard). 
Road Map 
Related Articles
1) Check out
Restaurants in Paget
know about all the great restaurants and bars in and around Paget parish. 
4) Check out
Paget Parish
to know about the parish including all its attractions, activities, hotels and other information. 
Visitors' Reviews and Comments
Share your experience.