Byways Minibus Tours, Bermuda
This minibus tour was originally operated by the couple Ray and Kay and offered excellent opportunities to explore the island. Every tour included short walks, activities, full commentary, refreshments and photo opportunities. They used a minibus and provided pick up and drop services from/to the hotels and the cruise ships.  
In 2012, Byways was taken over by Heidi Cowen. She is the grand daughter of the last lighthouse keeper of
Gibbs Hill Lighthouse
. Heidi is a bus driver and a tour guide herself.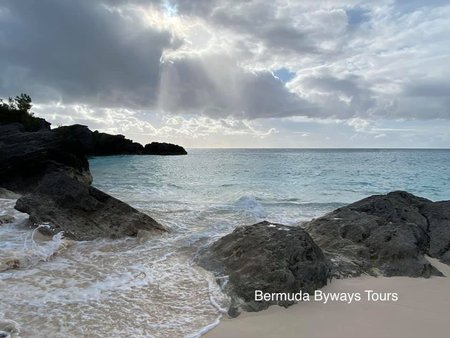 Photo: Byways Tours, Bermuda 
Following change of ownership, there has also been some changes in the way the tours are designed. Earlier there used to be separate tours for different areas of the island. For example "The Way West" tour would take you to the western parishes and "Where it all began" to the Eastern part like St. George where the history of Bermuda began. 
But now Heidi's 5 hour Island Tour combines both the eastern and western areas, which means you get a glimpse of most of the major landmarks and tourist attractions in the island. Additionally the tour includes a short picnic, on a beachside bench or at the Botanical garden. She takes up to 10 passengers in her mini bus. 
She usually starts from Royal Naval Dockyard at the western end and heads towards the eastern end. Along the way she will make short stops at various places so that you can take photos. She is herself the driver and usually brings along her buddy - a small dog unless one has any objections. The bus can pick you up from the dockyard or hotel. 
Here are some of the main places that are covered in the Island Tour: 
Bermuda's story began in St. George in 1609. Its early history is closely linked to that of the colonies of America The town is a World Heritage Site, full of ancient buildings and narrow twisting lanes, ringed by forts dating from 1612 to WWII. Slaves, blockade-runners, preachers and pilots have all left their mark on the parish. This tour visits not only the old town, but places of interest and scenic spots nearby.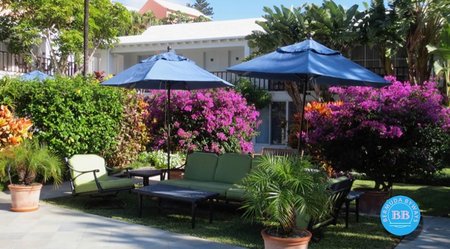 Photo: Byways Tours, Bermuda 
Located in St David's island at the eastern end, this lighthouse was built on top of a hill in late 1800s. 
A sleepy picturesque village in the island full of history. 
This is a private estate that opens their manicured gardens to visitors. 
Some of the lovely sandy beaches and coves in South Shore. She prefers to stop by Warwick Long Bay Beach and Jobson's Cove that are picturesque but less crowded than few of the other beaches. 
Heidi will of course stop here... she lived and grew up here in a house below the lighthouse. But even otherwise, this is a great attraction and offers a fabulous view of the island and Ely's harbor from the top. 
World's smallest drawbridge in Sandys 
The smallest church in Bermuda. The associated parkland is also lovely. 
Time permitting, the tour will cover few other attractions as well like the Botanical Garden, Flatts Inlet (Heidi's favorite place), Palm Grove Garden (a private estate open to visitors).  
Tour cost
The total tour duration is about 5 hours (Time: 9am to 3pm). The rate is $100 per adult and includes picnic lunch. $50 per child (age 6-12). 
Contact Info
Note: No credit cards. Only cash is accepted. She does not have a credit card machine yet. 
Related Articles
2)
Bermuda Tours
: Many other great tours and excursions in Bermuda. 
Visitors' Reviews and Comments
Mona (August 2017) 
I recently vacationed on beautiful Bermuda and took this tour with Heidi. I got to see the island from tip to tip. Heidi was an awesome guide. She relayed lots of interesting facts and stories about the island. Heidi took great care to make sure we were comfortable and well fed. The fish sandwiches she got for us were amazing! It was a wonderful tour and I highly recommend Heidi as your guide.