Last Updated: January 4, 2017 
South Shore Beaches & Park Bermuda
Half Day Itinerary
Some of the best beaches in Bermuda are on south shore. Here I am suggesting an itinerary covering two of the top beaches in Bermuda: Horseshoe Bay Beach and Warwick Long Bay Beach along with a series of spectacular coves. 
This itinerary is ideal if you are willing to walk, looking for some swims and snorkeling while leisurely strolling along a lovely south shore trail. The train starts from the famous Horseshoe Bay Beach at Southampton and goes eastwards to Warwick Long Bay Beach in Warwick. You can also do the reverse route. Pack a towel and sunscreen and get on your way. Take a bus and come up to the South Road at Southampton. Bus #7 is convenient. 
From the South Road, walk over to
Horseshoe Bay Beach
.
This is a picture perfect beach with pink sands. This also happens to be one of the most photographed beaches in Bermuda. There is a beach cafe here and facilities like bathrooms, beach rentals like chairs, umbrella and snorkel etc. 
There is a mid priced restaurant
Gulfstream
opposite to the entrance of Horseshoe Bay Beach on South Road. It prepares nice Italian food including thin crust pizzas and also seafood and International dishes. If you like, pick up some quick snacks and bottled water. As you walk along the Horseshoe Bay Beach towards east (i.e. left as you face the water), explore the small coves and several lovely beaches. 
South Shore, Bermuda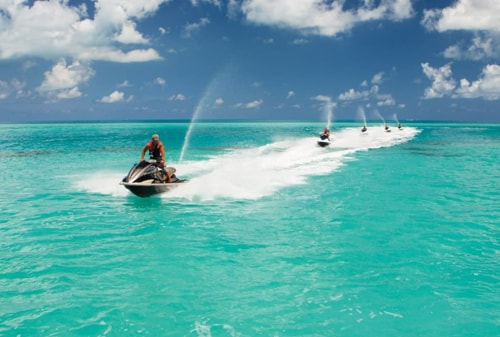 The trail and the beaches here are part of South Shore Park which is a nature reserve stretching across Southampton and Warwick Parishes. It has been designated as a national park since 1990. It starts from the western end of Horseshoe Bay Beach and goes all the way up to the Eastern end of
Warwick Long Bay Beach
. The entire stretch is about 1.25 miles. 
The stretch has a sandy walking trail along limestone cliffs and dunes which is just above the beach level. There are large spans of grassy areas as well on the way that are great for picnics.  
However, you can also walk along the beaches (i.e. the waterline). But there will be some rocky formations and water areas on the way that you may need to wade around. It's not that difficult. I would recommend some kind of beach or water shoes if you are walking along the beach. If you are carrying bags, then it's easier to take the sandy trail above along the cliffs.  
The trail along the cliff offers wonderful view of the ocean. But if you walk along the beaches you will come across tiny semi-secluded coves that will simply blow your mind off. Each one is a photographer's paradise. Spend some time at a cove looking at the turquoise waters. 
Map showing South Shore Park 
As you stroll along the beach or the trail, you will find numerous coves and beaches like Peel Rock Cove, Butts Beach, Middle Beach, Wafer Rocks Beach, Angle Beach and more. Then you'll reach the twin coves of
Chaplin Bay
and the
Stonehole Bay
in about 0.7 miles. Both are very picturesque spots and great for swimming or even just for relaxing. 
There is a public toilet at the Chaplin Bay / Stonehole Bay area. This is the only public facility along this route. There is also a car park at the entrance of the Chaplin Bay / Stonehole Bay. 
Continue east on the trails and you will shortly find a tiny swimming hole with crystal clear water at
Jobson's Cove
. This place can quickly get crowded. So try to make it early. This wonderful little cove is surrounded by lime stone cliffs. This is also a great place for snorkeling. 
Continue east along the South Shore Park Trails and you will reach
Warwick Long Bay
, a stunning half-mile long beach. This beach also offers excellent snorkeling opportunity. There is a seasonal concession stand at the beach which rents chairs, umbrellas and snorkel gears. Since there is no café here, this beach tends to be less crowded. 
From Horseshoe Bay Beach up to the Warwick Long Bay, the terrain is fairly flat and not difficult. If this stretch is enough for you and you plan to go back to the dockyard after the walk, then you can do the reverse hike. In that case, ask the bus driver to drop you at the Warwick Long Bay. Hike down the hill side to the shore line and take the reverse trail towards west (i.e. right while facing the water) through the lovely beaches and coves that I mentioned above. 
South Shore Park ends at the eastern boundary of Warwick Long Bay beach. However if you walked up to Warwick Long Bay and like to explore further, then come up to South Road, walk towards east and then you will find the entry way for another lovely beach & park -
Astwood Cove
. 
For snacks and some drinks, continuing east along South Road. You will soon find South Shore's one of the landmark pubs -
Swizzle South Shore
. This is a branch of the original
Swizzle Inn
that has been the inventor of the famous drink in the island,
The Rum Swizzle
. You will get a wide selections of burgers and other pub food. 
Related Articles 
3)
Bermuda Tours
: Know about many other great tours & excursions in Bermuda. 
4)
Bermuda Activities
: Know about all the recreational activities & things to do in Bermuda 
Visitors' Reviews & Comments 
Debbie 
Approx how far is it from Warwick Beach to the Swizzle Inn - would like to do your recommended walk from Horseshoe Bay to Warwick Long Beach. Thanks. 
Raj (bermuda-attractions.com) 
The Swizzle Inn (South Shore branch) is near Surf Side Beach Club and between Astwood Cove Park and Elbow Beach. From Warwick Long Bay Beach, keep walking east along South Shore Road (i.e. South Road). Astwood Park is about 0.5 miles from the end of Warwick Long Bay, and Swizzle Inn is further 1-mile or so. You can also take a bus from Warwick Long Bay to the pub (bus #7).