Fantasea Tours & Charters, Bermuda
Fantasea Diving and Watersport Center is one of the leading watersport operators in Bermuda and one of the oldest. Other than scuba diving at the western water areas to explore wrecks and reefs, they also offer group tours for Kayak Eco Adventure, sightseeing and snorkel by boat, whale watching boat tour (during March and April), bike tour on Bermuda Railway Trail etc. They also give you several nice options for private boat charters and rentals from a fleet of small Boston Whalers to large motor cruisers. They are located at the Royal Naval Dockyard and quite close to the cruise piers. 
Scuba Adventure - 2 Tank
They normally use the 40-ft dive boat Bubble Down to take the divers to the first dive site at a short ride away from Royal Naval Dockyard. There are two great shipwrecks here lying side by side at a depth of 30-50 ft. of water. Once this dive is over, then another short ride away is the second dive site which is usually a wonderful underwater reef area teeming with marine life and colorful corals. 
Bubble Down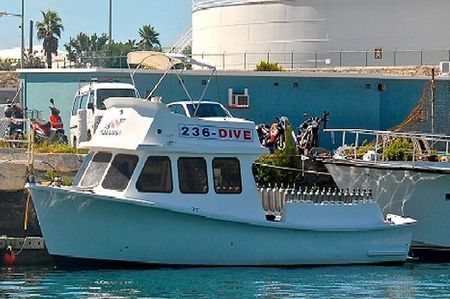 Photo: Fantasea 
Fantasea has its own PADI diving center at the dockyard close to the cruise berths and all dive equipment are provided by them (you can also get your own and get a 25% discount). Extensive briefing session takes place while you take the boat ride to the first site. All dives are guided by experienced PADI certified dive masters. You must have a minimum of PADI Open Water Diver or equivalent certification and be able to show the proof in order to undertake this two-tank dive. However note that the dive locations are subject to weather conditions and discretion of the boat captain. 
PADI Discover SCUBA Course is also offered for beginners. After thorough lessons and practice, the participants are taken to shallow water dive (35ft) under full supervision. No prior experience is required. All equipment are provided by the operator. 
Fantasea also offers SNUBA which is a patented shallow water dive from a beach... it's a combination of snorkeling and the excitement of diving. There is no diving or snorkeling experience required, nor do you need to carry the clumsy dive equipment. After detailed instructions, guidance and practice in shallow water, you are taken to a reef area to view amazing fish and marine life. SNUBA starts at Snorkel Park Beach located within Royal Naval Dockyard. 
Rates by Viator 
Boat Rentals and Charters
NOTE: All Self-Drive rentals are required to complete a Damage and Liability Waiver process at the time of check-in; Valid credit card is required to be authorized for charges in the event of damages to the boat. Cancellation policy is 24 hours prior during the week. On public holidays and weekends, the cancellation policy is 48 hours. In case of unsafe weather, self driven boats are not allowed to be taken out and such decision is made 2 hours before the scheduled time. 
Pontoon Boat 
23-ft Pontoon Boat which has a capacity of 10 persons. Key features includes - full tank fuel, cooler with ice, safety equipment, map of the island, 4 sets of snorkel gears, floating noodles, radio/CD player, marine head toilet, partial canopy cover, cushioned seats, pedestal table etc. Rentals are for ½ day or full day. Half day rentals are from 9am-1pm or 2pm-6pm, full day rentals are from 9am-5pm. A thorough briefing is given about safety measures and equipment. They will also let you know about the best snorkel spots and sightseeing locations as well as places to anchor. 
23-ft Pontoon Boat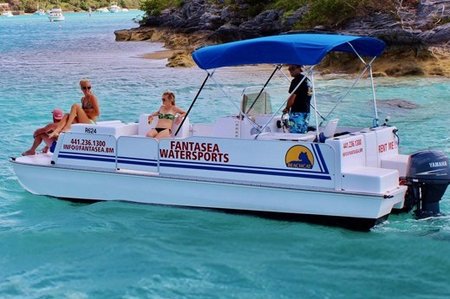 Photo: Fantasea 
There is also a 23-ft Premium Pontoon Rental available which is same as above... differences include but not limited to a power flush on the marine head,  A full bimini (canopy) cover, boat is 1 foot wider. 
Indicative Rate: 
Standard Pontoon: Half day rental is $350, full day rental is $600.  
Premium Pontoon: Half day rental is $400, full day rental is $700. 
Optionally captains/guides are available for an additional cost of $60 per hour and must be arranged well in advance. Delivery of the boat is available to certain locations other than dockyard for a cost of $60 each way. If you hire a captain and wish to be collected someplace other than Dockyard, the delivery fee is waived. The rental includes a cooler filled with ice, 4 sets of snorkel equipment and noodles. Fuel is included in the cost. 
Boston Whaler 
13-ft self driven Boston Whaler which you can rent for half or full day (i.e. 4 or 8 hours) and explore the western water areas around the island yourself, stop at a seclude island beach for a private picnic, swim, snorkel at your own flexible time. It has a capacity of 3 persons. 
Indicative Rate: 
Half day: $250, Full day: $400. 
Sun Deck 
This is a 60-ft large power catamaran which can accommodate up to 120 persons. It's meant for a large private group. You can take it for various private tours like sunset cruise, cocktail cruise, snorkel trip or just for a nice day out in the water. The main features of the boat includes stable ride, large and shaded lower deck, full service bar and catering, snorkel gears (included), two swim platforms with ladders, two toilets, optional jet ski, kayak etc. 
Sun Deck 
Photo: Fantasea 
Indicative Rate: 
$600 per hour for up to 60 people, $20 each additional person. Minimum 2-hrs. 
Eco Express 
This 35-foot powered catamaran has a shallow draft that can accommodate a wide variety of water based adventures. It has a capacity of 40 persons. This charter boat can be used to snorkel at the outer reefs, visit hidden beaches and make a safari to coral garden. If you are looking for an active day of exploration, this is a good boat to charter. They can arrange water sports on request. 
Eco Express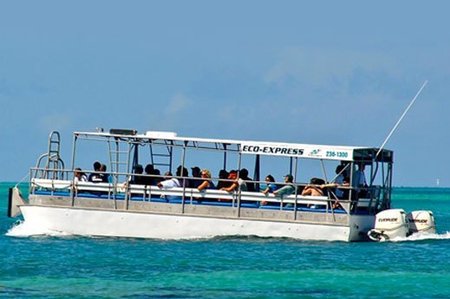 Photo: Fantasea 
The boat has a bow ramp for beach landings, swim platform with a ladder to easily access the water, shaded seating and a marine head toilet. Optionally bar and catering service is also made available. 
Indicative Rate: 
$300 per hour for up to 20 people, $25 each additional person. Minimum 2-hrs. 
Bubble Down 
This is a 40-ft custom dive boat which too is available for charter. It has a capacity of 20 passengers. The boat charter does not include dive gears or instructors. However at an additional cost, dive equipment and an instructor can be provided by their PADI dive center. The boat has shaded seating, swim platform with ladder, a marine head toilet etc. 
Indicative Rate: 
$300 per hour. 
Kayak Eco Adventure
This is a guided Kayak tour. After a short boat ride you will reach a wonderful beach site where the kayaks are kept. You will kayak along the coastline and explore several lovely coves, landmarks and even be able to spot green turtles. The guide will inform you about the various landmarks you are passing by and fill you with Bermuda's history and ecology. You can spot different coastal birds along the way including Bermuda longtails, egrets etc. Once you get back to the beach, you can relax, enjoy a swim and have a complimentary cold drink. 
Sightseeing Cruises
The Sundeck Sightseeing and Snorkel Cruise leaves from the dockyard and includes a sail along the coastline on a power catamaran as you listen to the informative commentary from the guide while relaxing on the open upper sundeck or at the shaded lower deck. The boat then anchors at a secluded bay where you can swim, snorkel, kayak or paddle board (gears are provided), alternatively you can simply chill out at a beach. While sailing back you can enjoy a complimentary beverage at the boat bar. Tour duration is 3 and 1/2 hours. 
The 90-minute Gosling's Rum Tasting Cruise from dockyard is a great way to enjoy the seascape after sunset while sampling local island cocktail and three different local rums. As you sail and enjoy the drinks, the guide will inform you about Bermuda's history and traditions. There is also a cash bar available and you can buy drinks of your choice. 
The 3.5 hour
Bermuda Railway By Bike
is a combination tour... a shuttle boat transfers you from dockyard to a beach site in Ely's harbor while you enjoy sightseeing. You will be then provided Mountain Bikes to embark on a guided bicycle ride along the
famous railway trail
. The guide provides a commentary on ecology and various historical points of interest you pass by including Heydon Trust Park and Fort Scaur. About 5 - 8 miles of the trail is covered in the bike tour. 
Location and Contacts
Dockyard Watersports Center, North Arm 
Royal Naval Dockyard (West End), Sandys, Bermuda. 
Road Map 
Related Articles
Visitors' Reviews and Comments