Latin Restaurant Bermuda
$$, Mediterranean 
UPDATE:
Latin
has closed down in 2011 after three years of operation. It is being re-launched as a new north American style bistro known as the
Victoria Grill
. The takeaway section
Java Jive
too has subsequently closed down.
---
Latin is one of the new restaurants in Bermuda located in Hamilton City. It is a combination of a restaurant, a tapas bar and a quick service cafe. Latin is themed on Spanish and South American cuisine.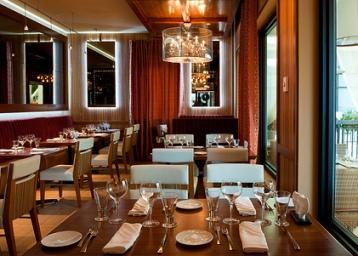 The executive chef is Derek Myers from Canada and has helped develop the theme. There are two levels. The restaurant is in the upper level. At the lower level there is a Tapas bar know as the RumBar. It has both indoor and outdoor seating. There is a courtyard which is a great place to have drinks during the summer time. 
The atmosphere at the Latin restaurant upstairs is quite elegant. While the RumBar is quite vibrant and bouncing. At the RumBar, you will also find tapas selections, and an oyster bar. There is also a Ceviches rawbar that serves various seafood cooked in lime juice including shrimps, Asian tuna and Wahoo. 
One of the main focus of the restaurant has been on the traditional Spanish recipe based items like the Paellas. Some of the popular dishes during lunch time here includes Torta de Pollo Tinga (pulled chicken with guajillo barbecue sauce and Cuban bread), Tostadas de Wahoo (grilled wahoo fillets), etc. 
There are also Puerco y Arroz (roasted pork), Salmon a la Parrilla (char grilled salmon fillet) and Relleno de Langosta (Lobster and sofrito stuffed poblano chili, and Cuban rice). 
During dinner you can try one of the Paella dishes like the Valencia (calamari, chicken, chorizo, shellfish, pimentos, saffron), Mariscos (Mixed shellfish, local Bermuda fish, Vegetables) or Argentinean (grilled skirt steak, potatoes, chorizo, carrots, chicken, chimmichurri). Of course there are other great dishes like the pan fried Bermuda rockfish, grilled salmon, and oven roasted chicken. 
Latin - Outside Seating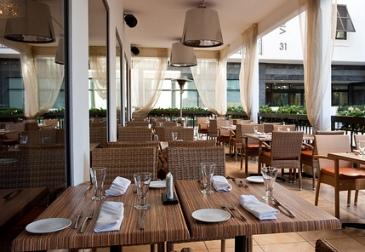 Latin has also recently introduced Brazilian dishes like the Churascaria where the steaks are fire grilled. There is also a cafe and takeaway section known as the Java Jive located in front. It serves good coffee and snack items like the Latin sandwiches, wraps and other take away stuff. If you are in Hamilton city near the main bus terminal, and planning to pack your lunch or take breakfast, this is a good place to consider. 
The service is generally quite good. The restaurant belongs to the Island Restaurant Group (IRG) that also owns some of the best restaurants in Bermuda including
Barracuda Grill
,
Pickled Onion
and
Hog Penny
. The restaurant has a provision for private seating of a small group as well. 
They accept credit cards. Dress code is smart casual. 
Open Hours
Monday - Saturday: 6am - 10pm 
Location and Contact
29 Victoria Street, Hamilton City, Bermuda 
Phone: 441/296-5050  

By Raj Bhattacharya 
Raj, a seasoned travel writer and Bermuda destination expert, has extensive global travel experience. This website reflects his profound insights, garnered over nearly two decades of dedicated findings and research on the island. Raj has assisted countless Bermuda-bound visitors by providing direct, personalized responses to their queries and imparting his wealth of knowledge through this platform. This site serves as an indispensable guide for those seeking informed and reliable insights into Bermuda's treasures. 
Related Articles
Visitors' Reviews and Comments
Share your experience.