Dive Bermuda
A Great Diving Center
Dive Bermuda was awarded National Geographic Dive Center status in 2006. This is the only center in the island to offer courses recognized by this renowned environmental magazine. It has PADI (Professional Association of Diving Instructors) 5-star facilities and offers advanced PADI courses to divers who want to take the next step in diving. 
This diving center was formerly known as Nautilus Diving. 
Dive Bermuda has a 40-foot dive boat. There are wide range of diving sites offered by the center giving choices from many great shipwrecks and coral reef sites. The dive center also offers certifications and night dives for experienced divers. It also operates offshore snorkeling trips. 
Some of the wreck dive sites include: 
Montana
(236-foot wreck and only 50 yards away from the Constellation), 
Cristobal Colon
(a Spanish liner that was wrecked in 1936 and is Bermuda's largest wreck), 
Marie Celeste
(a confederate gun runner that sunk in 1864) and many more.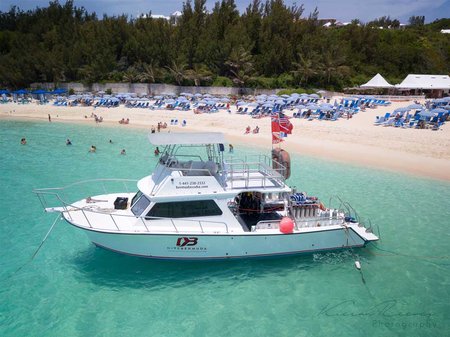 Reef dives include Sandy Hole in south shore surrounded by a coral reef, you can see lots of fish here including snappers & anemone, and also green morey, Barracuda Reef in south shore where you can see Barracudas and other reef fish, Deep Mooring in north shore for advanced divers where you can find many marine life including hogfish, puddingfish and wrasse. 
Dive Bermuda offers Discovery Scuba course for beginners introducing diving lessons in a pool followed by a shallow water dive from a boat. It also offers courses for the children of 8 and above (Bubble Makers). Dives are in shallow waters and supervised by PADI instructors. All equipments are provided in this course. 
Hours & Offerings 
Dive Bermuda operates daily during summer from 8am to 5pm. Winter hours are reduced and depending on demand, they may stay closed during winter. 
There are several packages offered including one & two tank dives, snorkel trips, passenger on a boat trip, holiday packages for multiple dives, private boat hire, PADI diver training program from beginner to instructor levels. 3-day and 5-day dive packages are also offered including unlimited dives. 
There are special rates offered for groups and multiple dives. You can also get wet suits, snorkeling equipment, camera and video on rental from Dive Bermuda. Night snorkel trips and underwater scooters are also available. 
Indicative Rates 
1-Tank Dive: $95 (without gears)  
2-Tank Dive: $150 (without gears) 
Discover Scuba Dive 1 tank (for beginners): $180 in the afternoon only 
Scuba Refresher (including all equipment): $180 in the afternoon only 
Equipment Rental (BCD, wet suit, regulator etc): $15 each 
Location 
Dive Bermuda operates from the following locations 
Contacts 
Phone (Southampton): 441/238-2332 
Road Map 
Related Articles 
1)
Scuba Diving
: All about diving and dive centers in Bermuda. 
3)
Activities
: Know all about the thrilling activities in Bermuda 
Visitors' Reviews & Comments 
Charles W. Wright (May 2015) 
Dear Raj, I will be in Bermuda on cruise from Sunday afternoon June 21, 2015 (about 3:00 pm) until departure at about 6:00 pm on Tuesday, June 23. I am considering going diving with Dive Bermuda located at the Southampton Princess on Monday and Tuesday. I need to be at the dive shop at 8:00 am each morning. Can I do this by bus. I will not be carrying heavy or wet dive gear. 
Raj (bermuda-attractions.com) May 2015 
Hi, Bus #7 which goes close to the dive shop in Southampton doesn't operate from the dockyard until 8:20am. Alternatively you can take bus #8 (6:35am) and get off at the stop nearest to Fairmont Southampton (ask the driver) and walk for about a mile to Dive Bermuda.