Salt Kettle House Bermuda: A Perfect Guesthouse
Hotel Category: $, Location: Paget Parish 
Salt Kettle House offers a great guest house accommodation in Bermuda and is one of our personal favorites when it comes to Bed and Breakfast type lodging in the island. This is one of the oldest guest houses in Bermuda and the most beloved one. 
Hazel Lowe and her husband Bobby took over the property in 1970. We continue to get charmed by the personal care and service extended by Hazel. As you arrive, Hazel invites you to the lounge, serves refreshing drinks and then takes out her map to help you plan your days. 
With her personal experience, she will start recommending the best places and things to do in Bermuda. Her friendly gesture and warmth continues through out the stay. I came to learn from her that many of her guests are returning guests, and many of them reserve months in advance to get their favorite rooms. The first time we came to Salt Kettle House, I was very pleasantly surprised to find that, despite popularity of this place, Hazel has stayed away from an answering machine, email, or a website. 
Salt Kettle house Bermuda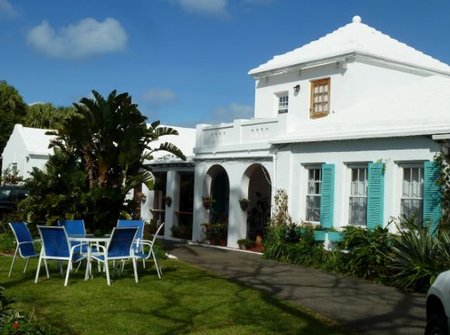 Photo: Salt Kettle House 
A cozy lounge inside the main entrance has a fireplace where you can gather for cocktails in the evenings, chat with other guests or read the generous collection of books. This is where the breakfast is also served every morning. You can also use the common kitchen to cook your own food. Unless you want to spend heavily on outside food, this is a wise thing to do as the kitchen is well equipped and it can save you a lot of money on food. 
Salt Kettle House - Breakfast Room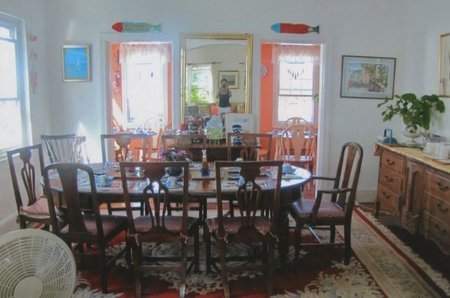 Photo: Salt Kettle House 
There are waterside cottages having shaded patios with lounge chairs, bedrooms, sitting rooms, and kitchens. You can fish and cook your catch, read on a lawn hammock, or have tea with Ms. Lowe. A barbecue grill is also provided. There are double bedrooms as well. There is also an apartment for two with cooking facilities. Totally there are 11 units. 
Waterside Cottage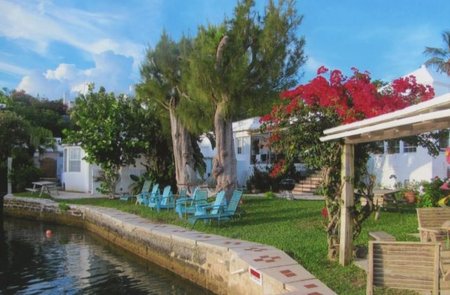 Photo: Salt Kettle House 
All rooms have air conditioning and private bathrooms. While Pinpoint A and B rooms are great with nice view of the harbor, for best view of the water, Tower Room is probably unparalleled. It has four windows with views of all sides and water views through two of them. However it is a bit isolated and near a private entrance. A staircase leads to the bedroom a few steps above while the bathroom is few steps below, although part of the same unit. 
Backyard with adjoining bay, Salt Kettle House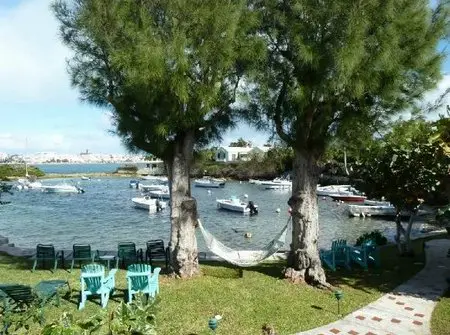 Photo: Salt Kettle House 
You can get a lift from Hazel up to the close-by super market (Lindo's Family Foods) so you can stock up on your provisions. Some of Ms Lowe's personal possessions include her friendly cats (Willie and Lillie), few ducks (one of them is named Lulu) and books which you can find everywhere. 
Breakfast at Salt Kettle house Bermuda can be British or continental. You can take your breakfast on the large cedar table in the guest lounge or in the patio with beautiful views of
Hamilton Harbor
. Breakfast usually includes traditional fresh baked muffins and fruits, and made to order eggs, bacon, toast, pancakes, coffee, tea etc. Breakfast in included in the room rates. 
Salt Kettle House is only a short walk from a nearby ferry dock. From here you will get a ferry to Hamilton City for all your shopping requirements and entertainment. It takes only 10 minutes to reach Hamilton by ferry. The bus stop is a bit of a walk (about 20 minutes and next to the liquor store). 
If you rent a scooter, you will have all the flexibility to move around. Hazel and her family members can help you out in that as well. From Salt Kettle Guesthouse, 40 minutes would be the maximum drive to the farthest place in the island. 
The following attractions are within five minutes drive from Salt Kettle House: 
Elbow Beach, a wonderful stretch of sands and a popular beach in Bermuda; 
Paget Marsh, a nature reserve full of native plantations, wildlife and birds. 
I have heard that there have been few cases of break-ins at Salt Kettle house in the past and some of the guests have had difficulties. I believe those were stray cases. We have never had such problems and never felt unsafe here. All doors have double locks and there is a safe in the rooms. For my family and me, Salt Kettle House remains as the top favorite guesthouse and a BnB in its own category. 
They do not accept credit cards. There is no in-room phone. However there is a payphone in the premises. Rates include breakfast. 
Update April 2013: For the first time, Salt Kettle House tries to catch up with technology and has introduced an Email and a website of their own. While Hazel is still around and is the main hostess, her siblings are now active as well. John particularly is very courteous and takes personal care for all requirements of the guests. 
My overall opinion
The fact that most guests in Salt Kettle House are repeat visitors must have a strong reason. And that is nothing other than the homely warmth of the hostess and her family members, plus clean rooms many of which offer great views of the water. The guesthouse offers ample privacy and is set up on a lovely garden setting although there is no pool or nearby beach. So if you are looking for a nice BnB with privacy which is like a home away from home and also quite convenient in the sense that the ferry connection to Hamilton city is just few steps away, then this is the one for you. 
Update January 2016: Earlier in January 2015, Hazel and her family had decided to close down the guesthouse and run the property only on a long term rental. After reconsideration, they have decided to keep two rooms open for guests  (a large twin room and a small double room, both in the main house). The remaining of the property (cottages and apartment) are being rented out to long term tenants. So there can be maximum of four guests at a time in the guesthouse. 
No breakfast or food is served. However guests can use the shared kitchen and of course the lounge and dining areas. The front and back gardens are also available for use by the guests. A good news is, due to limited accommodation, the guesthouse has gone below the tax threshold and guests no longer have to pay additional tax. This makes the guesthouse one of the cheapest accommodations in Bermuda with great value for money. Due to old age, the day to day operations are now mostly managed by Hazel's four children - Mike, Suzie, John and Jane. 
Location and Contacts
Postal Address: Salt Kettle House, 10 Salt Kettle Road, Paget, PG 01, Bermuda 
Check out
Bermuda Hotel Map
to view the location of Salt Kettle House and others nearby. 
There is a ferry dock nearby. The nearest bus stop is about a mile away at the Cobb's Hill Road stop at Paget and Warwick crossing. You will get bus #8 here that operates between Hamilton City and west-end Dockyard mainly along the Middle Road. 
Road Map 
Related Articles
3) Check out
Paget Parish
to know all about the parish including its attractions, activities, hotels, restaurants etc. 
Visitors' Reviews and Comments
Henry Isaak (May 2013) 
How can I get more info on Salt Kettle? Ammenities in the rooms and cottages. How often the ferry runs to Hamilton in January. Weekly rates in January. Etc. Thank you! Henry Isaak, Canada 
Raj (bermuda-attractions.com) May 2013 
Take a look at their website. Winter Ferry Schedule for 2014 is not available now. You will get it around November. Ferry services get reduced during the winter and frequency depends on week day/week ends. On a week day, the Hamilton - Salt Kettle service usually starts at 7am (from Hamilton ) and the last ferry from Salt Kettle to Hamilton is at 8pm. You will get a ferry almost every 40/50 minutes interval. Week-end service gets reduced.  
Margaret De Santis 
Hi Mrs. Lowe... I have stayed at your location perhaps 3 times.. once with my daughter.. I am from New Jersey. You called me the "black sheep" of the family.  I would like to stay again. Fondly. 
Christen Barger (Aug 2012) 
Hi. I was recently in Bermuda and would like to return next summer with my whole family and stay for a week or so. I inquired about some less expensive places to stay and was told to check out Salt Kettle Guesthouses. I looked it up on line but there are no prices. What is the cost per night? There is approx. 7 of us. I look forward to hearing from you soon. Thanks 
Raj (bermuda-attractions.com) 
Hi, there are no published rates for Salt Kettle House. You will need to talk to the owner Ms. Hazel Lowe over phone. The phone number is given above.