Granaway Guesthouse & Cottages
Hotel Category: $$  Location: Warwick Parish 
Granaway is an elegant pink manor house built in 1734 and owned by the couple Carol and Michael Ashton. It opens out into views of Hamilton Harbor. Granaway is a budget guesthouse. It once used to be the main anchorage for the privateers during the 18th and 19th centuries. 
You get a taste of both old and modern age here. Along with old cedar beams there are now modern conveniences like air conditioning and heaters in all rooms. 
The main house of Granaway has four guest rooms. All rooms are distinct and have individual names like Captains Room, Palmetto Room, Rose Room, and Royals Room. One of them features original cedar beams, while another one has a private terrace with harbor views. All rooms have air-condition, TV with CD Player, Fridge, private bath etc. 
There is also a cottage at Granaway which has been updated with bathroom and full kitchen. It has beautiful hand-painted Italian floor tiles, a fireplace for the winter, and air-conditioning for the summer.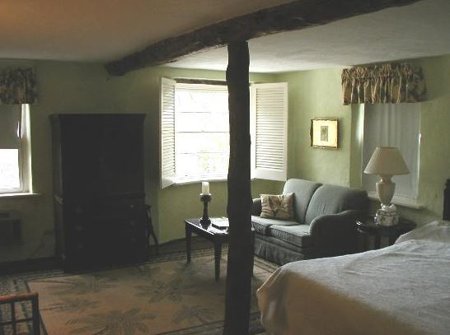 You get freshly baked muffins and fruits for Breakfast, sometimes including bananas grown in its own garden. But only continental though. You can take your breakfast in your room, by the swimming pool or in the dining room that has a balcony with spectacular water views. It's included in the rate. Breakfast is served in silver and china crockery on Bermuda cedar trays. 
There is a private patio overlooking the Great Sound and the Hamilton Harbor. The swimming pool is surrounded by lush tropical foliage. There is also a water area for swimming which is excellent for snorkeling. The waterside patio is great for watching the boats in the harbor, barbecuing or even just stargazing.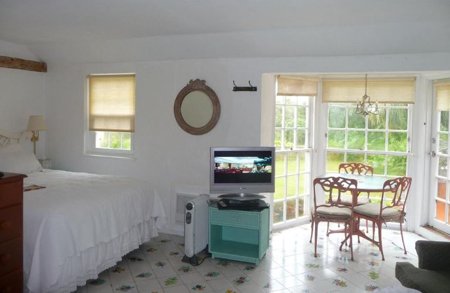 The Hamilton City is easily within reach - take a short walk (7-8 minutes) along the Harbor Road to Belmont Ferry Dock and then take a ferry ride. Due to its central location, you can easily get to the
south shore beaches
including
Astwood Cove. They are only 2-3 miles away. It takes just 5-10 minutes by taxi or an enjoyable 30-minute walk. The walk is part of Bermuda's scenic
Railway Trail
and picturesque Tribe roads.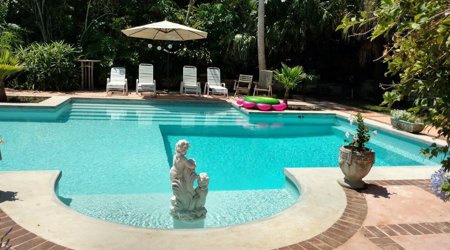 My overall opinion
This is not a beachfront property. However if you are looking for a stay in a historic colonial house at a budget price and with wonderful garden patio, lawn, swimming pool and views of the harbor, then Granaway is a great place to choose. The south shore beaches are at a short taxi ride away. 
Location and Contacts
1 Longford Road (near Harbor Road), Warwick Parish. 
Granaway is actually on Harbor Road and at the junction with Longford road. 
Bermuda Hotel Map
: Here is a map showing the location of the hotel and others nearby. 
Road Map 
Related Articles
3) Check out
Warwick Bermuda
to know all about the parish including its attractions, activities, hotels, restaurants etc. 
Visitors' Reviews and Comments
David Pearl (May 2016) 
Hi, Thank you for your help. Can you tell the best way for my wife and me to get from the airport to the Granaway Bed and Breakfast? 
Raj (bermuda-attractions.com) May 2016 
Hi, taxi is the only way (will take about 40 minutes from Airport). There is no bus service on Harbor road (buses won't anyway allow luggage). 
Kathy Deruiter (February 2012) 
I have spent countless hours reading on this site and it is by far and away the most comprehensive website I have encountered in my researching Bermuda. I have been to Bermuda a couple of times, but they were so long ago that it feels like it was another lifetime ago. I've narrowed down my search using information you've provided, but I think I have a dilemma.  
I was almost ready to book at Greenbank Guest House and Cottages when I realized they have no pool. So then I went back to looking at Granaway because they do have a pool... Then it occurred to me that perhaps during the first week of April (our scheduled trip) the pool water might be cold. Are pools heated there?  I thought - Raj will know! Can you help me out here? 
Raj (bermuda-attractions.com) February 2012 
Hi Kathy, Thanks for your comments on my website. As far as I remember, the pool is not heated. However, you can write to them at
[email protected]
to confirm. Regards,