St. George's Club Bermuda
Category: $$$  Location: St George Parish 
St. George's Club in Bermuda offers 28 beautiful cottages that are spread across 12 acres of land area. This is the ground where once stood the  famous St. George Hotel that overlooked the town of St George. The hotel opened in 1906 and became a popular winter holiday resort for the US visitors. There was a bar next to the hotel known as 'Sea Venture' which had a shape of a ship. The hotel also had a golf course and a beach club at the nearby Achilles Bay. The hotel was later demolished and converted into St. George's Club.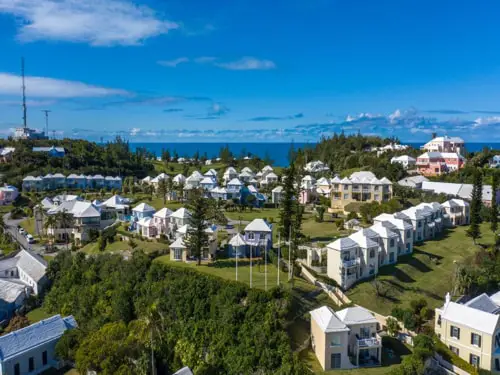 All the cottages have wonderful views of the landscape. The property also offers great views of the harbor. The property has gone through extensive renovations and re-opened in 2022. 
Each cottage is has been designed and furnished with modern comfort and amenities. All rooms have free Wi-Fi, flat-screen televisions, air conditioning, and private balconies. There is also a full kitchen in each cottage. Other in-room amenities include ceiling fans, iron & iron board, washer & dryer, phone. clock radio etc. 
There are several types of cottages. The Harbor View Cottages have lovely view of St. George's Harbor. You get a wonderful view of sunrise from the these waterfront cottages. The master bedroom is upstairs. The second bedroom is located downstairs along with the living room and open kitchen. 
There are single bedroom Harbor View Suites as well which too have private balconies or patios. There are 2-bedroom Pool-Side as well as Golf View Cottages similar in designs as the 2-bedroom Harbor View Cottages.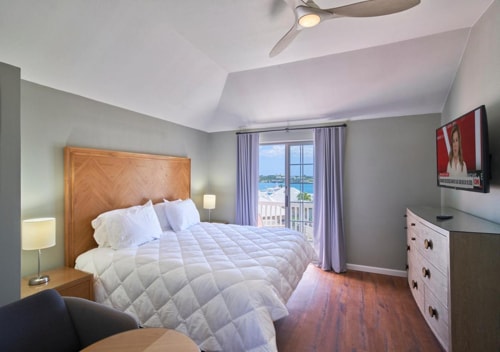 Facilities
There are two swimming pools in the premises 
There are two tennis courts as well 
You also get access to the newly renovated 18-hole golf course Five Forts Golf Course which has been designed by the famous architect Robert Trent Jones. 
A Fitness Center. 
Offsite scooter and electric car rental facility. 
Griffin's Bistro and Bar at the club house which is available to all guests and pubic. Chef's table experience here is special. The restaurant has earned a lot of good name for itself. X Temporarily Closed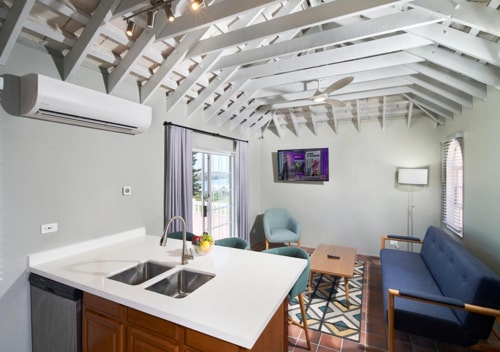 Rates provided by booking.com 
Location and Contacts
6 Rose Hill, St George, GE05, Bermuda.  
St George Club is about 3 miles from the airport. 
Road Map 
Related Articles
1) Check out
Bermuda Timeshares
to know about many other great timeshares or fractional ownership properties in Bermuda. 
2) Click
St George Hotels
if you like to know about other great accommodations in St George Bermuda.  
4) Check out
St George's Town
to know about the historical Town of St. George, its attractions, activities, hotels and more. 
5) Check out
St. George's Parish
to know about the parish and all its attractions and activities. 
Visitors' Reviews and Comments
John S Fox (March 2023) 
We used to live on that beach (of St. George Hotel) day in day out (1962 - 64). Wonderfully protected from any wind. Great beach for night time swimming. Was sorry to leave that beach and St. George's. Wonderful people in St. George's.