Kids playgrounds & parks in Bermuda
The children's playgrounds that I have listed below are mostly part of parks or beaches. All of them are available to general public as well as to visitors with their kids. 
Located in Pembroke and two miles from Hamilton City, this is a nice park facing the lovely North Shore. You will see an old historic building and hiking trails. There are tunnels, galleries, and caves that were dug here by the British military in the 1850s. The park has no bathrooms. 
Dockyard Playground
There is a children's play ground in the Royal Naval Dockyard in Sandys Parish where the large cruise ships dock. It is located right next to the Snorkel Park entrance at the corner. It has concrete flooring, several tiny swings for kids, slides, tunnel, play structures, seating area etc. Toilet facilities are also available right next to it. 
Warwick Long Bay Playground
Located above
Warwick Long bay Beach
in Warwick parish and accessible from the eastern-end entrance to the beach, this is an excellent playground for the kids with swings, slides, ropes, tunnels and wooden fort on soft sands. This nice and clean playground is maintained by the government. There are lots of trees around and benches to sit. A trail from one side of the park leads down to Warwick Long Bay Beach below. Take bus#7 and get off at the eastern entrance of Warwick Long Bay beach on South Road. It's a short walk towards the car park. 
Museum Playground at Dockyard
Update June 2014: A new playground has come up at the dockyard. It's located inside the National Museum complex, near the Keep Pond and next to Dolphin Quest. The center piece of the park comprises of a bright green giant moray eel (70ft long) made of wood which wraps around a 21-ft replica of a Lighthouse. 
The park is equipped with slides, climbing poles that look like sea grass, climbing nets etc. It is open daily from 9:30am to 5pm and the last entry is at 4pm. Kids must be accompanied by adults. 
Just across the new playground, a new interactive Playhouse is being created my the museum authorities. This will open by fall this year. 
Dark Bottom Playground
The park is located below
St. David's Lighthouse
. Dark Bottom is surrounded by palm trees, hibiscus and a village with colorful pastel houses. Locals know that long ago this is where the islanders used to gather around a fire, chanting songs and dancing to the beat of a drum late into the night. Probably this was the last sign of Indian culture in the island before the U.S Military came in during the World War I. There are no toilets here. 
Located in St. George, this is the second largest park area in Bermuda. The park has a nice lake and plantations, a bay with a tiny beach that is great for snorkeling, walking trails and three historic forts. A great place for a family and kids day out.  
It's a lovely shallow water beach located in Cooper's Island off St. David's Island. The beach park covers an area of 12 acres. There are pebbles here in some places which you won't generally see in other beaches in Bermuda. The beach park has playground equipment, nature trails and nice views of small islands out in the ocean. During the summer months, a lifeguard is on duty. Bathroom facilities are available. There is also a food concession here. 
Mullet Bay Beach and Park
Off Mullet Bay Road in St George parish. This is a man made small park and may not be as impressive as some of the other ones. Bathroom facilities are available. Bus routes #1, 3, 10, 11 operating between Hamilton and St. George. While coming from Hamilton City, the park is located after Ferry Point Junction, and takes about 40 minutes. From St. George's town, the bus ride to the park takes about 10 minutes. 
Duck's Puddle Annex
The park is located in Hamilton Parish. There is no bathroom here. 
The beach is located at Hamilton Parish. Next to Shelly Bay, there is a children's playground with climbing frames and swings. There are changing and bathroom facilities available here. A beachside cafe serving nice Caribbean and local food. 
Shelly Bay Children's Playground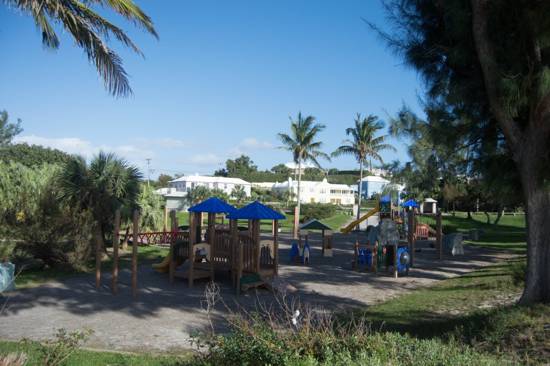 Smiths Parish Community Field
Located at Sommersall Road in Smith's parish. No bathrooms. 
Loyal Hill Playground
The Loyal Hill Community Playground is located in Devonshire. This is a nice 2.2-acre strip of land overlooking North Shore Road. The community has proposed for an upgrade to include a small basketball court, a soccer pitch, and a picnic area in the park area. No bathroom available here. 
Parsons' Road Playground
Also known as the Pembroke Playground, the park is located in Pembroke Parish next to the Dellwood Middle School. Toilets are available. Update August 2015: The playground has been recently renovated. See the picture below. 
Somerset Long Bay Playground
This playground with similar play facilities as above (Parsons Road Playground) has come up in August 2011. It is fringed by national reserves and a beautiful
Somerset Long Bay Beach
. Lots of car park and open space. 
A facility in Warwick parish that supports various activities for disabled and those with special needs. However it has also added up as a great Kids and Family recreational place and spread across 4 acres of land area having children playground, nice trails, a zoo, multi-purpose activity center and picnic areas. The playground has slides set up on tree style, swings and such. The zoo has Guinea pigs, parrots, lambs and goats, dwarf horses etc. There are toilets and other amenities like wheelchair access.  
Death Valley Field and Playground
A park, more used for recreations by the locals is located at
Southampton Parish
. It's maintained by the Parks Department of Bermuda Government. Such unfortunate name has been given to this nice park because many motor drivers lost their lives on Middle Road near this playground in 1940s and 1950s. 
There are slides, swings and playing structures for children. You will also find picnic tables and shaded benches, and a large playing field just adjacent to this park. There is no public toilets though. The park is located on Middle Road, opposite Terceira's Port Royal Esso Station. There is enough parking space available. 
Warwick Community Field
Located in Warwick parish behind St. Mary's Church. Bathroom facility is available. 
Located in Pembroke parish and in the outskirts of Hamilton City, this park has gone through recent makeovers and has great facilities for kids and children of all ages including new playground equipment and multi-purpose facilities. 
Jone's Village Playground
The park is in the Olivebank area in Warwick parish. The Park is extensively used by the people of Jones' Village for parties, picnics and other celebrations throughout the year. Toilets available. 
Related Articles