Destination Dockyard
A Grand Bermuda Festival
Destination Dockyard is a festive celebration held every Tuesday evening at Bermuda's Royal Naval Dockyard (Kings Wharf area). It is usually held in the summer months starting in May. So, if you happen to be in Bermuda on a Tuesday and looking for a great nighttime entertainment with your family, Destination Dockyard can be a great option. 
The celebration is packed with fun-filled activities. As you step into the dockyard, you will find hundreds of vendors displaying local art and craft work, many selling local sea food and cold drinks. 
There are musicians, dancers and other entertainers adding to the festive atmosphere. You can see Bermuda's famous
Gombey dancing
here. The Gombey dancers and drummers reflect Bermuda's African, Native American and British colonial heritage as they dance to lively rhythms wearing vibrant costumes. 
The
Dolphin Quest
puts up special Dolphin shows on Tuesday evenings. If you love to see Dolphins in action, don't miss this. Also, stop by the
Frog & Onion Pub
. They offer free samples of some of Bermuda's most famous ethnic food and drinks during the happy hours (6 - 8pm). 
Destination Dockyard Bermuda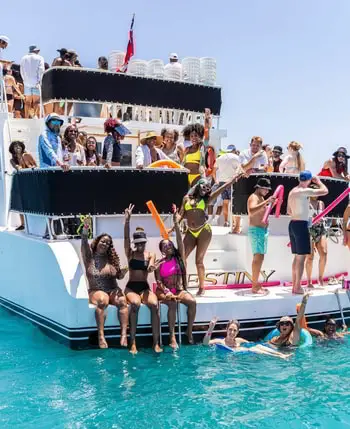 Bermuda Arts Center
offers a range of impressions and style galleries. It is the creative workshop of local (Bermudian and resident foreign) artists. Take a look at the many boutique retail stores within the
Clocktower Mall
. They stay open until late (up to 10pm) on Tuesdays. 
The
Snorkel Park
at the dockyard offers live entertainment during this time. There is also late night beach action here. Head to the Reggae Beach Party at Snorkel Park from 10pm-2am. There is an entry fee though.
Dockyard Glassworks
demonstrates glassblowing techniques to create classy glassware items. If you want, you can buy them (but you don't have to). 
A children's game - Destination Dockyard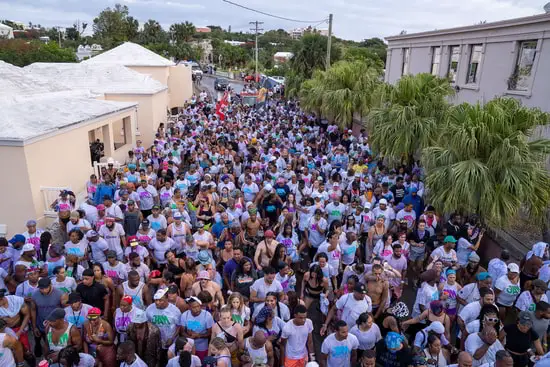 There are wide range of activities that go on for children, like go-carting, a jumbo slide, fun castles, face painting, hair braiding, air-brush tattoos and a lot more. You can enjoy salsa dancing and spicy food at
Bonefish Bar & Grill
between 7pm to 12pm. 
Update: Destination dockyard has been discontinued from 2014. 
2013 Destination Dockyard Schedule 
Venue: North Lawn, Royal Naval Dockyard, Ireland Island, Sandys Parish. 
Starts on May 6th and continues up to September 2nd (every Tuesday). 
Hours: 7pm until 10pm 
Location & Contacts 
You can contact West End Development Corporation to know about all activities and events currently scheduled in the dockyard. Email (Event Marketing Group):
[email protected]
Phone: 441/234-1709 
Visit
Dockyard Map
to know how the Dockyard is laid out. There is a Ferry Stop at the dockyard. The Blue Route ferries ply between Hamilton and Dockyard from morning until about 8:30pm on weekdays. You will also get buses between Dockyard and Hamilton until late. 
Related Articles 
1) Check out
Bermuda Events
for all the main events & festivals in Bermuda