Mini Golf Course - Bermuda Fun Golf
A new mini golf course has come up in the dockyard area with a sweeping view of the water. It is known as Fun Golf. This 18-hole par 65 mini course aims towards entertaining both experienced and average golfers with lots of fun while keeping the challenges adequate and thus making it just as exciting as in proper golf. The course has been designed by Hogan Lindgren who has designed the one in Denmark which has been voted as the best Mini Golf Course in the world. 
But after having designed and worked on this course at the dockyard for about 2 years, Mr. Lindgren considers this one to be even better than the one in Denmark. So in a way, this is actually the best golf course in the world. From various points in the course you can see the cruise ships docked at the berths. The view of the sunset from here is awesome. 
The course features lush vegetation, a waterfall, and several salt water pools with various types of fishes in it. There is also a tiny bridge. The view of the sunset from the course is gorgeous. One can also play at night. Although there are no flood lights, the pool lights and standing lamps create a nice nightly ambience. 
Out of the 18 holes, six have been inspired and designed based on famous holes in some of the top golf courses in Bermuda, another six from golf courses in the USA and the rest from courses in Scotland. They are not miniature versions, but resemble the original ones. So if you have played in the original courses, you should be able to recognize the holes. The golf course also has a snack and cocktail bar, a great place to lounge during sunset. 
Mini Golf Course, Dockyard Bermuda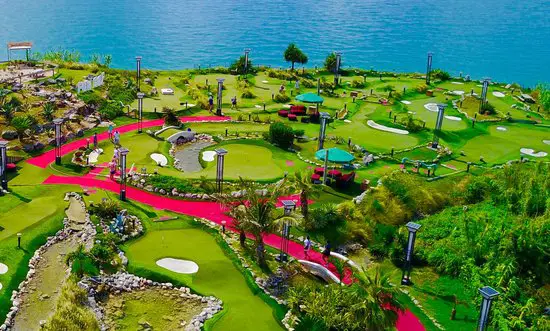 Here is how the holes have been modeled in the mini golf course: 
Hole 1 modeled on Mid Ocean #5, Bermuda (par 4) 
Hole 2 modeled on Belmont Hills #18, Bermuda (par 4) 
Hole 3 modeled on Port Royal #16, Bermuda (par 3) 
Hole 4 modeled on Ocean View #1, Bermuda (par 5) 
Hole 5 modeled on Riddell's Bay #8, Bermuda (par 4) 
Hole 6 modeled on Tucker's Point #9, Bermuda (par 4) 
Hole 7 modeled on TPC Sawgrass #17, USA (par 3) 
Hole 8 modeled on Riviera Golf Club #6, USA (par 3) 
Hole 9 modeled on Pebble Beach #7, USA (par 3) 
Hole 10 modeled on Oakmont #3, USA (par 4) 
Hole 11 modeled on Pine Country #13, USA (par 4) 
Hole 12 modeled on Augusta #12, USA (par 3) 
Hole 13 modeled on Glen Eagles King #13, Scotland (par 4) 
Hole 14 modeled on Royal Troon #8, Scotland (par 3) 
Hole 15 modeled on Royal Aberdeen #8, Scotland (par 3) 
Hole 16 modeled on Muirfield #13, Scotland (par 3) 
Hole 17 modeled on Turnberry #9, Scotland (par 4) 
Hole 18 modeled on Old Course #17, Scotland (par 4) 
While this is a mini course, the golfers would still require to judge the speed, make a strategy like in any proper golf course. However putting would be the key skill required in this mini golf course. 
A round of golf will cost $15 for the adults and $12 for children. 
Open Hours
Daily 10am to 10pm during high season (summer). Winter timings vary. 
Location & Contacts
Royal Naval Dockyard, Sandys Parish, Bermuda. 
Road Map 
Raj Bhattacharya
Raj is an avid traveler and a full-time travel blogger. He has traveled to numerous countries across the world and loves to keep travelling. His mission here is to help viewers like you visiting Bermuda or seeking insights into related matters with the most comprehensive content compared to any other online resources. Since years now he has been helping countless viewers by posting quality articles on this website, answering questions and sharing experiences. Launched in 2008, this website is Bermuda's leading source of online information since many years. 
Related Articles
1)
Bermuda Golf
: Know about all other golf courses and clubs in Bermuda. 
Visitors' Reviews & Comments