Church Bay Beach Bermuda
A Top Favorite Snorkeling Beach
Church Bay beach is located in Bermuda's Southampton parish and is great for snorkeling. This is a little cove formed by coral cliffs and located at the western part of the south shore. The beach area is very small and practically disappears during high tide. We usually take bus #7 to reach the Church bay beach park. The beach park is at the top of a small hill. The bus stops near the car park. A steep pathway and a staircase from the park leads down to this wonderful beach. 
The beach is small and rocky but has pink sands. After a makeover from 2003's hurricane Fabian, this popular snorkeling spot has been revived. The beach is great for snorkeling (you can see lots of fish here). A Bermudian will surely rank Church Bay as a top beach for snorkeling in Bermuda. 
Church Bay Beach, Bermuda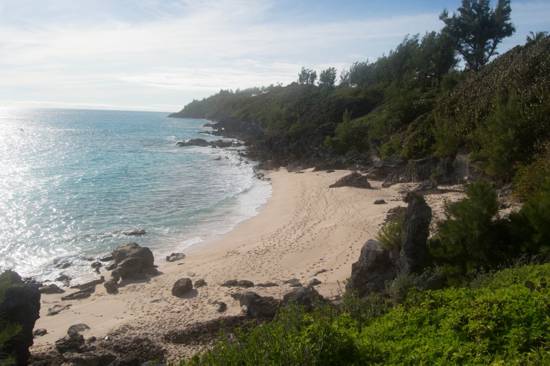 The bay is full of nooks and crannies, and the reefs are relatively close to the shore, some of them are within 50 meters from the shoreline. There is a rock in the water known locally as the Poodle Rock. It does look like a poodle from an angle. You can find fantastic cup reefs and boiler reefs in Church Bay, but not much of corals. You can enter the water anywhere along the beach.  
The water is typically calm and protected during normal conditions but can become little rough during adverse weather. We were advised by the locals to avoid snorkeling here during south or south-west winds. Church Bay will have a fair bit of ocean swell rolling in during such times. However, there is a series of reefs here that provide a barrier and offer ample protection during normal conditions. 
Church Bay Beach Imagery 
Rotate the image for 360° view  
These shallow reef areas are like natural aquariums that host schools of colorful tropical fish and other marine life. We spotted many angel, butterfly and parrot fish in Church Bay Bermuda. 
Note that the water gets deep quite quickly at Church Bay. So do not let your kids loose here. As you walk into the water, you are likely to step into many small submerged rocks. Although most are not sharp, they are slippery and some are sharp. So if you plan to swim here, wear swim shoes. Otherwise there are good chances that your feet bay get bruised. 
Church bay is probably not the greatest beach for sun bathing or for lounging. Because the beach is small and there are many rocks on the beach. It can also get quite hot here during the summer as the surrounding reefs block the flow of breeze. You can however enjoy watching the
Bermuda Longtail
and the Sandpipers from this rather secluded and quiet beach. 
There are toilets on top of the hill at the beach park. The park also has picnic tables, and adequate parking areas. There is a ruined fort on the cliff close to the parking area. 
Earlier there used to be a concession stall at Church Bay beach (on top of the hill before a stairway leads down to the beach) that rented snorkeling equipment, underwater cameras etc and sold snacks and fish food. However that has closed. So suggest you carry your own snorkel gears, umbrellas etc. 
Location of Church Bay Beach
Visit the
Beach Map
to see the location of Church Bay Beach and several other great beaches. 
Church Bay beach is located in Southampton Parish on south shore and on bus route #7 (which connects the dockyard with Hamilton City). The bus takes the South Road and goes by most of the South Shore beaches. It takes about 30 minutes to reach Church Bay from both dockyard and Hamilton by bus. Get off at Church Bay Park (near Church Road). A pathway goes through the park and leads to a wooden stairway. Climb down the stairway and you will be right on the lovely beach. 
Road Map 
Nearby Attractions
Church Bay has been named after the
St. Anne's Church
which is located across the street and is one of the oldest churches in Bermuda built in early 1600s. Towards east along the south road you can easily reach the famous
Horseshoe Bay Beach
by bus #7 (takes few minutes and only about 2 miles away). 
There are no great eateries here. But there are several nice restaurants and bars close by...
Henry VIII Bar and Restaurant
is on South Road near the Gibbs Hill Lighthouse,
Gulfstream Restaurant
is also on South Road near Horseshoe Bay Beach, and there is
Rum Bum Beach Bar
right on Horseshoe Bay Beach offering island cocktails, beer, grills and snacks.  
Related Articles
Visitors' Reviews
Raj (bermuda-attractions.com) June 2015 
While the beach remains as attractive to the snorkelers as it has always been, lack of maintenance was visible during the off season (December to March). Lots of trash were washed up the shore which weren't cleaned and neither was the toilet. However with the start of summer season, all's well now. No concession stand though. 
Pauline Bunt (May 2013) 
I see on a map that it is about two miles to Horseshoe Bay from Church Bay. Is it walkable on the road or on the beach? Also is it possible to buy bus/ferry passes at the Gazebo Gift shop at Kings Wharf this summer? Is it even feasible to take buses/ferries around when there are two cruise ships in or should we explore other options? Thanks a bunch! 
Raj (bermuda-attractions.com) May 2013 
Yes, Horseshoe Bay Beach is further 2 miles from Church bay towards east. You can not walk along the beach. I won't suggest walking along the south shore road either .. hardly any side walks and the road is quite narrow. With traffic coming from behind at zipping speed, it can be quite scary. 
You will get bus/ferry passes and tickets at the Visitors Information Center at Kings Wharf. But with two cruise ships in the piers, buses are likely to be running full from the dockyard almost all time. A better option is to take the minibus service recently introduced by Mike Tucker. It makes round trips to Church Bay and Horseshoe Bay Beaches from the dockyard almost every hour for $15 per person. You can book a seat in advance. Hope this helps! 
David Kaylor (June 20, 2012) 
For your information, the rental stand at Church Bay was unattended on Monday, June 11, 2012 and he lost out on at least 15-20 rentals. I would not recommend this rental location if I were you. In addition, Horseshoe Bay also does NOT rent snorkel equipment. They only sell it for $30 and don't have all that many which means they sell out quite early. Thank you. 
Raj (bermuda-attractions.com) June 20, 2012 
I have recently received a note from the person running the concession stand at Church bay saying that he has now moved to the 9-beaches in Daniel's head (Sandys Parish). So looks like the concession stand at Church bay is unattended until it's taken over by someone else. 
Anonymous 
Although this was my 4th trip to the Island I had never thought about snorkeling until this trip. My traveling partner is a big snorkeling fan and has snorkeled in Hawaii and Tahiti. Out of the snorkeling coves here on the island my friend thoroughly enjoyed the snorkeling at Church Bay. Compared to the other beaches on the island it's small and unfortunately not as well maintained. Most beaches are attached to some resorts therefore they have more care put into them. Never the less the water is wonderful and not too overcrowded. 
You will find a lot of brain coral and a shelf that makes for some fabulous underwater views. I suggest bringing plenty of water and some thing to nibble on especially during the high summer months. It is well worth the visit to Church Bay for the snorkeling. I also suggest overcoming water fear you may have and snorkel out to the shelf and big rock and venture off the side but keep an eye on the shore. The marine life is worth the trip to this tiny beach.