Best beaches in Bermuda for swimming
When I classify a beach as a great swimming beach, it is mainly based on the pleasure and ease of swimming. Which means we are essentially looking for beaches which have calm and shallow waters, and not necessary the ones that offer great snorkeling opportunities. We do not often carry snorkel gears with us and therefore exploring underwater corals, fish and marine life are not the options then. We just want to enjoy the swims and the overall settings and views around the beach. 
But for pure swimming pleasure, here are our favorite beaches: 
This is a south shore beach and located in Paget parish. There is an offshore reef line in the water close to the beach which acts as a barrier to the wave action and therefore the water near the beach usually remains calm and great for swimming. Although a part of the beach is private to a resort, rest of the beach is open to public. A shipwreck lies close to the beach making it an excellent snorkeling beach as well. There are basic toilets, a concession stand renting out snorkel gears, lounge chairs, umbrellas etc, and a
beach bar andárestaurant run by Elbow Beach Hotel
. 
Elbow Beach Bermuda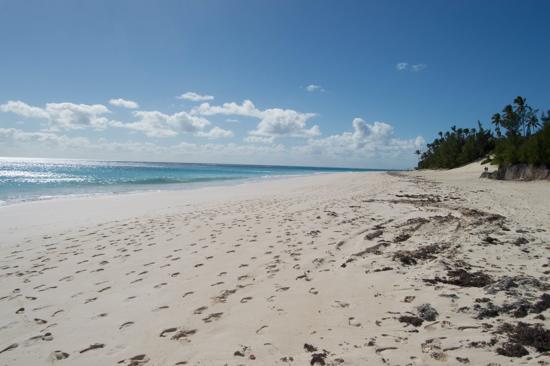 This lovely beach is located in Hamilton parish and between Hamilton city and St. George's. So if you are coming from the dockyard, take a ferry to Hamilton city and then a bus. The water is quite calm and shallow for a long way offshore, and its gradual slope makes the beach excellent for swimming. In fact it is one of the most popular beaches to local families who come here with their kids. The beach has lots of tree shaded areas. There is also an adjacent playground. Toilet facilities are available. 
Shelly Bay Beach, Bermuda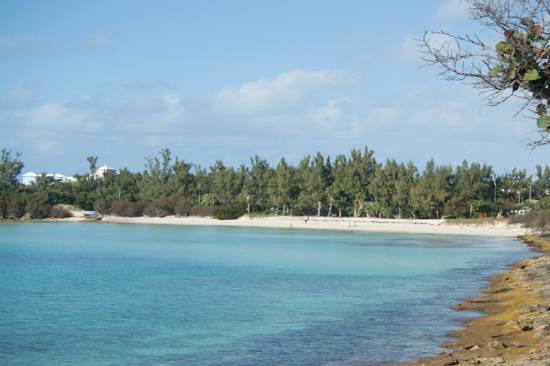 There are however no other beach amenities here like beach rentals, food stalls etc. The grocery store
Shelly Bay Market Place
is however quite nearby and you can stock up deli food and other essentials from here if you want. There is a boardwalk along the shoreline at Shelly Bay which leads all the way to the wonderful
Railway Trail
which is a great trail for walking and cycling. 
This beach is a bit far and located at St. David's Island at the eastern end. You will need to first reach St. George's and then take a bus to get to the beach. But the effort will be absolutely worth. Although this is a manmade beach, but it's very beautiful. The water here is calm and shallow, and ideal for swimming. No wonder you will find many local families on the weekends. 
Clearwater Beach Imagery 
Rotate the image for 360░ view  
There is a children's playground here. Other facilities include public restrooms, concession stands and beach bar andárestaurant. Life guards are on duty during the summer. 
This is another beautiful beach with pale pink sands and great for swimming. It's located at Smith's parish. From Hamilton city you need to take a bus to reach the beach. There is a reef line about 200 yards away which keeps the high waves away and water calm. 
John Smiths Bay Beach Bermuda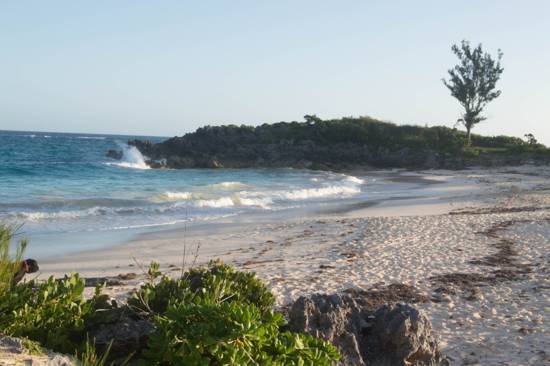 The beach is also nice for snorkeling. Toilets are available. A food van sells snacks and ice creams during summer. Life guards are on duty during summer. 
This is a small but very popular beach at St George's. It requires a 20-minute walk from the St. George's town square, you can however take a mini bus from the town center to get to the beach. There are large rock formations that surround the water thus keeping the water near the beach quite calm. Lots of water sport activities take place during summer. It has all the beach facilities like cafe, restrooms, rentals etc. The beach is also great for snorkeling. 
Tobacco bay beach Bermuda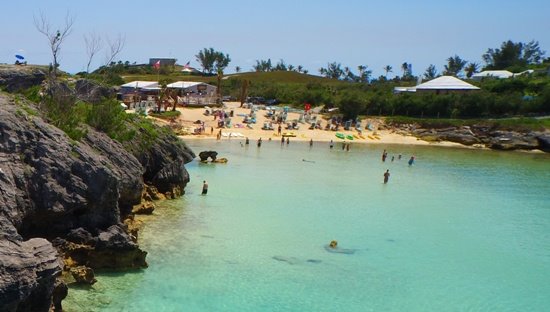 This is a picturesque long beach located on Warwick parish and can be easily accessible by bus from both dockyard and Hamilton city. While the water is relatively calm and good for swimming, the beach also offers many secluded spots where you can lounge in privacy. Toilets are available near the western end entrance. Food van is available at times during summer. 
Warwick Long Bay Beach, Bermuda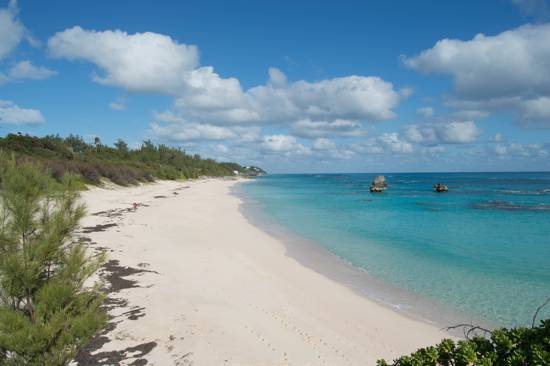 Last but not the least is Horseshoe Bay Beach located in Southampton and easily accessible from both dockyard and Hamilton by bus. This is the busiest beach in summer. This happens to be the target of almost all tourists. Reason? This beach is a world famous beach and expectedly will satisfy all beach lovers. It's great almost in all respects including its picturesque settings, its wonderful horseshoe like curvature, lovely pink sands, water areas that are great for swimming andásnorkeling, all kinds of beach facilities like cafe, beach concessions andárentals, changing rooms etc. 
Horseshoe Bay Beach, Bermuda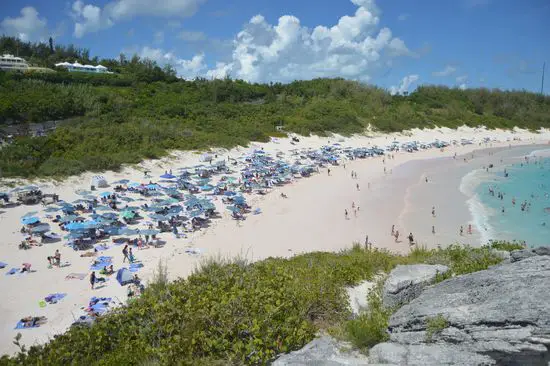 Occasionally however you need to be wary of large ocean swells when the beach is not suitable for inexperienced swimmers. And one other issue that might bug you about horseshoe... the main beach area is always crowded during the tourist seasons because everybody wants to be there. 
The adjacent Port Royal Cove (towards west, also known as Baby Beach) is a picturesque cove surrounded by large rocks and great for families andákids to swim. The water here is shallow and calm. The only negative about Horseshoe Bay Beach is it gets very crowded during the summers. 
Related Articles
Visitors' Reviews andáComments
Karen (May 2016) 
Hi Raj, I am going on a cruise, docking at the Royal Naval Dockyard in a couple of weeks with my mom and 2 sisters. My mom has a hard time walking too far, but wants to go to some of the beaches that are great for swimming with calmer waters. What beach or beaches do you recommend? 
Raj (bermuda-attractions.com) May 2016 
If you are not ready to walk, then you need to travel some distance... for example John Smith's bay beach is a nice beach for swimming and very close to the bus stop, but located in Smith's parish. It requires a ferry from dockyard to Hamilton and then transfer to a bus. Similar with Tobacco bay beach which is also easily accessible, but located in St. George. Even Elbow beach and Warwick long bay are easily accessible from the car park, but you need to take a taxi. From the bus stops, it requires some walk for both. Snorkel Park is anyway inside the dockyard premises and you can easily walk down to the beach from the cruise berth (6-7 minutes).