Bermuda Weather in July
July is a peak summer month in Bermuda. This is the month when the temperature rises to peak and generally stays between an average high of 85 degree Fahrenheit to a low of 77 degree. The water temperature also rises to about 83 degree. So the time is great for swimming and other water activities. However, the humidity also rises and can be well over 77% on certain days. So it can be unpleasantly warm at times. Many cruise ships come and dock at the Bermuda ports during July carrying thousands of tourists. This is a high tourist season in Bermuda. 
Days are usually sunny. July however falls in the hurricane season. Bermuda is well prepared to handle hurricanes. To know when and how hurricane strikes Bermuda and its impacts, check out
Hurricane
. 
Here is a picture of how a typical day in July looks in Bermuda. 
Typical Bermuda Weather in July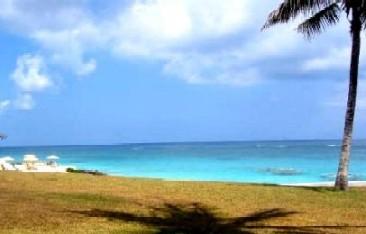 A chart showing average high and low temperatures (°F) in Bermuda in July. 
| | | |
| --- | --- | --- |
| Air Temp High | Air Temp Low | Sea Temp Avg. |
| 85.4 | 77.3 | 83.9 |
Note that the above temperatures are average over the whole month of July. A particular day may have highs or lows that may be slightly different from the above. See the chart below for an average day-wise high and low temperatures. Move the pointer on the graph (or tap if using a mobile device) to see the values. If you rotate your device, refresh/reload the page to see the graph properly. 
The following chart shows typical temperature in July by time as the day progresses. As you can see in the chart below, the typical early morning temperature can be 80.4 degrees and then it rises during afternoon to 83.4 degrees, and finally the day cools off in the evening to 79.7 degrees. The night time temperature is the lowest. 
A typical July day temperatures (°F) in Bermuda by time: 
| | | |
| --- | --- | --- |
| Early Morning | Afternoon | Early Evening |
| 78.4 | 85.0 | 78.0 |
Other important Bermuda weather information in July: 
| | |
| --- | --- |
| Avg. Humidity: | 77% |
| Avg. Rainfall: | 5.0 inches (Rains about 15 days in the month, but in short spans) |
| Avg. Sunshine: | On an average you will get 9 hours of clear sky and sunshine in a day which is 2 hours more than the annual average in Bermuda. |
| Avg. water visibility: | 80 - 100 feet (25 - 30 meters) |
Weather data sourced from Bermuda Weather Service (weather.bm) 
Why visit Bermuda in July?
Other than warm temperature that's great for sunning and swimming on the beaches, all
water sports
,
boating and island tours
operate in full swing in July. All tourist attractions and shops, restaurants and bars stay open during this time (only exceptions are
public holidays
). 
Towards the end of July the extremely popular
Cup Match
takes place over two days which is followed by the
Soca and Raggae Musical Evening
on the beach. Families go out for picnics to parks such as
Botanical Garden
that has 36 acres of lush land full of plantations and blossoming flowers, or the
Arboretum
that has 22 acres of serene land with meadows and nice tree shaded trails. 
On Wednesdays, head for
Harbor Night Celebration
on Front Street where large number of vendors put up stalls selling local food, snacks, artwork, trinkets and lot more. There are musical performances and
Gombey dancers
take to the streets showing the old traditional dance that combines the old British, African and Bermudian traditions. 
Try out a spa to rejuvenate yourself. One of the best options is to book a session at the
Natura Spa
located within an ancient natural cave in Grotto Bay Resort where the ocean water feeds the lake inside which is surrounded by stunning limestone formations. The ambience ads to the experience with its lighting system. The spa cabanas float on this water as you experience a spa of a lifetime. 
Go and try out one of the many
island innovations in its culinary diversity
. There are several authentic Bermudian dish you can try such as the Bermuda fish chowder at Lobster Pot or Hog Penny, or the Codfish breakfast at Paraquet or Buchee. But there is one thing which can't be missed in summer, and that is the
fish sandwich
made by Art Mel's Spicy Dicy or Rosa's (both located at Hamilton) and accompany that with a Barritt's beer. And when it comes to cocktails, you can't leave Bermuda without trying out the island drinks Rum Swizzle and Dark n' Stormy at the famous and the oldest pub of Bermuda -
Swizzle Inn
who invented the island cocktail Rum Swizzle. 
Visit
Tobacco Bay Beach
in St. George in the afternoon, swim and snorkel at the rock formations to view stunning marine life and then enjoy a lovely sunset on the bay while sipping a cocktail. There is bonfire right on the beach and on some days even Soca fetes. 
Join the party with Bermudians along with the best of local artists and performers at the Made in Bermuda Night at White's Island, a weekly event and a staple in summers (usually takes place on Fridays). White's Island is located on Hamilton Harbor. Hundreds of Bermudians and tourists join the celebration and enjoy musical performances and cocktails from 9pm to 12 mid-night. It's a great way to get an insight on Bermuda's rich tradition and culture and be able to chat with the locals. The event is usually held through July and August. 
Visit some of the old historic
forts in St. George
such as the Fort St. Catherine and the Gates Fort, wander around the old narrow streets of the town (which is a UNESCO World Heritage Site) and watch the pastel houses made with stones, you will go back by several centuries in the past. 
And there are several other reasons you should visit Bermuda in July... 
Recommended Resource
If you are visiting Bermuda, take a look into the
Bermuda eBooks
to make a great vacation plan in Bermuda and know about the best attractions, guided and self-guided tours, water sport and other activities, great dining and shopping options, vacation tips and lot more. 

By Raj Bhattacharya 
Raj, a seasoned travel writer and Bermuda destination expert, has extensive global travel experience. This website reflects his profound insights, garnered over nearly two decades of dedicated findings and research on the island. Raj has assisted countless Bermuda-bound visitors by providing direct, personalized responses to their queries and imparting his wealth of knowledge through this platform. This site serves as an indispensable guide for those seeking informed and reliable insights into Bermuda's treasures. 
Related Articles