Bermuda Weather in July
July is a peak summer month in Bermuda. This is the month when the temperature rises to peak and generally stays between an average high of 85 degree Fahrenheit to a low of 77 degree. The water temperature also rises to about 83 degree. So the time is great for swimming and other water activities. 
However, the humidity also rises and can be well over 85% on certain days. So it can be unpleasantly warm at times. Many cruise ships come and dock at the Bermuda ports during July carrying thousands of tourists. This is a high tourist season in Bermuda. 
Days are usually sunny. July however falls in the hurricane season. Bermuda is well prepared to handle hurricanes. To know when and how hurricane strikes Bermuda and its impacts, check out
Hurricane
.  
Here is a picture of how a typical day in July looks in Bermuda. 
Typical Bermuda Weather in July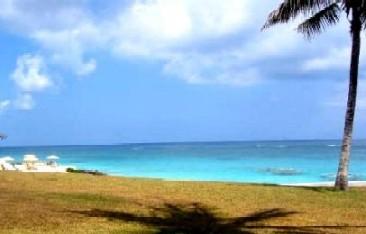 A chart showing average high and low temperatures (°F) in Bermuda in July. 
| | | |
| --- | --- | --- |
| Air Temp High | Air Temp Low | Sea Temp Avg. |
| 85.0 | 77.0 | 82.7 |
Note that the above temperatures are average over the whole month of July. A particular day may have highs or lows that may be slightly different from the above. 
The following chart shows typical temperature in July by time as the day progresses. As you can see in the chart below, the typical early morning temperature can be 80.4 degrees and then it rises during afternoon to 83.4 degrees, and finally the day cools off in the evening to 79.7 degrees. The night time temperature is the lowest. 
A typical July day temperatures (°F) in Bermuda by time: 
| | | |
| --- | --- | --- |
| Early Morning | Afternoon | Early Evening |
| 80.4 | 83.4 | 79.7 |
Other important Bermuda weather information in July: 
| | |
| --- | --- |
| Avg. Humidity: | 81% |
| Avg. Rainfall: | 4.6 inches (Rains about 14 days in the month, but in short spans) |
| Avg. Sunshine: | On an average you will get 9 hours of clear sky and sunshine in a day which is 2 hours more than the annual average in Bermuda. |
| Avg. water visibility: | 80 - 100 feet (25 - 30 meters) |
Bermuda public events in July 
There are some great events that are held in the island in July.
Cup Match
is the biggest event which is held towards the end of the month. The islanders enjoy four continous holidays during the cup match days (including week ends) and the island activities virtually become stand still. 
Other important events include: 
Weekly events include
Harbor Nights
on every Wednesday in Hamilton City,
Olde Town Market
on certain days of week at St. George's, and many activities & events through out the week at Royal Naval Dockyard (Cruise Port area). 
Related Articles