Bermuda Beaches for Kids & Families
Whenever we took our child to the beaches in Bermuda, we would like shallow and calm beaches that are safe for swimming and snorkeling. Another consideration is that the basic facilities should be available like bathrooms or changing rooms, some eating places and such. And if there is also an adjacent playground, nothing like it. With this in mind, here are the beaches that we recommend for kids & families in Bermuda (explore the links for more info on the beaches): 
The beach is located at Hamilton Parish. With a long stretch of shallow waters and lots of shades from the trees, the beach is ideal for families and kids. The shallows extend to about 30 yards into the water. There is a beachside cafe serving nice Caribbean and local cuisine. The cafe has good changing and bathroom facilities. There is also an adjoining park with climbing frames and swings. 
Shelly Bay Beach, Bermuda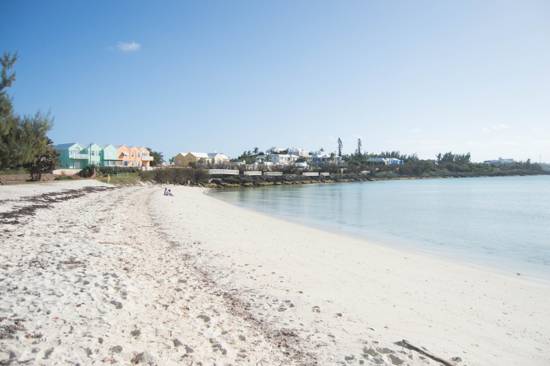 This is beach is located within the dockyard. So if you are docked at Kings Wharf, you can walk down to this beach in few minutes. The beach has tiny waterslides, beach concessions, water splash playground, and a bar & restaurant called Hammerheads Bar & Grill. You can rent beach chairs & beds, umbrellas, snorkel gear and water toys to keep the whole family engaged for hours. There are beachside cabanas as well. Many underwater features and fish make the beach excellent for snorkeling. Snorkel Park also offers Jet Ski safaris. Paddle boats and kayaks are also available on rent. 
Snorkel Park Bermuda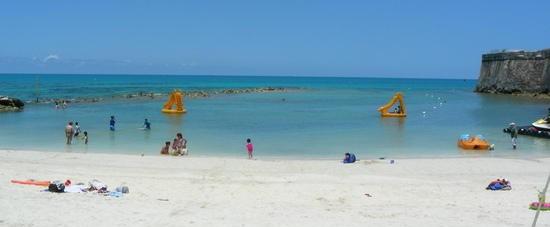 Another advantage here is that you can go around the dockyard and visit many attractions including museum, Dolphin display & training center, art & craft, pottery & clay works, glassworks and lot more. There is also a mall (Clocktower Mall) with several boutique shops as well as many restaurants in the dockyard to have a good family day. 
This beach is on a small safe bay and offers excellent swimming and snorkeling opportunity. It's located at St George at the eastern end of the island. There is a beach bar and The Buzz cafe offering a nice menu of food and drinks. The beach has toilet and changing facilities. The shallow water and columns of rock formations on the water make it a great place for snorkeling and very attractive to families with children. 
Tobacco bay beach Bermuda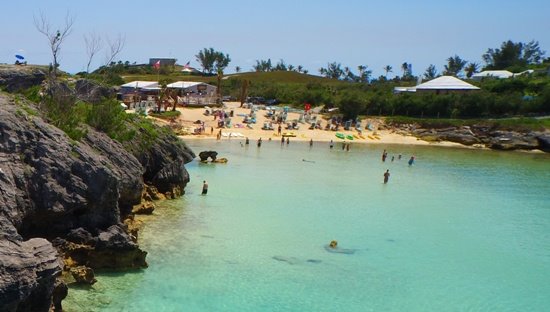 Located in Southampton parish, Horseshoe bay beach is one of the most picturesque beaches in the world. Towards its western end (only a few yards once you reach the beach area), there is a small cove surrounded by cliffs, known as Port Royal Cove or the Baby Beach. Not only the cove is beautiful and picture perfect, the shallow and calm water here is excellent for swimming and snorkeling. During summer, you can see many locals bring their kids here. 
Port Royal Cove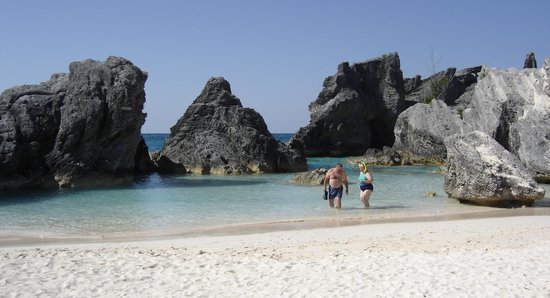 The Horseshoe bay beach has a
beach bar
, bathrooms and shower facilities. Beach and lounge chairs, umbrellas etc are also available on rent. You can rent snorkel gears too. And if you want to catch up with your emails while your family is engaged in beach activities, there is also wi-fi service at the beach bar... you are expected to order for some drinks or snacks to avail this service. 
Located close to the dockyard in Sandys, this is a nice beach that offers stunning sunset views. The beach is also good for snorkeling and if you love sea glasses, you will find plenty of them here and of different colors. It has a concession stand renting snorkel gears, water toys, hammocks, paddle boards etc. You can have water, soft drinks and even beer. There are portable toilets as well. 
It's a lovely shallow water beach located in Cooper's Island off St. David's Island. The beach park covers an area of 12 acres and has a playground, nature trails and nice views of small islands out in the ocean. During the summer months, a lifeguard is on duty until sunset. Bathroom facilities are available. There is also a nice beach bar and restaurant on the beach. 
Clearwater Beach Imagery 
Located in Warwick parish, the beach is quite secluded and great for snorkeling. There are public restrooms here towards the end of the beach. During summer, a lunch wagon supplies snacks. There is also a nice playground here next to the beach having swings, slides and ropes. We like this beach for children mainly because they get both the playground and the beach here. 
Warwick Long Bay Beach Bermuda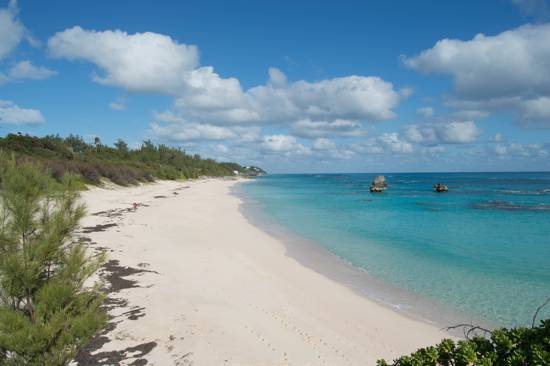 Be warned that Warwick Long Bay is not an ideal beach to let the kids loose. You'll need to keep a close watch. The sea can turn quite rough at times and there may also be undercurrents causing problems. 
Raj Bhattacharya
Raj is an avid traveler and a full-time travel blogger. He has traveled to numerous countries across the world and loves to keep travelling. His mission here is to help viewers like you visiting Bermuda or seeking insights into related matters with the most comprehensive content. Since years now he has been helping countless viewers by posting quality articles on this website, answering questions and sharing experiences. Launched in 2008, this website is Bermuda's leading source of online information since many years. 
Related Articles
Visitors' Reviews & Comments
Kara (May 2015) 
Thank you for this wonderful information. I was wondering if you could answer a specific questions. We are a family of 10 with 3 kids under age of 6. I am looking for good beaches. Although we will probably check out Snorkel Park, it did not look very big. I would like a beach with easy transportation (one bus or ferry, no changeovers). It should ideally be within a half hour travel and not super busy. It needs to have bathrooms and food. Can you think of any non crowded beaches with shallow water (no rocks) that is easily accessible? Thank you!! 
Raj (bermuda-attractions.com) May 2015 
Other than Horseshoe Bay Beach, no other public beach will meet all your requirements. From Horseshoe main beach walk down to the Port Royal Cove (baby Beach), it may not be that crowded.