How to get around Bermuda Easily & Cheap?
Bermuda is a diminutive but potent island that is chock full of action and activity buzzing all throughout the year. There are umpteen places of interest that you can visit here and things you can do in the water and out of it. The whole island is wrapped in history, culture and mystery. There are some great and easy ways to explore the nooks and crannies of this intriguing destination. You have the option of taking the bus, ferry, taxi service or venture on your own on a rental scooter, bike or electric car or simply don your walking shoes and be your own guide. 
Taxi Service
You will see that taxis are very easy to find here. They are plentiful at the airport and cruise port area, outside hotels (the larger ones), popular tourist areas and on the streets of St. George, Hamilton City and the Royal Naval Dockyard. In fact, many taxi drivers even double up as tour guides and almost all of them are very professional, courteous, eager to help and if you are interested, ready to fill you in on the customs and histories behind various points on the island. However, they do not come cheap.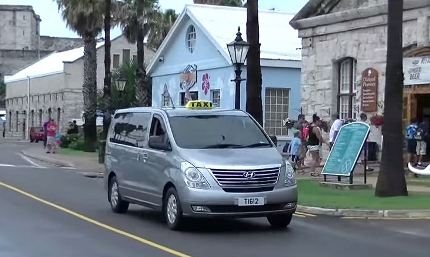 They charge government set metered rates which you can pay by cash (credit cards are mostly not accepted). Prices between 6am and midnight for a one to four passenger taxi is usually set at $7.90 for the first mile and $2.75 for every additional mile and for a five to seven passenger taxi it is $9.95 and $3.50 for the first and every additional mile respectively. For the hours between midnight and 6am, all day on Sunday and on public holidays, the fares are 25% higher for the smaller vehicles and 50% higher for the larger vehicles. They also have an hourly basis sightseeing rate which ranges from $50 to $70 per hour depending on the size of the vehicle. 
Scooter Rental
One easy way to zip around the island and that too at your own leisurely pace is by renting a moped or a scooter. Stay away from it however, if you are not confident about your driving skills as the roads of Bermuda are quite narrow and twisty in places and maneuvering the two wheeler could be tricky. Like in England, the Bermudians drive on the left side of the road and traffic congestion too are not uncommon. So, you need to be wary to avoid accidents which are not very uncommon for visitors in Bermuda. 
Rental Scooter at Dockyard 
Having said all that, it is a great way to see the island at your convenience, making stops to take in more of a particular ocean view or a beautiful green glade (and Bermuda has many of them) or even a reclusive hideout along the winding road that you want to take a closer look at, as and when you feel. Just keep in mind that you are required to wear a helmet and keep within the speed limits that is 20mph. Besides of course, you have to be at least 18 years old to be able to drive here. 
Bicycle Rental
If you are not too keen on driving a motorized bike and yet want the flexibility of having your own two-wheeler to cruise around the island at your own pace, you can go for the good old bicycle. They are very easy to rent here and you can even have them delivered and picked up to and from your hotel. This is probably the best way to go down the
Bermuda Railway Trail
that runs from one end of the island to the other. Motorized vehicles are not allowed on the Trail, so you have to venture out either on foot or the trusted pedal bike. 
Good news is that Bermuda now offers environment friendly hybrid-electric bicycles. These give you the ease of a motor bike with the quiet and comfort of a pedal bike. They provide you with the extra power needed to make those steep climbs at the same time keeping the ride comfortable. These bicycles operate in various modes where you may choose to pedal only like a regular bike and use the power during uphill rides or headwinds, or it may help you pedal more easily or run with no pedaling at all! These unisex bicycles also come with a helmet and an instruction manual. 
Mini Car Rental
Another easy and comfortable way to get around the island free from the schedules, is by renting the omniscient "Twizy". These are two-seater electric cars, different from their conventional counterparts as they are more eco-friendly and even fun to ride in. Nowadays, there are electric cars that come with electric windows and air-conditioning to keep you dry and cool in the sweltering heat. You will also find charging stations / Oasis points all across the island or even at your hotel, so zoom away in style! 
Renault Twizy Minicar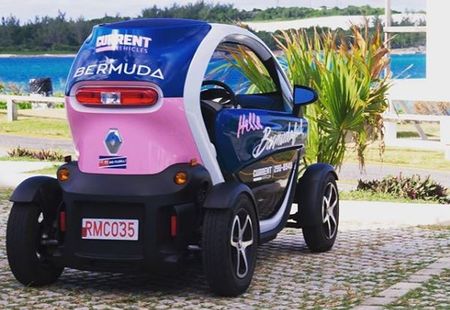 Source: Current Vehicles 
However, it is important to note here that there are quite a few out of these ubiquitous "charging stations" around the island that do not work and depending on them as a last measure could get you into coughing up an awful lot of money to the towing services, if your car happens to run out of charge completely. So, plan well before you leave the hotel (for instance, ensuring that your longest stopping area has a charging facility) and keep within the speed limits as this will keep the charge going for longer. 
If you are worried about finding your way around, you get an app that helps you with navigation, operation of the vehicle etc. So if you are a little strategic with when and where you stop so you don't run out of power, you get immense freedom doing an electric car ride around the island as you do not have to depend on the public transportation schedules and can make your own itinerary that suits your palate. 
Public Bus Service
If you are on a budget and yet looking for a sound transportation system around the island, the Bermuda bus services should have you covered. This is an entirely reliable network that can take you from any point to any point on the island. There are a total of eleven bus routes that span the entire island and can take you to most of the destinations throughout Bermuda including the various parishes, beaches, shopping areas and other attractions with the least amount of cost and effort on your part and at frequent intervals. 
A bus at Hamilton bus terminal, Bermuda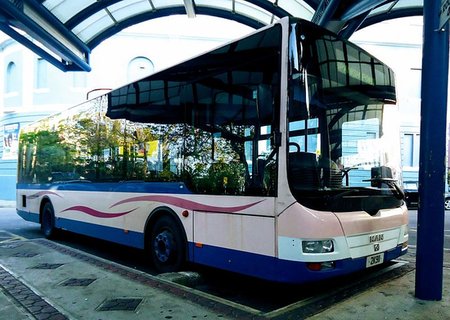 Source: Wikimedia Commons 
You can identify the bus stops by the pink and blue poles that are hoisted at different points. The colors indicate inbound/ outbound services to/ from the City of Hamilton respectively. 
Fares range from $3.5- $5 (in cash) per ride with free rides for children under the age of 5. You can also make use of the Transportation passes that can prove extremely cost effective (and gives you a breather from having to carry the exact fare in changes). A one day Transportation Pass for an adult costs around $19 and can go up to around $62 for a 7 day pass. They give you unlimited rides on the buses as well as ferries. 
The Central Terminal in Hamilton City is where the maximum number of buses conjoin and disperse from. They make it to the extreme eastern and the western ends of the island from here. You can avail the Passes from here or any of the Visitor's Service Centers or some post offices. Most of these symbolic blue and pink buses are air conditioned, so you can enjoy a comfortable ride around. 
You can pick up a copy of the bus schedule and map from a Visitors Service Center once you are on the island and chart your course as per your liking. Route 7 is quite popular with most tourists. It covers the distance between Dockyard and Hamilton and includes stops at major hotels, some of Bermuda's most popular beaches like the Horseshoe Bay, Warwick Long Bay, Church Bay etc, and major attractions like Gibb's Hill Lighthouse, BUEI and the Botanical Gardens. For better experiences, plan your trip during a less busy time of the day rather than during the mornings and evenings when they would be packed with locals travelling to/from work. 
Minibus Service
There is also a
private minibus service
in St. George's parish that can take you around the parish to various points like the Tobacco Bay Beach, Achilles Bay Beach and St. Catherine's Beach and Fort. Most places around the island are not more than about a half mile from a bus stop. except for some in St. George parish where it could be about a mile away. You can thus use the minibus service in this situation. 
Ferry Service
Another popular way of getting around the island is by using its ferry service, better known as the Sea Express here, which is not only easy and efficient but also allows you to enjoy the great views of the island from the waterway. The boats are quite big with plenty of room and can comfortably accommodate a number of passengers aboard both inside air-conditioned cabin as well as on outside deck. It is a great way to shuttle around the island if you are looking for modest fares (especially with day and multi-day passes) and in the shortest possible time.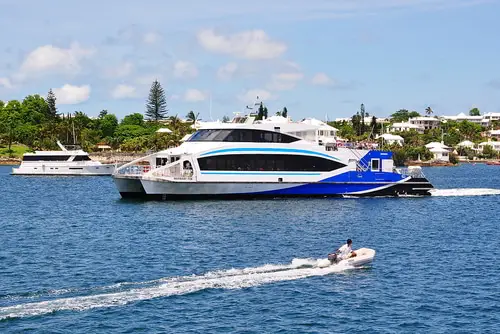 Photo: kansasphoto, flickr, cc by 2.0 
They depart mostly from the Ferry Terminal on Front Street in Hamilton City. Other ferry docks are at the Dockyard and St. George's while there are several small docks in Sandys, Southampton, Warwick and Paget Parishes as well. Like the bus services, the ferries too have a very comprehensive route system in place. Some of these like the Orange Route do not operate during the winter months. The other routes include the Pink, Blue and Green ones and they operate throughout the year although the schedule changes between summer and winter (the frequency is lower in winter). 
The Pink route makes several stops at Paget and Warwick parishes while the Blue route, which also permits scooters, has its stops on the western end of the island, in Sandys parish. The Green route, which caters mostly to daily commuters, stops at Rockaway in Southampton parish and Waterford Bridge in Sandys Parish and the Orange Route, one of the most popular means of transport during the summer months, stops at the Royal Naval Dockyard before moving on to St. George's Town. 
The Ferry Terminal at Hamilton offers Transportation Passes, tickets or tokens. These are much cheaper rather than paying by cash and can also be procured at Visitors' Information Centers (not tickets though) and sub post offices. Paying by cash can be expensive (unless you are going to be doing only one or two ferry trips during your stay) and you also need to have the exact fare in change/coins on you. Besides, if you are not in possession of a pass, you need to pay an extra $4.50 to take your scooter on the ferry. 
Fares range from $3.50-$5.00 for adults and around $2.75 for children between the age of 5-15, if you pay by cash. Transportation passes come for around $19 for a one day adult pass to $62 for a 7 day adult pass. For children they range from $9.50-$31.00 for a 1-7 day pass. 
Walk and Explore
If you are relatively fit and are up for it, walking around the island is probably one of the best ways of exploring it. There are a number of guided and self-guided tours that you can take. However, be well prepared with a good pair of walking shoes, hat, bottled water and sunscreen lotions as the weather can get quite humid and sweltering especially during summers. Also note that outside of the City of Hamilton and the Town of St. George, there aren't very many sidewalks or pavements along the roads (which are often narrow and winding with sharp bends) for pedestrians. 
There are several scenic routes and trails that you can take a tour of like the
Railway Trail
which covers the entire length of the island. Walking through it gives you ample opportunities to make stops for photographing some of the beautiful nooks and corners and ocean views that you will come across. The entire Railway Trail is divided into comprehensive sections each of which are also connected to bus routes. So, if you so wish, you can hop off / on a bus to/from one of these sections and go on to your next stop. You can also walk along the picturesque South Shore park which is an approximately one and a half mile of serene stretch between the Horseshoe Bay and the Warwick Long Bay. Some of the sights here will take your breath away! 
Guided tours include the
Hamilton City Tour
with the Town Crier or with a
Food Tour
guide, Tour of the
Spittal Pond Nature Reserve
or the
Botanical Gardens
, Walking Tour or the
Haunted History Tour of St. George
and much more. There are several other green spaces like gardens, parks and nature reserves that you can cover on foot. Plan your trip in advance so you can also carry a little picnic basket and enjoy a couple of hours having a nice brunch/ lunch at one of the many picnic spots on the island overlooking the ocean. 
Read:
Walking tours in Bermuda
for a comprehensive knowledge on the trails and types of self guided and guided tours that you can avail in the island. 
Given its various networks, routes and trails, this tiny speck of an island in the midst of the vast Atlantic, is no castaway of nature. On the contrary, it is a well planned and modern country that has a wonderful means of commuting in place, which miraculously does not in the least, wreak havoc on its inherent beauty and nature's bounty. The island is a haven where you can relax in the laps of nature without having to worry about how to go around hiking or navigating through it. 
Ordered by older to newer posts
Which is the best way to get around Bermuda - by ferries bus or taxi? How much time does it take to
Crystal Caves
from the Dockyard? We will go on a cruise that stops in Royal Dockyard in May. 
Dina, Puerto Rico (May 2010) 
Hi, If you are docking at the
Kings Wharf
(Royal Naval) Dockyard, it's best to take a ferry to Hamilton City. It will take about 20 minutes to reach Hamilton by a direct ferry compared to a bus ride that takes about an hour.  
From Hamilton City you can take bus # 1, 3, 10 or 11 for Crystal Caves which is located at a parish called Hamilton Parish (not same as Hamilton City). There is also a ferry service from Dockyard ferry stop to St. George (orange route). It takes about 35 minutes between Dockyard and St. George by ferry. This route usually operates from April to November. 
Note that during weekends and non-summer time, ferry service is quite infrequent and some routes do not operate. If you visit
St. George
(the historic and heritage town of Bermuda), try out the horse drawn carriage ride along the roads of St. George and enjoy the historic town - it's special. 
For nearby parishes like Sandy's, Southampton or Warwick, you can take bus #7 or #8 from the dockyard. The bus route #7 goes by the
South Shore Beaches
. Buses are good and very convenient for short distances. The bus service is quite frequent during the day time - you will get buses every 15 minutes or so, and sometimes even more frequently. 
Buy a
Transport Pass
and it works for both buses and ferries. You can hop on and off any number of times during its validity. This gives you a lot of flexibility and turns out to be the cheapest way of travelling around the island. You will get them at the Visitors Information Centers including at the dockyard. 
Taxis are quite expensive but available all the time. We generally use them for late night drops at the hotels or at the cruise ship terminal when ferries or bus services become infrequent. There are taxi stands at the dockyard and you will get plenty of them there. 
Refer to my following links for further information about Bermuda Transportation: 
Raj (bermuda-attractions.com) May 2010 
I am cruising to your beautiful island with friends, one of whom, is in a wheelchair. I am looking for information on the best way to get around Bermuda. We have used the transportation pass with great success ourselves previously, and wonder, for this trip if the busses/ferries are accessible. Any information you could give us would be appreciated. We are not travelling until October. 
Sue Bowen (April 2012) 
Hi, Unfortunately buses are not wheelchair accessible. some of the ferries are and can be accessed from Hamilton Ferry terminal only. Unfortunately you can't get off at any other ferry point since others are not properly accessible and can be a bit risky. So a person on wheel chair can take a round trip on a ferry and get back to Hamilton. Take a look at my following article to know about the options for a person in Bermuda who is handicapped:
Bermuda for Handicapped or Disabled
Hope this helps! 
Raj (bermuda-attractions.com) April 2012 
On June 2nd June our entire family (total 14)  will be arriving at Kings Wharf on Explorer of the Seas to celebrate my 80th birthday. We all love the beach and would like to rent a van as soon as we get off the ship to take us to Horseshoe Bay (or if too crowded, another nearby beach) and arrange to meet us at a specific time to return to the ship. 
What we are really looking for is transportation based on our needs rather that trying to catch a regularly scheduled bus. Since we will have only two full days in Bermuda (one including a round of golf) we  prefer not to wait in lines for a crowded bus. Is this possible? 
William Van Wyck (April 2012) 
Hello, 
There are minibus tours available in Bermuda that are privately run and can accommodate 12 to 15 persons. They can also customize the tours to fit your requirements. Some will even pick you up and drop you at the dockyard. 
Please check out this link for the operators and their contacts: 
Wishing you a great 80th birthday in Bermuda!!! 
Regards, 
Raj (bermuda-attractions.com) April 2012 
Hello we are thinking about coming in Oct for 3 days via cruise ship docked at Kings Wharf. Is it easy to get buses or other public transportation to get to most of the nice beaches like Horseshoe, Tobacco and Elbow beach? Can you ride the bus into most of the towns and parishes from the cruise dock? Thanks 
Barry Tutt (April 2012) 
Hi Barry, 
Yes, bus service in Bermuda is excellent. From the dockyard you will get bus #7 and 8. Bus #7 goes along the south shore passing all the beautiful beaches like Horseshoe, Warwick Long Bay, Elbow beach etc. However Tobacco Bay is in St. George's which at the eastern end of the island. You will need to change and transfer to another bus at Hamilton City where the central bus terminus is located. All buses start from and return to Hamilton. The entire island is accessible by bus. 
I would recommend using both buses and public ferries to get around the island. There is a ferry terminal at the dockyard itself. A direct ferry from the dockyard to Hamilton takes only 20 minutes compared to about an hour by bus. 
Also buy a transportation pass for 3 days. It gives you unlimited access to both buses and ferries, and is the cheapest option. So you can hop on and off. You will get the passes at the visitors center at the dockyard. 
Regards, 
Raj (bermuda-attractions.com) April 2012 
Hi Raj, Love your site, it has helped me plan our 3 day stop over. A few questions before we arrive. We arrive at Kings Wharf on Wed. We want to tour the island on Wed. my husband thinks Scooters are the way to get around. After reading all the reviews I am very nervous about the traffic and hilly roads. Here is our itinerary - tell me the best mode of transportation: 
Wed - tour the island and beaches with hikes to get a feel for the island- from your suggestion: Astwood Cove Beach, Daniels Head, Stonehole, Hog Bay. Towns to see: St. George, Devonshire, Warwick. Late day evening go to Harbour Nights in Hamilton - WHERE to have drinks not dinner?? What time do the stores close? What time do you suggest we get their to enjoy the shops, vendors and entertainment? 
Thurs: NATIONAL HOLIDAY 
Can you Recommend the best mode of transportation for: 
Snorkel in the morning - Tobacco Bay and Achilles Bay. Return to cruise boat (Celebrity, Kings Wharf) to get golf clubs. Go to Port Royal for a 4:00 Golf tee time Spend the evening at the Bonefish bar and grill listening to the Lennon Dockyard 
Friday - Explore the Dockyard and all the shops around that area. 
Best way to get around with this itinerary? 
Shelley Sroka (July 2014) 
Hi, 
On Wednesday, scooter will be convenient during the day time for beach visits and exploring the places. It can save a lot of your time, however you should be careful while driving (note the left hand drive, traffic and narrow winding roads). 
In the evening, I would strongly suggest not to drive a scooter after you drink and that too in the evening. Take the Blue route ferry from the dockyard to Hamilton and back. This year on Harbor Nights, last ferry from Hamilton to dockyard is at 10:30pm. 
You can take your drinks at 'Bermuda Bistro at the Beach' ... 103 Front Street. Go early to take a ground floor veranda seat. The festival on the street starts at 7pm, so you should try to reach earlier. If you reach before 7pm, you can also catch the happy hour and get discounts on drinks. Most shops remain open until 9:30pm on Harbor Nights and some up to 10pm. 
Next day being a National Holiday, most ferry routes won't operate and buses will run at reduced frequency. Almost all stores, restaurants and activities will be closed, and Streets will be empty. So scooter is a good option. It may not be viable to carry golf clubs in scooters. Buses won't let you board with them and getting taxis would be difficult on a Public Holiday. So your other option is to rent it at Port Royal Golf Club. Check to find out is the golf course and Bonefish Bar and Grill would be open on that day. 
On Friday, you won't need any transport. Just walk around and explore the dockyard. 
Raj (bermuda-attractions.com) July 2014 
Hello Raj, I am thoroughly enjoying your extremely helpful site! I am coming to Bermuda for the first time in Oct. We arrive on the Dawn at 1:00pm on Sunday the 29th. 
My sister and her husband, who went there last October want to go to Horseshoe Bay as soon as the boat docks. She remembers that the buses and shops at Dockyard all closed early on Sundays. Is this true? Would we be able to take a minibus at 6pm still? (even on a Sunday?) 
Thank you very much for your time and your help! 
Nikki (April 2017) 
Hi Nikki, 
Public bus service reduces on Sundays and public holidays, and there won't be public buses from dockyard to visit or return from Horseshoe beach in the afternoon. Minibus shuttles operate from the dockyard during summers days when cruise ships are in port including on Sundays.  
However being privately operated, some such operators may not choose to operate on Sundays. The usual last return time from the beach to dockyard is 6pm. However I would suggest that you ask the shuttle staff/drivers about the timings before boarding because on Sundays such service can be unpredictable (Bermudians take it easy on all holidays). 
While most shops in Bermuda are closed on Saturdays/Sundays and other public holidays, Clocktower Mall in Dockyard would remain open daily until 6pm. 
Taxis also become limited on Sundays and an additional surcharge fare of 25% gets added. Best is to rent a scooter to get around on holidays. 
Raj (bermuda-attractions.com) April 2017 
Hi Raj, 
thank you for all the informations from your website,  it is very useful.  We have 1.5 days in Bermuda from the cruise in april this year.  I am thinking of visiting the crystal cave and then go to the horseshoe bay afterward and go back to the royal dock.  I will take the ferry and then bus# 1 or # 3 to the Cave,  yet i have no idea how to get from the cave to horseshoe bay and back to the cruise?  how much for the transportation? and how long it will take us as we need to be back to the cruise at 3:30pm. 
Ann (April 2017) 
On your way back from the caves, take bus #1, or 3 (better to take a short walk to Blue Hole Hill bus stop nearby and take bus #10 or 11 for Hamilton. This will be faster). Will take about 25 minutes. Then transfer to bus #7 for Horseshoe (this will take another 25 minutes or so). 
From Horseshoe either take a dockyard shuttle (costs $7 one way) or continue on bus #7 for Dockyard (about 30 - 35 minutes). Bus fare will be $5.0 by cash (in change only) for each journey. Note: Bus transfer at Hamilton while returning would be free. Ferry fare would also be $5.0 by cash (in change). 
Raj (bermuda-attractions.com) April 2017 
Hello, 
I will be a cruise passenger arriving to Bermuda in two weeks and am planning an itinerary for one of our days on land. We (there are five of us) would like to go to Horseshoe Bay Beach and Crystal and Fantasy Caves on the same day. Can you please suggest the best way to do this transportation and cost wise. Your help and advise would be greatly appreciated and many thanks to you. 
Corinne Messana (May 2017) 
Hi, 
Take bus #7 from dockyard for Horseshoe bay beach in Southampton. From there continue on #7 to Hamilton (main bus terminal) and transfer to bus #1 or #3 to Crystal Caves. Return to Hamilton (ferry dock) by bus. Take the ferry (blue route) back to dockyard. Use a day transportation pass ($19 per person) which you can purchase from a Visitors Information Center located next to the cruise berth. You can alternatively buy 4 all-zone tokens for each person @$4.50 per token (note bus transfers at Hamilton are free provided you take next connecting bus). Tokens can save $1 per person compared to passes, but you lose flexibility of any extra travel during the day which pass allows. 
Raj (bermuda-attractions.com) May 2017 
Hi Raj, 
I've been enjoying all of the information on the site.  Next week I'll be arriving on a cruise ship that will be docked in the Royal Navy dock yard. I'd like to visit Blue hole park and crystal caves in one day. What's the best way to get there?  And is it reasonable to visit both places in one day?  Thanks, 
Gina  (August 2017) 
Hi, yes it's quite doable to visit both Crystal Caves and Blue Hole Park on the same day. From dockyard take the ferry to Hamilton and then bus #1 or 3 to the caves. Continue on same bus #1 or 3 to Blue Hole park (a short distance from the caves bus stop). 
Raj (bermuda-attractions.com) August 2017 
Hello, love this info! Wondering what is the best/safest/quickest way to get to Hamilton Beach and also Shelly Bay Beach (seem to be the two most kid friendly?)?  Do you have Taxi rates for 4 adults and two small children?  Thanks in advance!  August 20-27 travel (will be there from 22-25th. 
Josephine (August 2017) 
Hi, get to Hamilton bus terminal and take bus #4 for Hamilton Beach (i.e. Clarence Cove at Admiralty Park) and bus #10 or 11 for Shelly Bay Beach. You can take a ferry from dockyard to reach Hamilton and then walk down to the central bus terminal. 
Raj (bermuda-attractions.com) August 2017 
We will arrive with a Cruise Ship on 29.Oktober in Dockyard. What do you think, when the schedule for winter season this year is available?  
What about the bus schedule? It is valid whole the year?  
BR Silke (September 2017) 
Hi, bus schedule remains valid for whole year. Ferry winter schedule gets published few days before the schedule takes effect. 
Raj (bermuda-attractions.com) September 2017 
Raj, I don't know how anyone can visit Bermuda without your wonderful help! Our latest plan is to take the ferry from Heritage Wharf to St. George. At that point, we will take a taxi or walk to Building Bay Beach. We realize we will need to walk back from the beach. So, we would need detailed walking directions back to the ferry. Can you provide them. Last time we tried this, we got very lost and would like to avoid that happening again! If we just walk to Gates Fort, would we be able to get a taxi there or is waking the entire way back to the ferry dock the best option? Thanks so much for your help. 
Carol Szymendera (July 2018) 
Hi, it's very unlikely that you will get a taxi at Gates Fort. Walking back to the ferry dock is actually easy... take the Cut Road, then York Street and then Mullet Bay Road. Finally take a left onto Penno's Wharf where the ferry terminal is located. The walk should take about 30 minutes. If you however take Water Street before getting into York Street / Mullet Bay Road the walk is little shorter, but the other route is easier. 
Raj (bermuda-attractions.com, July 2018) 
Raj, I rented a wheelchair for use on the ship and on land. Can I take it on the bus and ferry? Any additional charge? Thank you! 
Pat Kirsch (September 2019) 
Hi, you can not usually take a wheelchair on a bus unless you get one with a ramp having a provision for wheelchair storage (there are only few of them). Ferries between Dockyard and Hamilton allow wheelchairs and there is no extra charge. Ferries from Dockyard to St. George allow limited size wheelchairs (talk to the crew at the dock). 
Raj (bermuda-attractions.com, September 2019) 
Related Articles